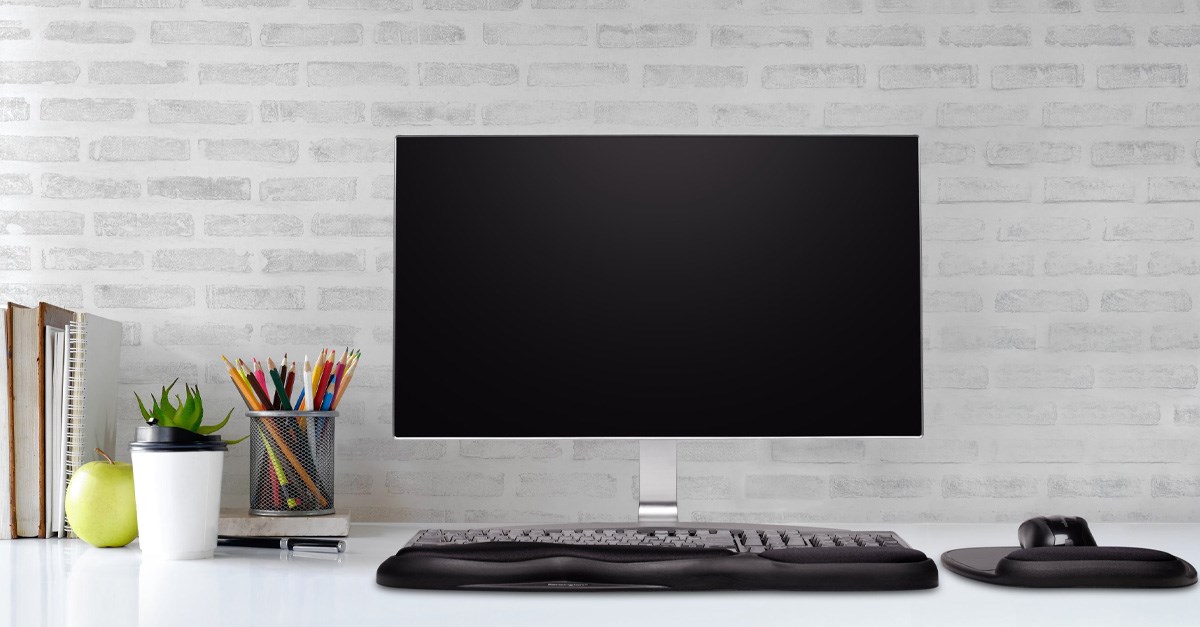 By now, every company is aware that allowing some employees to take work home is a growing trend. What may have been a novel idea twenty years ago (mainly used to accommodate specific circumstances) has slowly gained traction and continues to accelerate. Having a telecommuting policy became a perk that companies use to attract talent and give employees a better work-life balance.
Consider the figures over the last decades. From 2005 to 2017, there was a 159% growth in remote workers in the United States. In an analysis done by FlexJobs, research showed that telecommuting grew by 44% over the last five years. Before it became part of a business resilience policy, remote work was growing in popularity with employers and employees alike.
Implementing an Effective Telecommuter Policy in Six Steps
For organizations, the steps required to implement a telecommuting policy that suits both employees and the company is vital. To establish an environment that accommodates individual circumstances, external factors, and the company's business goals are not easy. When formalizing a policy for remote work, you will want to consider factors like alternate workdays, staggering coverage, and having flexible schedules. Additionally, follow these five steps to create a strong work from home and telecommuting policy.
1. Define the Ideal Employee Personality Profile the Company Needs
Remaining productive outside of the office is not for everyone. Certain personalities may not find it possible to maintain the same levels of efficiency when working from home. The company should consider this while identifying which employees will be well suited to telecommute for some or all the time.
2. Create Work Schedules per Company Requirements
The primary goal of the policy is to serve the company's needs while accommodating employees. If there are specific times where certain desks require coverage, ensure telecommuters know about the hours you expect them to be available. Support functions need to be online when other Business Units need their services. Communicate your daily expectations to all your remote workers clearly from the start.
3. Establish Required Cybersecurity Tools
The company may want to focus on productivity tools, but personal and cyber safety should also form part of the telecommuting toolkit. The company should use authentication tools where possible to secure networks and specify the minimum hardware and ergonomic requirements for your employees' home offices. Use this telecommuting safety checklist from UC Berkeley for more information about what to consider for your remote worker's set up.
4. Establish Clear Communication Channels
You will want to identify the formal communication channels that employees should use while telecommuting. It could include specific email addresses, reporting support issues, or using an Instant Messaging (IM) service to provide feedback on a project's progress. If you already use these tools in the office, ensure your telecommuters can access them safely from home networks.
5. Set the Rules and Enforce Them
The policy should clearly state all duties, responsibilities, and how to deal with extenuating circumstances for employees to comply with the rules. Unforeseen events happen and the company should be able to deal with it, but employees will also have to know that the company depends on them even while working from home. It's advisable to state clearly that telecommuting is a perk and any contravention of the remote working policy will result in the company revoking the privilege.
6. Assist with Ergonomic Home Office Equipment
For companies considering a telecommuting program or outright work from home policy, it is important to consider the home office's safety and ergonomics. Analysts recommend that a legal representative should review any policy to ensure compliance with the applicable labor laws.
Adequate ergonomics can also help improve concentration and reduce strains, making it a valuable tool for keeping staff productive in any environment. Here are some devices to consider for a healthy and comfortable work from home set up.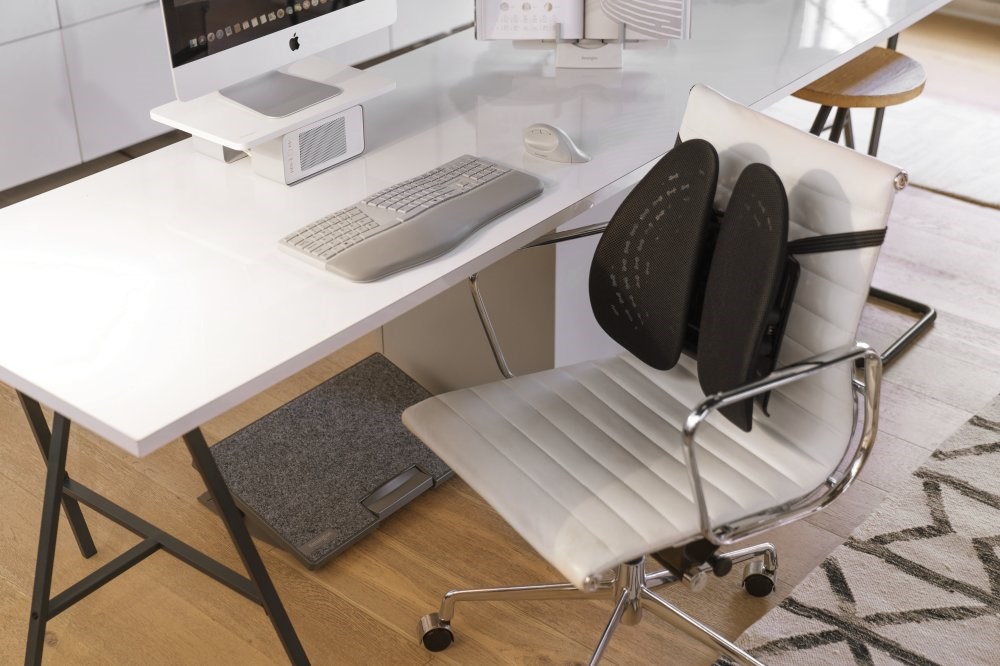 Ergonomic Input Devices
Mice, trackballs, and keyboards all influence how a person sits at a desk. A keyboard that is too far away will force you to lean forward, while the way you rest your wrists for long periods can cause joint pain. Using ergonomic input devices from Kensington® for your home set up can help reduce strains and increase focus for longer periods.
Connecting and Positioning Monitors
If you review and disseminate a lot of information during working hours, you'll probably already have multiple screens at the office. To ensure the same level of productivity at home, you'll want a similar setup. Using a monitor arm or laptop riser allows you to align the screen to your position depending on the specific task. To connect your device to your home office set up easily, you may want to use a universal docking station.
Footrests and Back Supports
Maintaining a healthy posture requires both back and leg support. Keeping feet firmly planted in a comfortable position is possible with the SoleMate™ Pro Ergonomic Footrest. It promotes healthy circulation and supports your back while providing a more comfortable position for your legs as you spend extended periods behind a desk. With the easy to use, foot pedal control, you can adjust your sitting position quickly to find the most comfortable set up for your current task.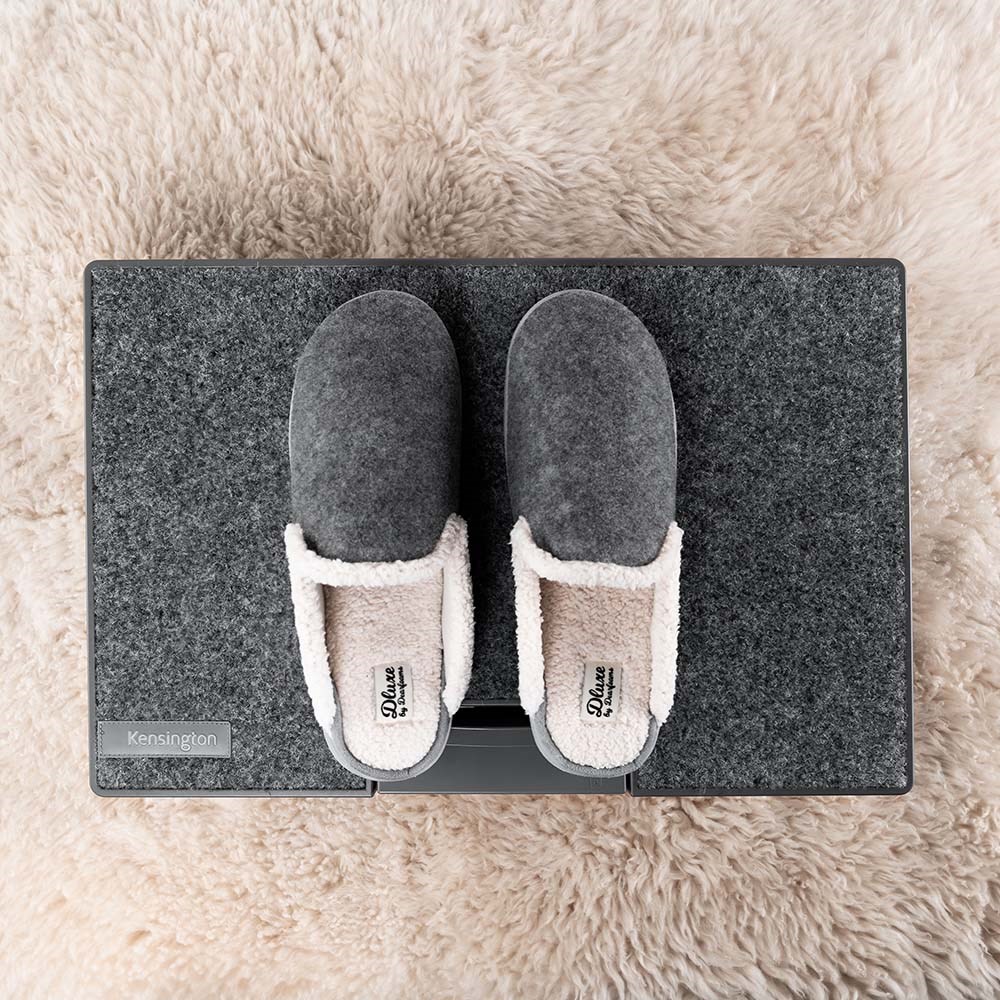 Similarly, to ensure you have adequate support for your lower back, the Conform™ Backrest gives you unparalleled comfort using four independent springs and ventilated support. The covers are removable and washable, making the perfect addition for a more comfortable work-from-home office set up.
Finding the Perfect Remote Worker Set up with Kensington Products
Kensington developed our SmartFit® products that help you to find the perfect height, alignment, and comfort setting. You can use our system to find your optimal setting for our products, ensuring you can work like a pro from any environment. If you are an employee looking to enhance your existing setup or an organization that needs to consider the working environments of your telecommuters, Kensington's solutions can help find an optimal solution.
As work from home becomes the new normal, companies and individuals will need to invest in their telecommuting capabilities. Keeping staff productive and healthy while they operate remotely is a vital part of an effective telecommuting policy. With a range of solutions that are suitable for both the office and home working environments, Kensington can help you improve your office mobility while you work comfortably from any work site.
If you need a comprehensive list of our telecommuter solutions, check out our work-from-home products.