The Universal Serial Bus (USB) port has come a long way over the past 25 years, both in shape and efficiency. It culminates in USB4's 2019 announcement. A long lineup of versions paved the way for this achievement, and you're not alone if you're confused.
USB 3.1 Gen 1 (5Gbps) and USB 3.1 Gen 2 (10Gbps) were updated to USB 3.2 Gen 1 and USB 3.2 Gen 2, respectively. This happened when USB 3.2 Gen 2X2 (20Gbps) was introduced. Then USB 4 was announced, utilizing Intel's Thunderbolt technology, the same connection technology used in Thunderbolt 3.

So, what does this all mean? Let's dive into the details of USB 3.1, USB 3.2, Thunderbolt and USB4.
Understanding USB 3.X Gen 1 and USB 3.X Gen 2
USB generational numbers don't correlate to the shape of the connection. Meaning, a USB 3.1 cable can use a USB-C, micro-USB, or USB-A connector.
Instead, they denote generational bandwidth, which ultimately determines data transfer speeds. The USB port created in 1996 (USB 1.0) orginally supported up to 1.5 Mbps transfer speeds. By comparison, USB 2.0, which was introduced in 2000, supported transfer speeds of 480 Mbps. In 2008 is when USB 3.0 came along, supporting up to 5Gbps.
By 2014, USB 3.0 was replaced by USB 3.1. As advancements were made in the 2010s, the older USB standard became even more niche. The same terms have been colloquially used, but speeds are much faster in the current USB 3 standards, which are as follows:
USB 3.2 Gen 1 = USB 3.0, or SuperSpeed USB, with a max throughput of 5 Gbps.
USB 3.2 Gen 2 = USB 3.1, or SuperSpeedPlus USB, with a max throughput of 10 Gbps.
USB 3.2 Gen 2×2 = USB 3.2, or dual SuperSpeedPlus USB, with a max throughput of 20 Gbps.
A  "USB 3.0" device built today has 10x the speed of a "USB 2.0" device built in 2013 or earlier. Because many smartphones, tablets, notebooks, and laptops use this functionality, USB has also become the de-facto charging standard for these mobile devices. While you won't notice much of a difference using a wired USB mouse or keyboard, it's exceptionally noticeable when performing large data transfer activities.
Displays providing 4K video at 60Hz require even faster transfer speeds, which is why Thunderbolt 3 became ubiquitous.
What Is Thunderbolt 3?
Thunderbolt was initially released in 2011, combining both Data (up to 10Gbps) and Video into a single port and cable. Intel developed Thunderbolt 3 to fit this protocol into a USB-C port, enabling 40 Gbps data speeds, video, and power delivery.
Intel has been developing Thunderbolt 3 products since 2015, and for Apple, Thunderbolt 3 has been the standard on their laptops manufactured since 2016. Thunderbolt 3 as a technology standard is leveraged by Windows PC OEMs that use Intel motherboards, processors, and GPUs. However, Thunderbolt 3 wasn't available to Windows PC OEMs like Dell, HP, and Lenovo that were using AMD products until the release of USB4.
Introducing the Possibilities of USB4
USB4 is the culmination of all the above technologies. It combines Intel's Thunderbolt 3 specs with USB 3.2. Best of all, it's backward compatible with all previous USB 2 and USB 3 standards. While you'll still receive the maximum data throughput your device was designed for, the list of OEMs integrating Thunderbolt 3 capability will greatly increase in the 2020s.
Although capable of 40 Gbps, USB4 will support up to 10 Gbps, 20 Gbps, or 40 Gbps, depending on whether a single- or dual-lane cable is used. This means your older USB-C cables will still work with the USB4 standard, but they will only perform at the maximum speed that the device (ex: laptop) and your USB-C cable can support.  

The USB-PD (Power Delivery) protocol becomes mandatory in USB4 as well. USB Type-C devices like laptops and smartphones need fast charging (some of which require up to 100W), which is easily delivered in this standard. Others, like wireless headphones, draw less power and can be trickle charged over a longer timeframe. USB-PD maximizes charging efficiency across all devices to ensure you're getting the proper charge each time.
Best of all, USB4 enables more devices without negatively impacting latency. That makes it ideal for gamers, video editors, streamers, and other professionals who require lightning-fast and reliable speeds. Now that's a list OEMs will line up to impress. With all that said, you likely won't see devices fully supporting this new protocol into late 2020, or even 2021.
There's no need to wait that long for performance though. Here are some of Kensington's solutions that will future proof your investment and work great with USB4 computers when they arrive.
The Best Thunderbolt 3 Docking Stations
Kensington has the best docking stations for Thunderbolt 3. The SD2400T Thunderbolt 3 dock, for example, offers a single 5K display or two 4K displays, utilizing dual DisplayPort functionality. It provides 85W power delivery, along with three USB-A and one USB-C port.
The LD5400T Thunderbolt 3 dock supports single 5K/dual 4K via DisplayPort and a secondary Thunderbolt 3 port and up to 85W power delivery. LD5400T also provides next-gen locking by leveraging our award winning K-Fob™ Smart Lock (electronic locking) technology.
The SD5500T Thunderbolt 3 dock allows single or dual 4K video, along with 60W power delivery, while also being one of the first docking stations to be backward compatible with USB-C laptops.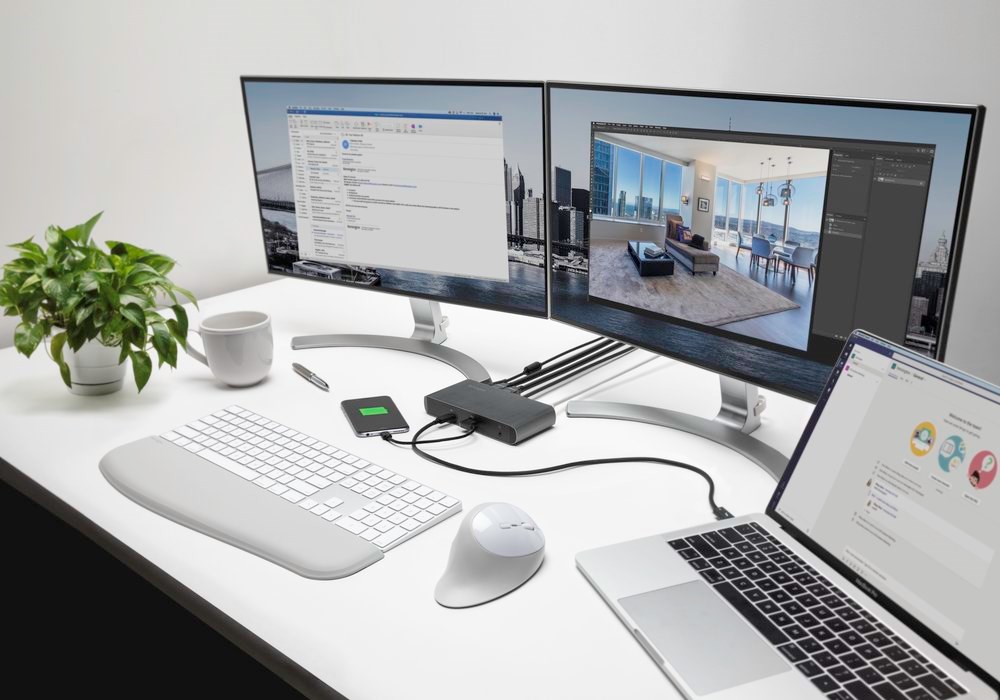 Each of these docking stations exponentially increases the power and capabilities of your devices. View all of the docking stations Kensington has to offer.
The Best USB-C 3.1/3.2 Docking Stations
Docking stations like SD4900P not only support up to 10Gbps, 60W PD and 17-Ports of productivity, but it also supports up to Triple 4K video! To top it off, SD4900P is a hybrid docking station, allowing it to be backward compatible with legacy USB-A laptops. Speaking of hybrid docking stations that support USB-C and USB-A laptops, we also have SD4750P which supports Dual 4K and SD4700P which supports Dual 2K.
For those looking for next-gen locking found on LD5400T, we also offer LD4650P which supports up to 10Gbps, 60W PD and Dual 1080p video support. 
For people on the go, our SD1600P and SD1500 mobile docking hubs are great additions.
The Best USB-C Adapters and Video Cables
The best video adapters will fill in any connectivity gaps for your devices. Video over USB-C will continue to be a major part of USB4. If you aren't already replacing cables with USB-C, now's a good time. Nearly all mobile devices created today leverage USB-C.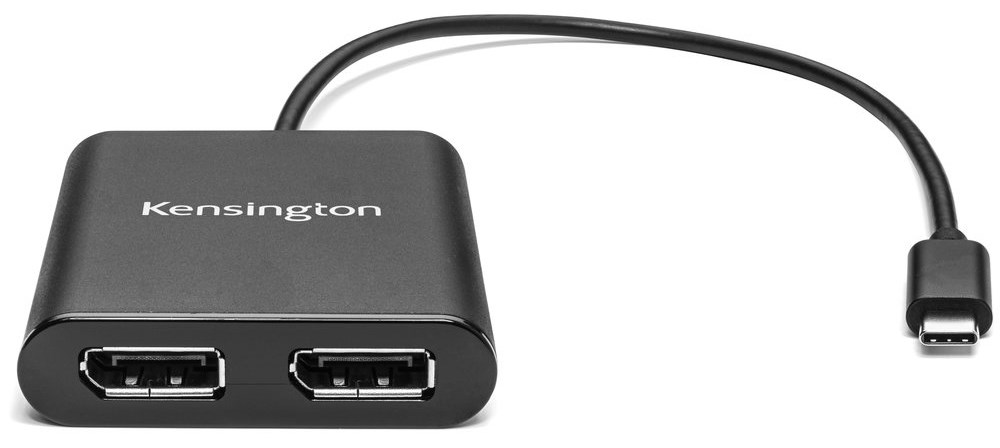 Kensington's K38280WW converts one USB-C port into Dual DisplayPort connections, while K38286WW converts one USB-C port into Dual HDMI ports. In addition, K38285WW will convert one USB-C port into an Ethernet line supporting up to 2.5Gbps!
View a full listing of our Video Cables and Adapters.
The Best USB Hubs
The best USB hubs expand your connectivity needs while in the office, or while traveling abroad. The UH4000 4-Port USB 3.0 hub is a great solution for obtaining additional USB-A ports, while the CH1000 4-Port hub splits a USB-C port into two USB-A ports and two USB-C ports. Moreover, CA1000 provides a quick way to support legacy USB-A devices on newer USB-C based computers.
View our entire line of USB hubs.
Get Ready for USB4 with Kensington
USB has come a long way since 1996, and we are thrilled to continue to offer cutting edge accessories that enable you to get the most out of your investment. For over 35 years Kensington has been leading the charge in future-proofing and securing your devices. With advancements in USB4, even more possibilities are on the horizon.
Contact us today to learn more about how we can help future proof your Thunderbolt 3 and USB-C technology investments!