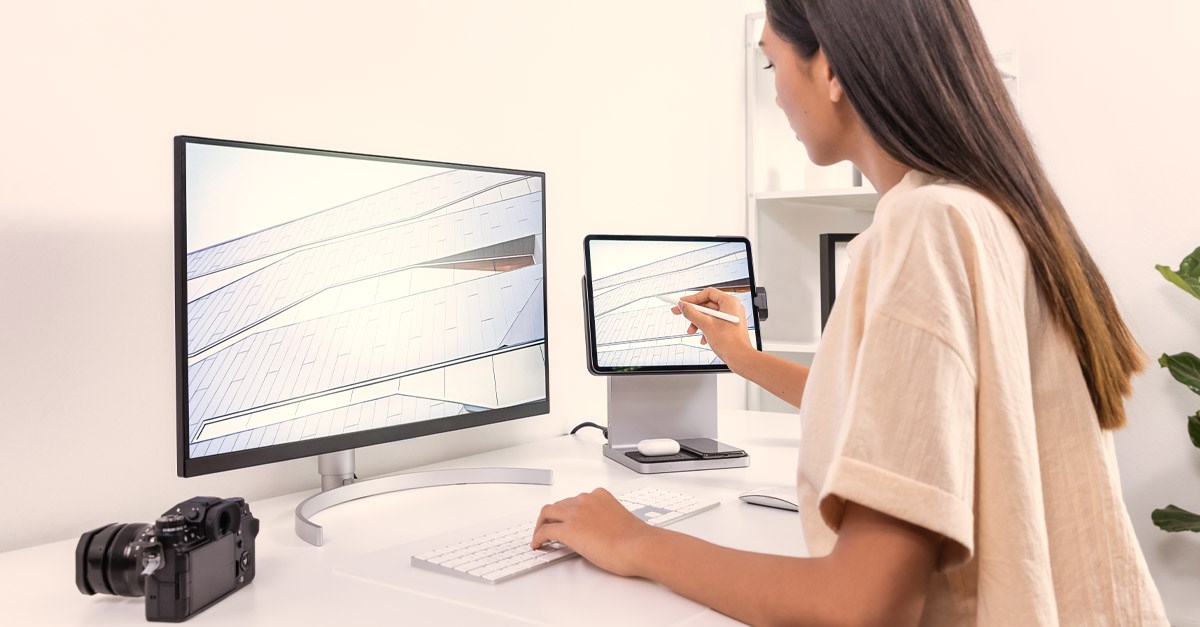 The evolution of what is arguably Apple's flagship product continues to wow consumers. Current generations of iPads continue to set the pace for tablet computers that other tech companies struggle to beat.
Since 2010, the iPad has changed the landscape and showed consumers what is possible with a powerful handheld device. Today, the iPad Pro 11" and 12.9" models already support many graphic designers, sound engineers, and other creatives in all elements of their work.
The iPad Air (considered the fourth generation) comes with an A14 Bionic Chipset, USB-C port, and a liquid retina display with True Tone and P3 wide color. The additional performance and crisp video display make it possible to create a complete desktop workstation using only your iPad.
Setting Up Your iPad Pro Workstation
Since the third-generation iPad Pro became available, internet pundits and different tech reviewers demonstrated how you could set up a complete workstation using only the tablet computer. With the right tools and accessories, you can build a home studio or workstation powered entirely by your iPad.
The upgrades included in the new iPad Air builds on this capability to configure your entire desktop using only a tablet.
The Ultimate iPad Pro Desktop Setup
New iPads (Pro and Air) come with USB-C technology that allows you to dock and connect multiple devices easily. Configuring a desktop setup for your iPad usually requires a variety of accessories for ultimate productivity.
At a minimum, you'll need:
Apple's Magic Keyboard for iPads
USB-C hub with additional USB-A and USB-C ports, HDMI Video Out, 3.5mm audio jack, and more
An external SD card reader for accessing additional contents
This setup will allow you to access contents from a digital camera, output your display to a monitor with a single 4K video, and connect your desktop speakers to the iPad. One thing you'll need to pay attention to is the additional USB-C port. In some hubs, this port only supports data and not charging for your iPad.
Another element to consider is that the iPad's video mirrors the external display when using some apps.  In order to see full screen images, users will need to make sure that the apps used would support it.
Introducing our Complete iPad Desktop Workstation Docking Solution
At Kensington, we understand that minimalist design and enhanced productivity is something customers expect. Our new StudioDock™ enables users to create a productive desktop workstation using only your iPad Pro 12.9" (2018+) or iPad Pro 11" (2018+)/ iPad Air (2020+).
The StudioDock gives you maximum connectivity in a single solution for all your accessories to configure a productive workstation while maintaining a minimalist setup.
Unleashing Your Creative Potential with Kensington's StudioDock
For a powerful desktop experience, the StudioDock allows you to magnetically attach your USB-C iPad Pro 12.9" (K34030WW), or USB-C iPad Pro 11"/iPad Air (K34031WW) quickly in either portrait or landscape modes. You won't require any additional drivers, and with the single 4K 60Hz HDMI 2.0 video output, you can use applications like iMovie, Netflix, and Keynote without hassle.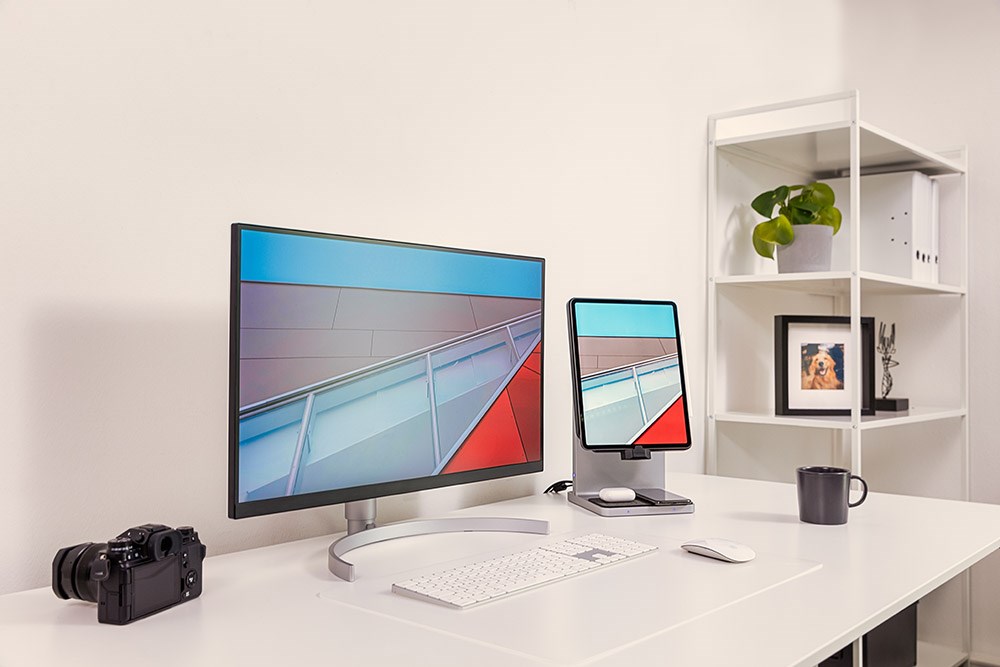 With an elegant design and precision-engineered docking station, your new iPad becomes a powerful tool suitable for any creative task. Connecting your iPad to the docking station is as breeze via the magnetic mounting plate.  
Provides Room for Expansion
The StudioDock can handle all of your desktop accessories. For external drives, keyboards, mice and more, you get three USB-A ports and one additional USB-C port. You also get an Ethernet port, HDMI 2.0 video output, SD 4.0 card reader and an integrated 3.5mm audio jack to ensure you can operate like a pro using only your iPad.
Easily Switch Between Portrait and Landscape Modes
Apart from the easy attach/detach features, you can also quickly switch between landscape and portrait views by rotating the iPad. The latest SD card reader (using UHS-II SD 4.0) enables you to access all your data without needing any additional adapters or dongles. The StudioDock is the ultimate iPad desktop workstation solution, whether you work at home or the office.
Charging Your Entire Apple Ecosystem
While the easy docking and expanded connectivity are great, you can also integrate your other Apple products with the StudioDock. With wireless Qi charging support for both your compatible iPhone and AirPods, all your devices will have a dedicated place on your desktop workstation.
The StudioDock's charging capabilities include:
iPad USB-C charger – At 37.5 watts, StudioDock provides a 108% faster-charging capability than the Apple 18W charger.
iPhone – Wireless charging of 7.5 watts for your iPhone by simply placing your phone on the StudioDock
AirPod – A 5W charge also using Qi Wireless technology
Apple Watch – Optional 5W accessory that allows you to charge your Apple Watch at your desk
Engineered with Quality in Mind
The newer models of iPads and Apple devices help you remain productive whether you're meeting a client at a coffee shop or doing detailed design work at home. With the Kensington StudioDock, you can switch between these environments at a moments' notice. Your iPad can travel with you anywhere you go, and once you sit down behind your desk, it can transform into a productive and efficient desktop workstation.
We designed the StudioDock to accommodate all the accessories and features you need to create a complete desktop workstation. You can charge your Apple devices, connect your 4K monitor, expand your storage, and operate the iPad just like a laptop computer. Our three-year warranty is a testament to Kensington's dedication to quality and precision engineering.
Discover New Possibilities with Kensington's iPad Docking Station
If you want more from your handheld devices, Kensington has the necessary mobility solutions to keep you connected and productive from anywhere. The StudioDock incorporates years of expertise to give you the ultimate desktop workstation experience without requiring any additional adapters, dongles, or workarounds.
To get more out of your iPad, the StudioDock provides you with all the versatility and efficiency you expect from a regular workstation. Graphic designers, audio and visual engineers, or anyone who uses the Apple ecosystem in their daily workflows can benefit from this complete docking solution.
Instead of studying YouTube videos on configuring your workstation around your iPad, choose a single solution that caters to your every need. With iPads now being powerful USB-C computers, our StudioDock expands the possibilities of what is capable from your handheld device.
Learn more about the StudioDock and find out when it will be available!