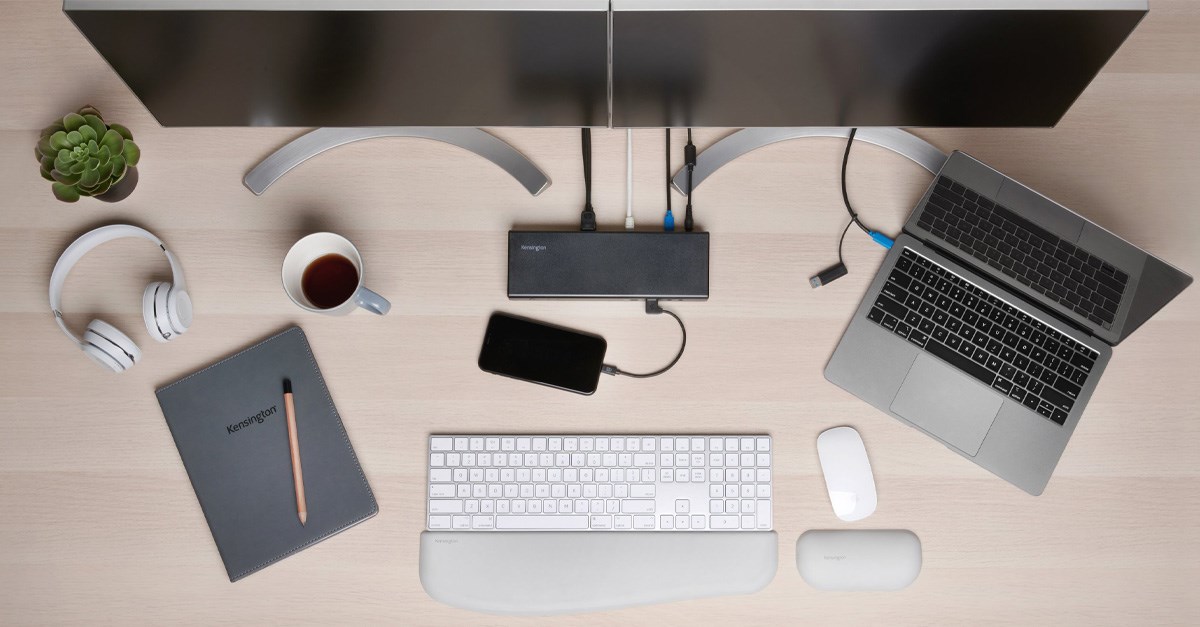 The days of the traditional cubicle workforce are long gone. 2020 brought a shift in the workforce, and a new normal where home offices replaced cubicle farms. 
However, that doesn't mean everyone is working from home and never in an office. Workers often find themselves bouncing between different environments and trying to make the most out of each one. 
Unfortunately, for the 30% of remote and hybrid workers, this can result in a lack of productivity. This situation is because their workflows differ so much from location to location. It's also hard for IT administrators, who have to ensure that people have the correct hardware depending on where they are working at any given time. 
The Challenges of Different Work Environments
In the world today, work is never truly "off." Employees work from home, at the office, and on the go. The question is, how do you stay focused and productive when you are working in different environments?
More than 4.3 million people in the United States alone are using a hybrid work model. For some, that means literally working from anywhere. Many have offices set up at home, while others are forced to work at the kitchen table. 
For employees who are required to go into the office part-time, they struggle as well. Trying to get connected and being productive when their work environment is constantly changing creates a great deal of frustration.
How IT Administrators Manage the Challenges of Hybrid Work Environments
For IT administrators, it is a challenge to ensure that all employees have the correct hardware and software. Some are working from home and not on company-owned devices. Others work in an office where they only come in part-time but need to constantly switch between their personal laptop and the company-owned systems to use proprietary productivity software.
Their challenges are manageable, with a few solutions brought to you by Kensington. Kensington provides docking stations that connect people at home, in the office, or anywhere else they work – seamlessly and securely. This allows IT admins and managers to better manage the influx of IT tickets that result from a hybrid workplace.
How IT Managers are Standardizing WFA Solutions
It's hard to be productive and focused in this day and age. With the increase of remote work, it has become difficult for people to know where they should be working at any given time. Furthermore, IT administrators have a difficult task on their hands ensuring that employees have the equipment they need.
To tackle these issues of being productive and secure today, Kensington offers universal docking stations that can help IT managers solve those problems while also limiting the impact of an increased workload for IT admins.
Regardless of where your employees are currently working, IT professionals can standardize the docking stations they deploy to keep their workforce productive while remaining secure. This standard will make life easier during support calls for both IT administrators and employees.
Kensington's Solutions for Keeping Your Workstation Productive
It is essential to assess the needs of staff working in remote or hybrid environments and find a solution that works for your employees. Kensington offers many different types of docking stations for the desktop, as well as a mobile docking solution.
Here are the leading Kensington products that make managing the challenges IT professionals and remote employees face every day a little easier.
SD4870P - USB-C & USB-A (10Gbps) Dual 4K Hybrid Docking Station - 100W PD - Win/Mac/Chrome  
Designed to support USB-A, USB-C, Thunderbolt 3, and Thunderbolt 4 laptops (nearly any device deployed in your workforce), this Dual 4K Hybrid Docking Station supports Windows, macOS, and Chrome OS. You have four video ports to choose from (DP++ and HDMI) and this dock can support two 4K monitors at 60Hz. 
This desktop docking solution also supports up to 100W of power delivery for laptop charging and is VESA mountable.
SD5600T - Thunderbolt™ 3 and USB-C (40Gbps) Dual 4K Hybrid Docking Station - 100W PD – Win/Mac
The Thunderbolt 3 and USB-C Dual 4K Hybrid Docking Station is designed to support USB-C, Thunderbolt 3, and Thunderbolt 4 devices. That way, should you have a mix of USB-C and Thunderbolt devices within your workforce, this docking station provides the ideal solution for your business – today and well into the future.
It supports Windows and macOS and provides four video ports (DP and HDMI), supports up to two 4K monitors at 60Hz, and supports both vertical and horizontal placements.  
SD2000P - USB-C (5Gbps) Single 4K Nano Dock - 60W PD - Win/Mac/Chrome
The USB-C 5Gbps Single 4K Nano Dock is designed to support USB-C, Thunderbolt 3, and Thunderbolt 4 devices. It also works with Windows, macOS, Chrome OS, Android, iOS, and iPad OS. The design provides two video ports to choose from (DP++ and HDMI) and supports a single 4K monitor at 30Hz, as well as provides 60W of power delivery to your device. This nano dock is sure to keep your team productive.
SD1600P - USB-C (5Gbps) Single 4K Travel Dock - 60W Power Pass-Through - Win/ Mac/Chrome
For a portable solution, the Mini Mobile Dock with Pass-Through Charging provides productivity and versatility - perfect in today's scenario of hybrid working. This mobile docking station works with any laptop that has a USB-C port - including Thunderbolt 3 and Thunderbolt 4 devices.
This bus-powered solution (meaning no power supply is required) supports 60W of optional pass-through power, accommodates HDMI and VGA devices like monitors and projectors, and has three USB ports. Its compact design is perfect for a WFA workforce; allowing you to use it at any desk, or any environment.
Kensington Knows How to Keep You Productive, Mobile, and Secure in Your Hybrid Workplace
At Kensington, we understand the needs of your hybrid workforce. With well over 30 years of experience, we have the knowledge and solutions to help your employees stay productive in this ever-changing landscape.
Our Universal Docking Stations not only keep your workforce productive, but many of our solutions also help to alleviate aches and pains from improper workstation setups. Keep your deployed workforce happy, healthy and productive with our complete line of hybrid working solutions.