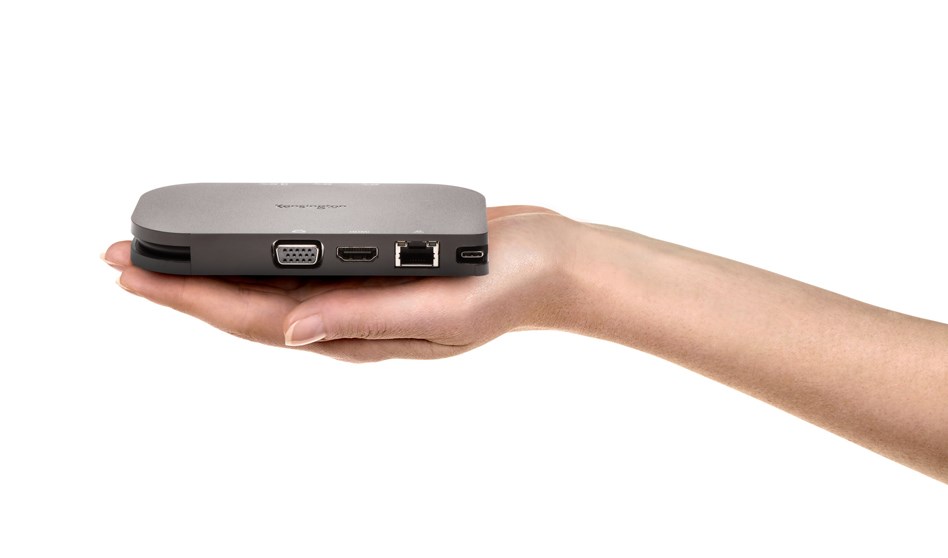 For most people, laptops are an extremely convenient device that allows them to do their work from wherever they wish. Whether it's at their desk, in a conference room, at a shared table, or in a hotel, one of the biggest benefits of a laptop is mobility.
However, for many people who need their laptops for work across multiple environments, these computers don't always seem especially mobile. In fact, sometimes, it can be especially inconvenient simply moving a laptop into the nearest conference room for a presentation, much less taking it on the road to a completely different office.
Fortunately, instead of constantly struggling to adapt your laptop to each new environment, utilizing a mobile docking station could make your life much easier.
Greater Functionality Is Available Through a Mobile Docking Station 
No matter what kind of laptop you rely on, the modern working environment is going to put it through its paces.
For example, you may be one of the many employees who needs more ports than their laptop can offer when away from your desk. Your job may require you to connect to a projector, monitor, or TV. You may need to plug directly into an RJ-45 LAN connection instead of WiFi. The list goes on and on.
Because laptops are getting thinner, many of these devices aren't even compatible without the use of adapters. It could be completely impossible to run a presentation on a flat-panel monitor in your conference room with the laptop you currently use. 
Instead of finding an inconvenient, disorganized workaround, you'll find a mobile docking station is much easier for achieving the desired result.
Of course, many people have more mundane requirements just at their desks. Every single day, they need to connect their laptop to a mouse, keyboard, thumb drive, external monitor(s), and perhaps other essential devices, as well. 
This can easily overwhelm the number of USB ports most laptops offer, which is usually just two.
It doesn't have to be this way, though. With a mobile docking station, you just plug your laptop into it with a single cable to experience all this functionality. At the end of the day, if you want to take your laptop home for more work, you have one single cable to unplug. That's it. 
Save Money You Would Have Otherwise Spent on a Desktop with a Mobile Docking Station
Due to the limited functionality of many laptops that we just covered, many IT managers assume that the only solution for their staff is to purchase desktops for everyone.
Although that may solve the problem (while greatly limiting worker mobility at the same time), it definitely wouldn't be a very affordable solution. Imagine replacing every laptop in your office with a brand-new desktop.
Again, this is where mobile docking stations are so helpful. They give laptops the same degree of functionality as desktops in terms of the other devices with which they can connect, but they are only about a fraction of the price.
Your workers will still benefit from the mobility of their laptops, as well, which is a big plus for any employee who needs to regularly work away from their desks. 
Improve Shared Working Environments 
There are all kinds of reasons shared working environments are advantageous.
Unfortunately, these environments can also pose constant challenges to laptop users. They may need to jump through a few hoops everyday to get the functionality they require from their devices just to do their jobs. This takes time, wastes money, and can quickly lead to workers who are no longer so thrilled about the potential of this type of working situation.
The good news is that the right mobile docking station completely solves the biggest drawback to a shared working environment. Suddenly, people can unplug and plug as they please. Most importantly, they can make the best possible use of their time.
The Perfect Docking Station for Any Worker on the Move
A mobile docking station provides many benefits, and expanding the ports on your laptop is just one of them. If you take a look at the SD1600P USB-C Mobile 4K Dock with Pass-Through Charging, you'll notice that it's easy to pick up, pack away, and deploy when necessary.
So, whether you use it solely in the workplace or leverage this mobile docking station to make working on the road much easier, you don't need to worry about struggling with a lot of hardware. For most people, it will fit just fine in the same bag they use for their laptops. 
A Mobile Docking Station Will Improve Your Productivity 
By now, it should be clear that a docking station like the SD1600P USB-C Mobile 4K Dock with Pass-Through Charging will go a long way toward improving your productivity. Best of all, it's an extremely cost-effective solution for doing so.
Don't let the limitations of a laptop keep you from enjoying its many other amazing features. A mobile docking station will greatly improve its functionality and your productivity. 
Still have questions about selecting the right docking stations for your deployment? Contact us, by clicking the button below, and let us show you why we are the Professional's Choice in Docking.