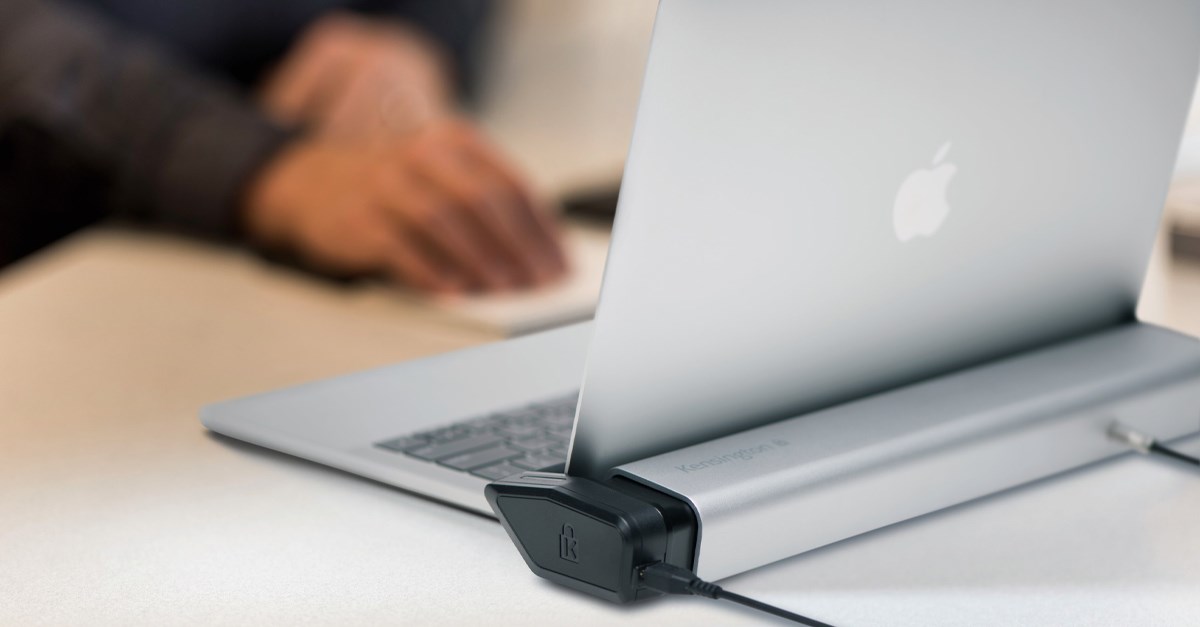 Macbook Pro Locks are a very important investment to protect one of your most valuable personal and laboral assets. The best option to keep your Macbook Pro secure is getting an adjustable laptop locking station, since they're easy to use, flexible to your environment and don't require hardware modification.
Ever since the first model launched in 2006, the MacBook Pro has been a staple of workplace productivity - and a hot item for thieves. Almost one-fifth of all grand larcenies in New York City in the early 2010s involved Apple products, a striking number considering their relatively small overall market share at the time.
And although recent innovations like the remote kill switch in the Find My app (formerly Find My Mac) have helped reduce the impact of theft, MacBook Pros in particular are still vulnerable, due in part to their growing use in busy co-working and hotdesking environments, plus their long-term rise in popularity with businesses. Securing them with a physical lock is essential.
Table of contents:
Why the MacBook Pro remains a prime target in thefts
Locking a MacBook Pro: Advantages of Laptop Locking Stations
The 2012 revision of the MacBook Pro removed the Kensington Security Slot – used for compatible cable locks – that had existed on the previous editions. Not to worry, though, as there are still good options available for securing a MacBook Pro. The best option is an adjustable laptop locking station.
Kensington laptop locking stations provide a straightforward and secure experience. Here's how locking your MacBook Pro with one of these solutions can reliably protect your device against theft.
No hardware modification needed
Kensington's MacBook Pro-compatible locking stations offer noninvasive locking. That means using one:
Doesn't require any hardware modification.
Won't void the device warranty.
Allows for use of all ports while secured in place.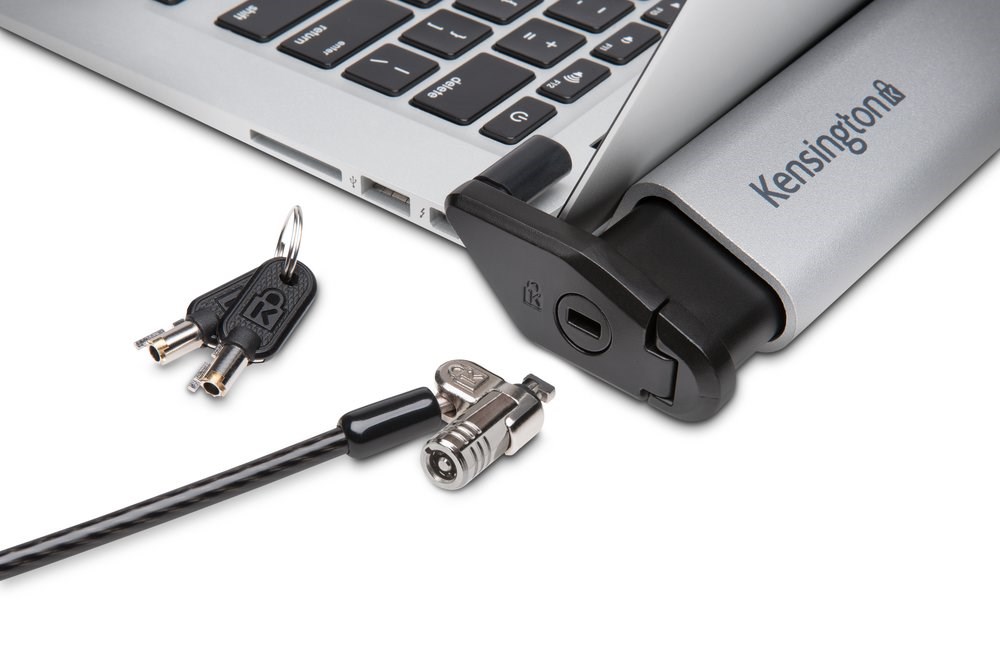 Adjustable security arms
MacBook Pros have become thinner and lighter over time while still coming in a standard range of screen sizes. Solutions such as the Kensington Laptop Locking Station 2.0 can fully accommodate their slim designs, thanks to adjustable security arms that don't require any specialized tools. Plus, features like scratch-resistant bumpers protect the MacBook Pro from cosmetic damage while locked.
Additional access and mounting options
Some MacBook Pro locking stations can be master keyed so that IT has convenient access to the entire deployment. Others may use a combination lock with a resettable 4-number code that eliminates worries about lost or forgotten keys. All Kensington laptop locking stations can be secured using a tethered lock cable or via their predrilled holes for permanent desktop mounting.
Locking + Docking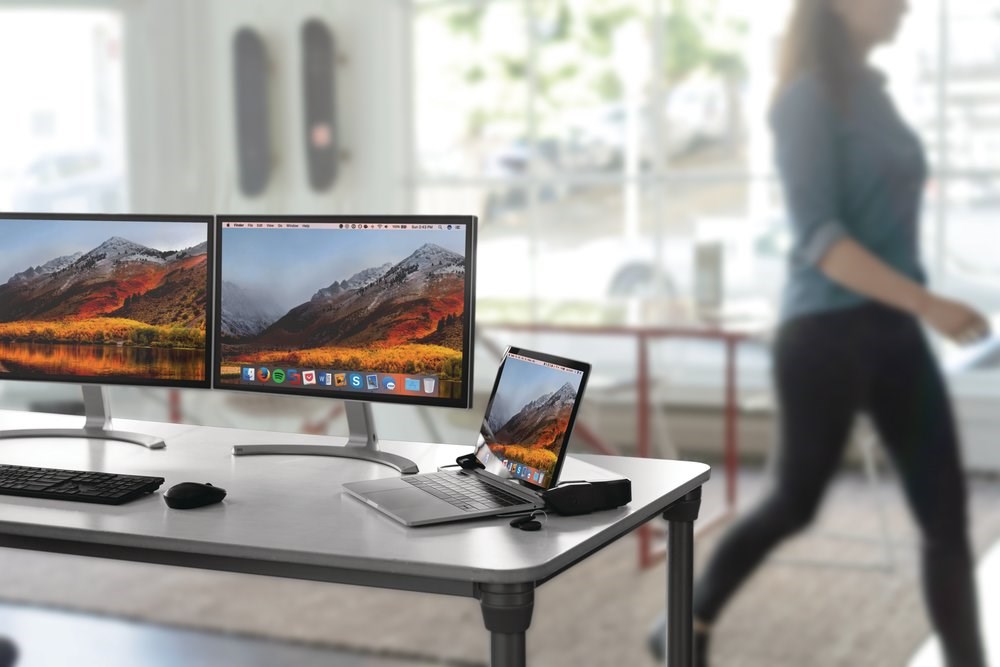 Lock management software
As employees move between spaces and join or leave a company, it's a good idea to track the locks they are using. The Register & Retrieve Management Portal makes this task easier through cloud-based management that supports services or key registration and on-demand support.
Why the MacBook Pro remains a prime target in thefts
The MacBook Pro is versatile, in high demand, and relatively expensive, all of which combine to make it a lucrative item. Let's look at these attributes in more depth and then explore how to lock a MacBook Pro to fully protect your investment.
Versatility and utility
Over the years, the MacBook Pro has not only become much faster and more capable, but more portable, too.
The 2012 model removed the optical drive and some large legacy ports such FireWire in favor of the slimmer HDMI and Thunderbolt 2. Then, the 2016 edition went further by becoming the first consumer device with Thunderbolt 3 connectivity (via the small, reversible USB-C connector), which can drive two 4K monitors and other peripherals while also delivering power.
The end result is a streamlined laptop that, at the high end, has more power than many desktops. That makes it ideal in increasingly popular co-working and hotdesking spaces, in which laptops are often connected to docks.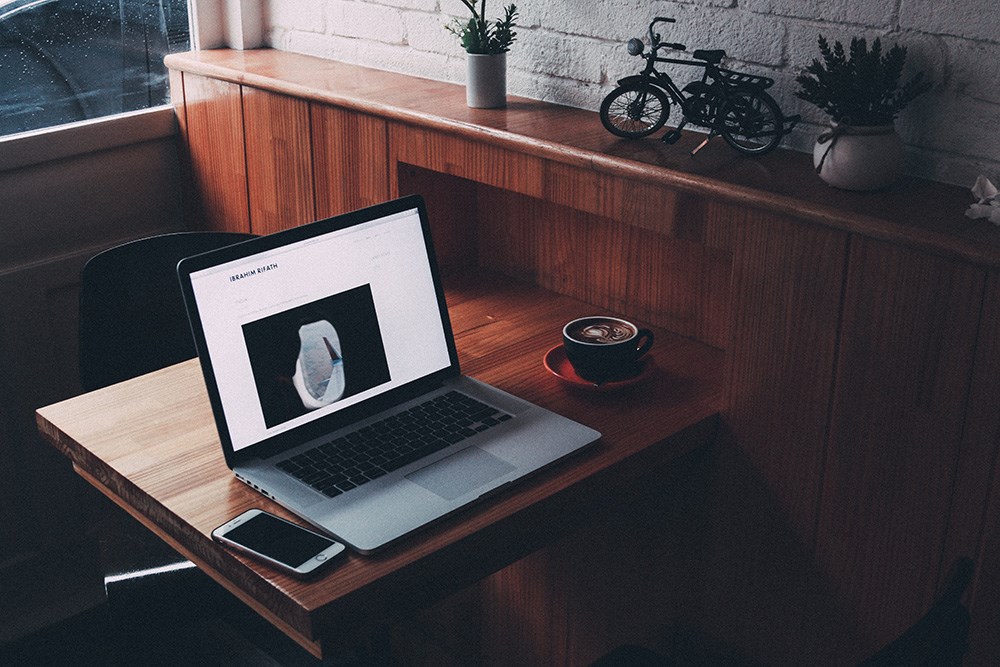 However, these setups can raise the possibility of theft, since many people come in and out of the same area. In fact, WeWork recently shut down its self-service food kiosks due to excessive theft, underscoring the general risks to anything left out in the open.
Demand and popularity
According to Statista, in the third quarter of 2021, Apple shipped 15 percent of all PC units in the United States. Though still small compared to Windows, macOS's business footprint has grown for numerous reasons, including the halo effect of iPhones and its in demand features built for creatives and designers alike.
Sales of MacBook Pros continue to be robust despite the overall stagnation of the PC market. Many individuals have moved from PCs to mobile devices as their main computing devices, but the need for desktops and laptops persists in business contexts, and MacBook Pros are helping fulfill it.
With more MacBook Pros in the workplace, organizations must think about how to physically secure them. Locking the screen, setting a strong password, and enabling Find My are all good steps for protecting the data on the device, but they're not enough on their own to discourage theft.
Price and resale value
Macs have always been somewhat expensive compared to PCs with similar specs. However, the extra money translates into durable resale value, which boosts the incentive for theft.
Macs are the only devices capable of running macOS, plus 2016 MacBook Pros are universally equipped with futureproof features like Thunderbolt 3 ports and NVMe storage. That makes them valuable for a relatively long time, raising the stakes for effective physical protection.
Get started with a MacBook Pro lock
It's never been more important to secure MacBook Pros, as they have become fixtures of workplace deployments while offering a strong combination of utility, portability, and overall value. Learn more about how to lock a MacBook Pro by taking a look at our range of locking stations.