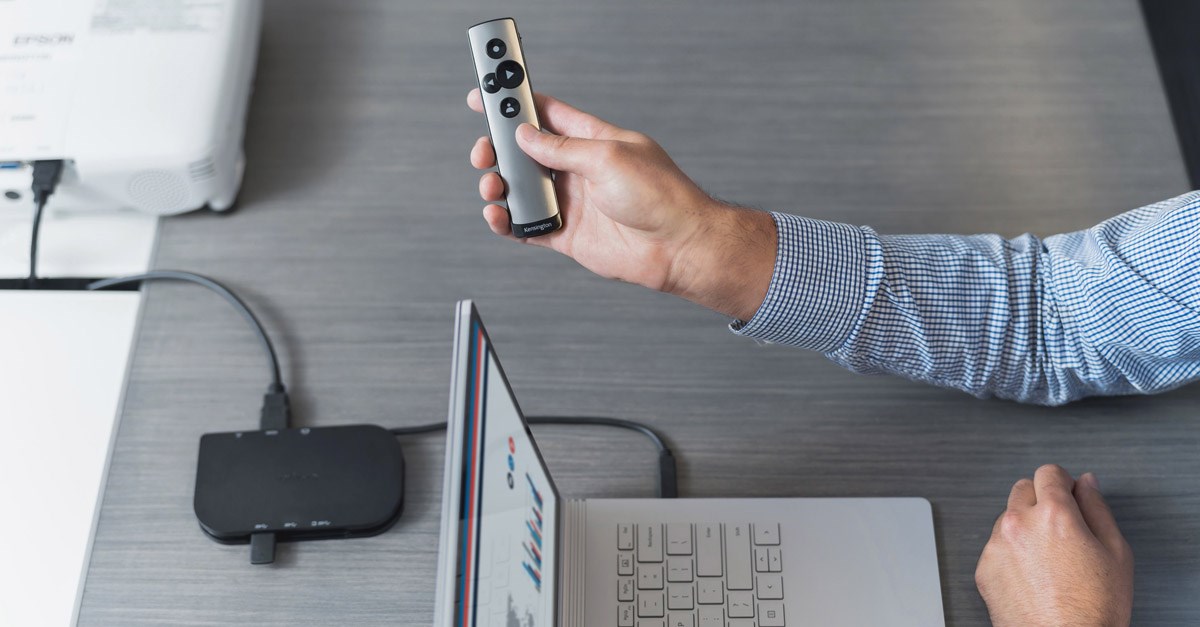 Chances are that if you want to advance in your chosen profession, eventually you'll have to give a presentation as part of your job. While getting over your glossophobia (or fear of public speaking) isn't possible using technology, ensuring you can captivate and engage your audience does require the right tools.
Developing the right timing, tone, and visual cues can take conference speakers or those working in education years to master. Maintaining a natural demeanor, speaking conversationally, and focusing the attendees' attention on the right information at the right time during a presentation are all vital for running an engaging and productive session. If you have the right presenter tools and content to match, you can confidently deliver your message like a pro in any work or teaching environment.
How a Laser-less Presenter can Boost Your Presenting Skills
The best presenters are comfortable while speaking, familiar with the content they are showing, and are prepared for audience questions. Just like with a chalkboard in a lecture hall, a laser-less presenter helps direct the audience's attention to a specific piece of information without you having to miss a beat during the session.
Today, you may find yourself having to deliver your presentations in a variety of challenging environments. Getting the AV equipment to work in an unfamiliar venue is no longer the biggest challenge.
You'll likely need to adapt your presentations for remote teams, students who depend on a quality education while studying from home, or a global audience tuning in to your latest webinar. Below we'll give you some tips and tricks for overcoming the current challenges using a virtual presenter suitable for any audience.
Cross-Platform and Environment Support
Switching between in-person and virtual presentations is no longer optional, as circumstances can change at a moment's notice. You'll need to ensure your presenter can work equally well in either situation without causing a distraction or interrupting your flow. Attention spans are getting shorter, and in remote environments, keeping engagement at the same level as with physical presentations for the entire session won't be easy.
By using the latest features available from your virtual presenter, you can reduce concentration losses, wandering thoughts and attendees from checking their phones or emails. While content will always be king, the right delivery in a digital context remains vital for a successful remote session. The latest presenter tools provide you with a host of features and attention grabbers for any environment.
Keeping Everyone Focused with Enhanced Features
Slides, graphs, and bullet points tell only half the story. Engagement depends on you reacting to the crowd as they consume the information you are providing. Handling questions as they arise is vital for keeping a person attentive and focused during the session. You'll want to be able to go backward and forward while addressing any questions from your attendees.
You can reiterate a specific point expertly or return to a previous subject matter to clarify an attendee's questions with expert control. Whether it's for a remote session or an in-person presentation, you improve your delivery with a laser-less remote that helps you navigate your slides seamlessly and deliver the right message to your audience every time.
Learning New Collaboration Capabilities for Remote Team Work
Performing actions like starting or pausing a video during your remote sessions allow you to elaborate or emphasize details that may be important to the audience. When you're handling a live presentation remotely, this becomes especially important. Using a mouse or trackpad to control the presentation will probably mean you have to lean over your computer, hovering over the pause button, and waiting for the right time to click.
You can have complete control over various actions, and you're able to customize the button configurations with some of the latest virtual presenters. If the product comes with an ergo design that keeps you comfortable, you can run a full day session while leaning back in your chair. Being comfortable will help you focus on every topic while controlling the entire presentation from a virtual remote.
To help you take your presentation skills to the next level regardless of where you have to work or educate from, our PowerPointer presentation remote is the ideal solution. Designed with intuitive controls and support for multiple monitors (suitable for dual in-person and remote sessions), the PowerPointer is also compatible with built-in presentation features used in PowerPoint®.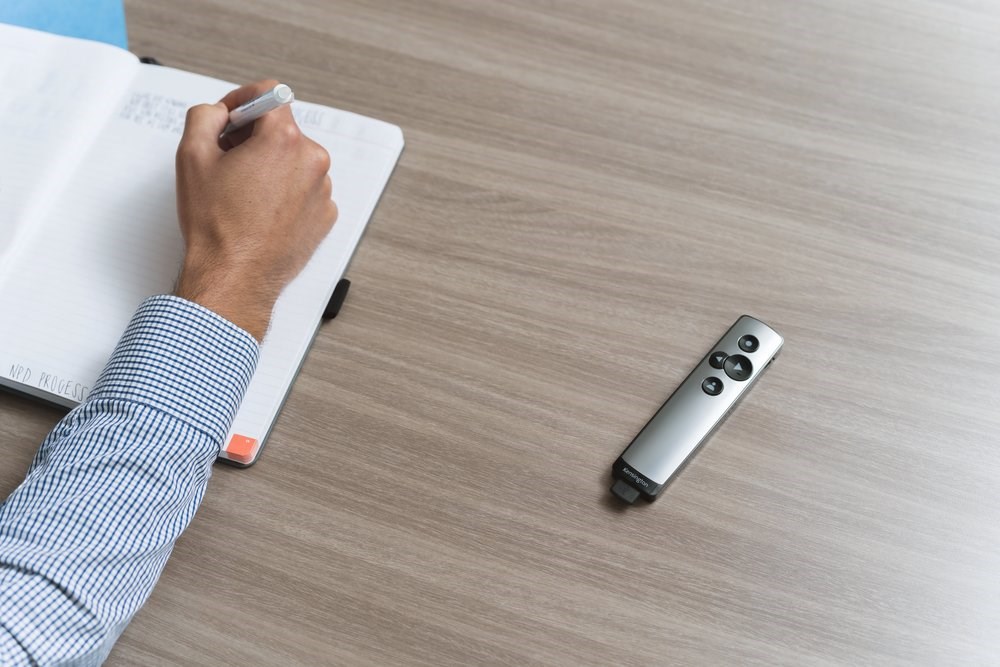 PowerPointer Provides Multi-Environment Support
Designing your presentations for maximum impact and executing the session using the built-in effects enables you to present from anywhere as required. The virtual laser-pointer shows up on multiple screens and remote attendees' monitors, while the ergonomic and contoured design makes it easy to navigate your slides, even in dark auditoriums.
It Enhances Your Remote and In-Person Presentation Skills
Adapting to change quickly without compromising on the quality of your delivery, tone, or flow requires a solution that works in either remote or in-person formats, separately or simultaneously.
With a sleek and ergo design, the PowerPointer comes with features like:
Being rechargeable so you'll never have to buy a battery or run the risk of having a drained presenter at the wrong time.
Recognizable button design so you can navigate forward or backward confidently without making mistakes.
Support for macOS and Windows Operating Systems using PowerPoint 2010 or later.
Ease of use with plug-and-play connectivity and a wireless receiver that's compatible with USB 3.0 / 2.0 ports.
A range of 49 feet (15m) ensures you can wander the room or move back from your desk without losing control. You'll also know when it's time to recharge with the LED power indicator, keeping you prepared for your presentations well ahead of time.
Engaging Your Virtual and In-Person Audiences with Kensington's PowerPointer
By integrating easily with the presentation programs most of us are already familiar with, the PowerPointer makes it easy to transition between remote, in-person, or even hybrid settings. An ergonomic and intuitive control layout helps you navigate easily and utilize the different pointer features that keep audiences engaged, no matter how they choose to attend.
The wireless connection also uses AES 128 encryption, keeping your device and computer safe from prying eyes. Kensington's PowerPointer enhances your attendee's experience, operates reliably, and comes with maximum versatility for sharing information effectively between you and your crowd.