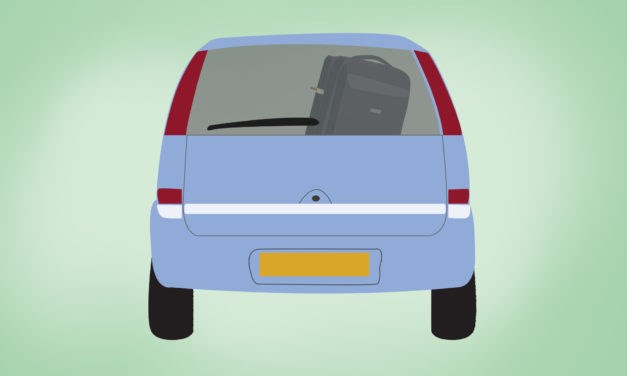 The Kensington SecureTrek range comprises a selection of secure travel bags designed for students, commuters and businesses. The leading provider of mobile device and PC locks for more than 30 years, the SecureTrek range includes a 15" Laptop Backpack, 15" Laptop Carrying Case, 17" Laptop Overnight Backpack, and 17" Laptop Overnight Roller. Our recent survey found that while most travelers keep up to $2,500 worth of valuables in their travel or commute bags, 75 percent do not secure their bags en route. Unsurprisingly, 35 percent of respondents said they had experienced bag theft while on a trip. In this post we look at how a SecureTrek laptop bag can work for rental cars and other vehicles.
Business on the Road
For those of you who frequently head out on the road for business travel, there's almost assuredly going to be a car involved at some point during the trip. Whether you're taking your own car, or renting a car at the airport after your flight, you're going to be putting your travel bag in the trunk or back seat of a car.
And sometimes it's just more convenient to leave your bag in the car rather than take it with you inside the office building, hotel, or trade show. But you're concerned about someone breaking into the car and stealing your bag, especially with the popularity of SUV's, minivans and hatchbacks that don't have a trunk and let anyone look through the windows into the back. In fact, a recent Kensington survey of business professionals showed "automobile" ranked in the top 6 places where travelers felt their bag was most vulnerable.
To help put minds at ease, Kensington has introduced the SecureTrek 17" Overnight Backpack that allows you to secure your travel bag in your car using a Kensington Portable Laptop Lock. Simply loop the steel cable around a seat or other fixed piece inside the vehicle and then lock it to the SecureTrek Lock Base on the bag. And not only is the bag locked, but the zipper pulls also lock inside the base and the device compartment is protected by an anti-puncture zipper, making it a much less tempting target for thieves.
Learn more about Kensington's SecureTrek Lockable Laptop Bags.