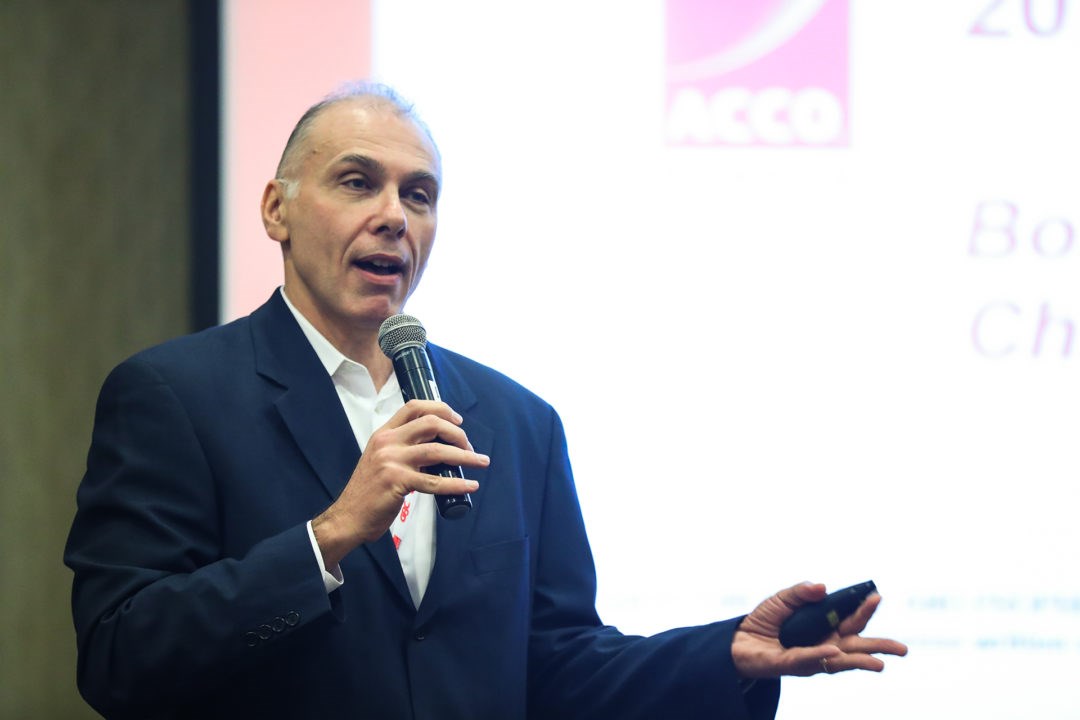 Today's connected world is bursting with gadgets seeking to facilitate, expedite, and otherwise improve every corner of our lives. New software and devices have revolutionized the way we create and experience presentations. But revolutions are messy things, bringing new challenges as well as obvious benefits.
It's important to remember that technology alone isn't a substitute for a polished presentation and an engaged speaker working the room. When used properly, technology like Kensington's Ultimate Presenter can elevate any presentation experience by helping the speaker spark the audience's interest and capture their attention.
Make Technical Difficulties Obsolete
One thing that holds people back from trying out the newest technology is a fear that a tech hiccup will sink a presentation. Public speaking can be intimidating, and the last thing you want to worry about is whether all the devices will play nicely with one another. Fortunately, today's presenting devices are designed to diminish the danger of technical troubles by streamlining setup. When you save your slides right on the Ultimate Presenter's USB receiver, you just plug the USB into the presentation computer, click to open your presentation, and you're off and running!
Of course, it's always a good idea to take a few minutes before your scheduled speaking time to run through part of your presentation to work out any potential bugs. A little preparation goes a long way to ensure that everything is working perfectly and that you're on top of your game.
Level Up Your Confidence 
Stepping onto the stage with the knowledge that you're supported by a well-designed piece of technology can give a presenter the extra boost of confidence that will help them captivate the room. Armed with a killer presentation and wielding the Presenter Expert, Boris Elisman (CEO of ACCO Brands) exuded calm and authority at an Asia Pacific event in November. Whether you're the CEO of a company or a first-time public speaker, the Ultimate Presenter is designed to make everyone look like a pro.
The curvy ergonomic shape fits the palm's natural curve and keeps the audience's attention where it belongs—on the presentation, not on a hand contorted around an awkward device. When you're looking out at a mass of faces, remembering that you've got the best technology on your side can give you a crucial psychological lift to help you leave a lasting good impression.
Long Distance is No Problem
Modern communications technology makes it possible to hold a meeting with people halfway around the world. But even the most enthusiastic presenter can still have trouble making that vital human connection with audience members when presenting remotely. On the plus side, Kensington's Virtual Pointer technology was designed with online presentations in mind.
Unlike a traditional laser pointer, the Virtual Pointer appears seamlessly on multiple screens at the same time—even if those screens are on different continents. When a member of my team was unexpectedly called out of town, it was a snap for her to conference into our meeting and follow along with the virtual pointer on her laptop screen. Valuable technological advances like online meeting platforms always bring their share of challenges, but luckily there are now tools to help presenters reach every audience member—no matter the distance.
New Frontiers in Multimedia
The tried and true slide deck has been undergoing a makeover in the past few years, with an explosion of new multimedia and interactive features to spice up a classic presentation format. With all these extra elements at their disposal, public speakers need to be sure their presentation technology is taking advantage of the newest trends in multimedia presentations.
More and more speakers are incorporating polling apps in their presentations to gather instant audience feedback. The Ultimate Presenter helps you respond gracefully to audience polls by moving smoothly forward and backward between slides if you find you need to go into more detail on a previous subject.
I like to embed video and audio clips within my presentations to add an audiovisual wow factor, and I use the Ultimate Presenter's customizable button as a clickable mouse to click to start and stop them at will during the presentation. If you've gone a step further and inserted a 3D object model into a slide, you can use the button to tilt and rotate the model 360 degrees to show off all its features. Above all, when deciding on presentation technology, keep in mind that it should enhance—not compete with—the information you want to communicate.
Increasingly interactive and audio visually stimulating, today's presentations are more eye-catching and impactful than ever. Public speaking aims to bridge the gap between human beings, and technology can be an important platform to build rapport between the presenter and the audience. By bringing in the best science has to offer, you'll elevate your presentation into an experience the audience won't soon forget.
Join the Revolution
Don't let the technological revolution pass. Join today by utilizing all the above features and more in your next presentation. Purchase the Ultimate Presenter today and feel comfortable as you never present alone again. 
Update: The Ultimate Presenter is no longer available on kensington.com