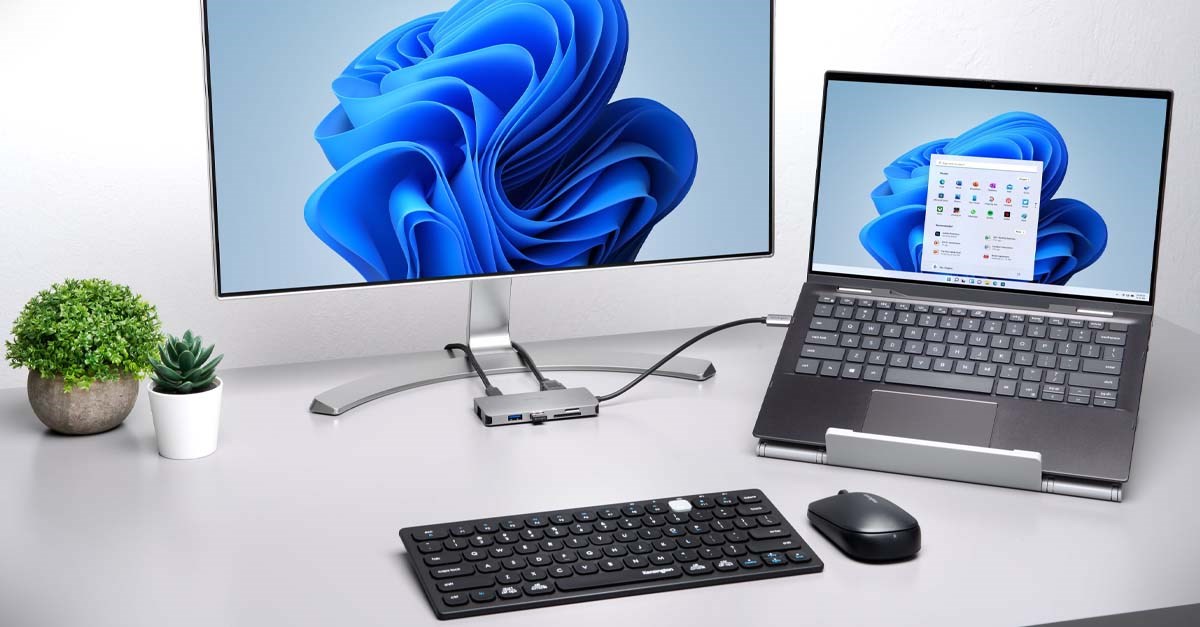 Windows 11 hit the market in October 2021, and so far, people have been raving about this new operating system. It boasts its user-friendly features and customizable experience. 
If you are one of the new users, you may be curious about the latest features and the keyboard shortcuts that can make your work and your life easier. Improve your productivity with these Windows 11 shortcuts. 
Learn ways to customize your experience with this new operating system to become acclimated with Kensington's user guide for the new OS. Before you learn about what makes Windows 11 so great, let's take a moment to discuss the products available.
Kensington Products Compatible With Windows 11
Kensington has tested their devices, and many are Windows 11 compatible. When shopping for your latest tech gear, you can now look for Windows 11 (or those compatible with Windows 11) on product pages. 
Check to see if your keyboard, mouse, or trackball is compatible with this new operating system. While not every product is, many of Kensington's offerings work fluidly with your new Windows 11 OS.
5 Categories of Windows 11 Shortcuts (Key Commands Included)
If you haven't downloaded Windows 11 to your PC, now is the time to do so. Before you do, it's a good idea to check if your PC is compatible with the latest Windows OS. Once you have updated your system, you'll want to learn everything about it to help with your productivity. 
That's why Kensington wrote this article, to help their customers learn the keyboard shortcuts to enhance the user experience.
For the sake of this guide, the list of shortcuts has been broken down into five categories. Only the most useful shortcuts are listed in each category. A link to a detailed list will be included at the bottom of this post.
Here are the keyboard shortcuts you need to know about and how to use them:
1) Features and Apps
Developers designed the Windows key on your keyboard for quick access to the Start menu. Yet, you can combine a series of commands to open apps and features you may be unaware of.
Windows Key + A – Gain access to the Quick Settings panel to turn on Bluetooth, Wi-Fi, airplane mode, and many other features. You can also adjust volume and screen brightness.
Windows key + C – With this command, you can open Chat with Microsoft Teams. This is one of the Windows 11 new features giving you a quick panel to contacts in Microsoft Teams and allowing you to see your recent messages. You can also start calls and meetings from here.
Windows Key + G – Gamers can open their Xbox Game Bar with this command. You can take screenshots, record videos, and access various features all while gaming.
Windows key + V – Open the clipboard history with this command so that you can view multiple items you've copied.
Windows key + W – With this new Windows 11 feature, you can open the Widgets panel, view OneDrive photos, calendar, weather, and more.
Ctrl + Shift + Esc – You can quickly and easily open Task Manager. What once required the Ctrl + Alt + Del command that took you to the list allowing you to open Task Manager can now be done with one simple shortcut.
2) Multitasking and Windows Management
If you use multiple apps at once, shortcuts allow you to manage them more effectively. Switch from one to the other and change their location on the displays. 
Windows key + Tab – You can open Task View with this shortcut. Display all your open apps as tiles as well as your virtual desktops. That way, you can focus on the one you need. 
Alt + Esc – This command allows you to cycle through windows in order of being opened.
Windows key + Home – Only the active window will stay open, while the others will minimize. Tap the shortcut again to restore all the windows.
Windows key + Shift + Left arrow or Right arrow – Move the active window to one of your other monitors with this command.
3) File Explorer Shortcuts
A core feature in Windows 11 is the File Explorer, and these shortcuts let you view and manage these files. 
Alt + D – With this shortcut, you can place focus on the address bar.
Ctrl + F or F3 or Ctrl + E – This command allows you to focus on the search bar.
Alt + Enter – You can view the properties of the file or folder you have selected with this shortcut.
Alt + Left arrow or Backspace – You can go back one page (or web browser) with this command.
4) Dialog Boxes Shortcuts
When an app generates a dialog box, there are shortcuts that you can use to navigate them. It includes properties pages, menus, and more.
F4 or Spacebar – Pressing this command allows you to display active list items.
Arrow keys – With this shortcut, you can select an option, a button, or a group of buttons in a list.
Shift + Tab – Using this command allows you to navigate backward from options on the current page.
Ctrl + Shift + Tab – This command enables you to switch backward through tabs.
5) Shortcuts for Taskbar
Using your taskbar has never been easier as it is with Windows 11 shortcuts. These combinations help you navigate items on your taskbar more quickly.
Windows key + T – This shortcut allows you to cycle through the open or pinned apps on the taskbar.
Windows key + Ctrl + Shift + (number) – Open an instance in the app corresponding to the given position of the number you pressed with this shortcut. 
Ctrl + Shift + left mouse click – This combination will open the selected app as the PC administrator.
Windows key + B – Typing this command sets focus on the first icon on the taskbar. If there are no apps displayed, the focus moves to the overflow menu icon.
Create One-Click Shortcuts Using KensingtonWorks
Customization is one of the key features of Windows 11, and Kensington is all about personalizing your tech gear to meet your needs.
For more customizations and shortcuts to help you gain efficiency, you can use KensingtonWorks on many of our input devices. Create one-click shortcuts for your favorite action items.
Also, if you would like to get a more detailed list of Windows 11 shortcuts, check out this ultimate guide published by XDA-Developers.com.