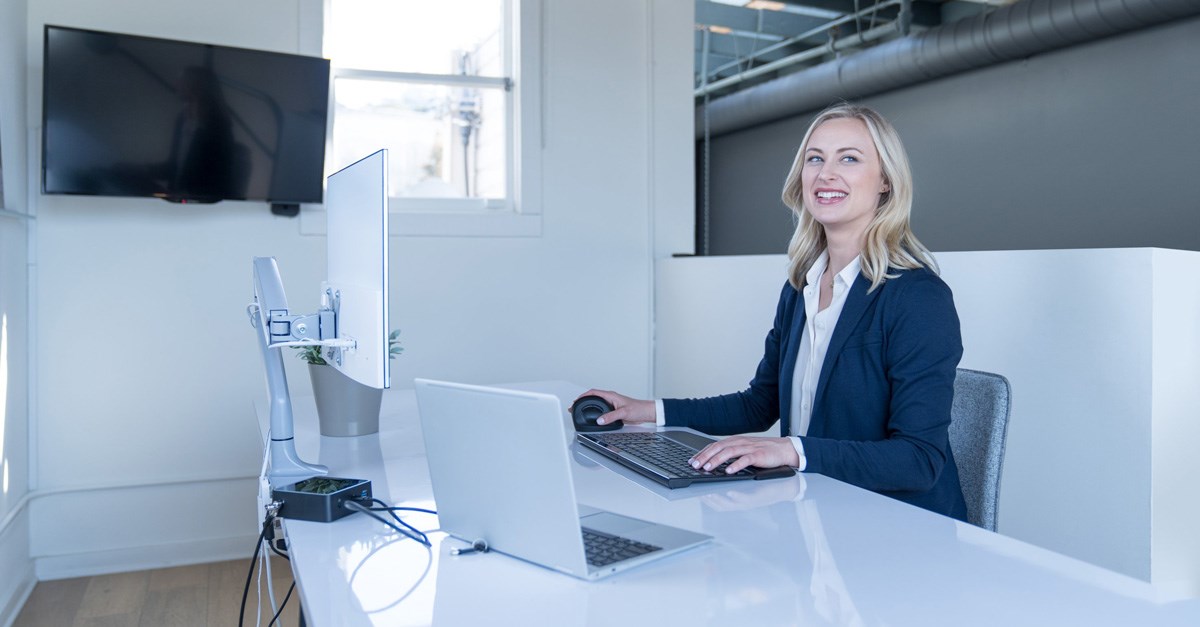 Note: The Kensington team recently provided a work-from-home professional with a full package* of must-have Kensington tech. The individual, Rebecca Woodul, is a copywriter and content marketer. She spends eight or more hours a day working on the computer typing, reading, and navigating. Before a Kensington ergonomic improvement, she was working off a laptop elevated on a stand and an external keyboard, but no other highly recommended ergonomic equipment. Besides addressing repetitive wrist use and back pain issues she'd reported experiencing, we expected marked improvements in her comfort, productivity, and energy levels through our equipment. The following blog is her feedback on each product. We publish it as her experience gives anyone relatively new to ergonomics a concrete understanding of our products — how easy they are to adapt to, and what benefits they unlock.
*Products reviewed: SmartFit® One-Touch Height Adjustable Single Monitor Arm (K55470WW), Pro Fit® Ergo Wireless Keyboard (K75406US), Pro Fit® Ergo Wireless Mouse (K75404WW), SmartFit® SoleMate™ Pro Ergonomic Foot Rest (K50409WW)
My experience with Kensington's ergonomic desk equipment*
*The following blog post was written by Rebecca Woodul, a work-from-home professional. 
When Kensington offered to send me a lineup of their best ergonomic desk equipment, I was thrilled to discover if the products would improve my comfort and performance. I had experienced problems with both back pain and mousing wrist pain and knew my desk setup wasn't promoting the best ergonomics.
Many people feel awkward taking on new ergonomic tech because they don't want to bother their colleagues. They don't want to be the 'lone stander' at a standing desk, for instance, or distract people as they adjust their workstation. I'm lucky working from home in that I am free to try new tech out without fear of looking silly or distracting anyone. With this freedom to experiment, I've become healthily sensitive to the design of my desk — if wobbly, unlevel, or 'off,' I notice it right away. I mention this to highlight that I have a high bar for the function of my desk. So I was excited to try out Kensington's top products and observe any improvements.
For quick reference, my typical workflow breaks down into the following areas, roughly: typing, repetitive point-and-click work, mining the web and reading volumes of content, and reviewing work to make edits and transcriptions (prime dual-monitor work).
Read the full case study: "How a work-from-home professional improved her comfort and productivity with a new, ergonomic setup"
Before receiving Kensington's tools, I worked off a laptop, using a laptop stand to elevate its screen to eye level. I had an external monitor but wasn't using it because its base monitor stand wasn't adjustable enough. Because I do so much reading, researching, writing, and mining the web for content, I needed my external monitor screen elevated to eye height for it to unlock any productivity benefit.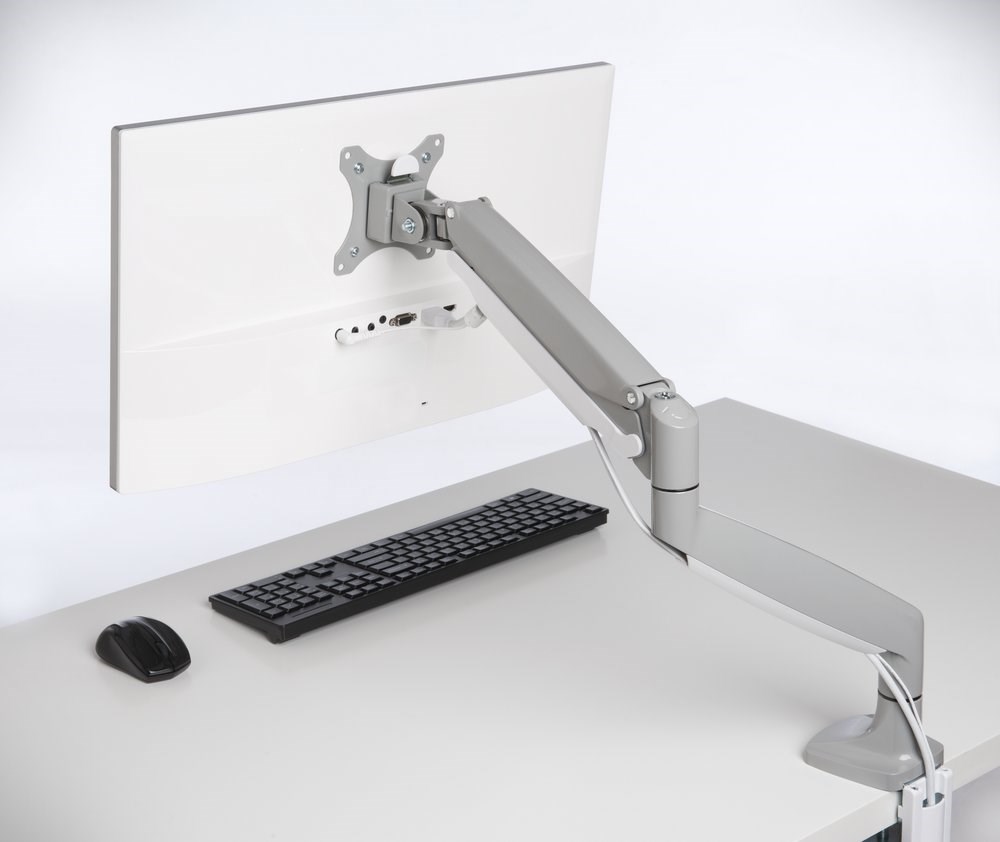 With Kensington's monitor arm, I now have two screens, each fixed at the right height. I am not straining my neck to view my work. And I can complete dual-monitor tasks in a fraction of the time. I love how the arm lifts my screen up and out of the way, freeing up valuable real estate on my desk. For someone like me, who needs to handwrite notes to integrate certain kinds of information, having this writing surface available at all times is incredibly helpful. The arm is sturdy and easy to set up — I simply clamped it to my thin glass-topped desk via C-Clamp (no scratches) and clipped my external monitor onto its end. I adjusted the counterbalance of the arm to support the weight of my monitor perfectly. Setting it up took less than 10 minutes. 
I also love how the arm conceals wires within its design — and I love the range of motion it affords. I can move my screen backward and forward, up and down, side to side, and every direction in between. I can also tilt the screen upward and downward and left or right. I find the smooth adjustment of the monitor arm — i.e., its "One-Touch" system — to be satisfying and stable. It truly is effortlessly adjustable and sturdy at once. 
Favorite Feature: Easy to set up and adjust, eye-level screen height, wire compartment, range of motion, sturdy 
Pro Fit® Ergo Wireless Keyboard (K75406US) | Faster, healthier typing once I got accustomed to its design
I'm a volume writer. I can crank out 1,000 words in 10 minutes, easy. Above all else, my keyboard needs to afford a quick speed. And before my 'ergonomic improvement,' I was using a traditional QWERTY keyboard. It worked fine for me, but I was excited to try the curved keyboard design and observe improvements.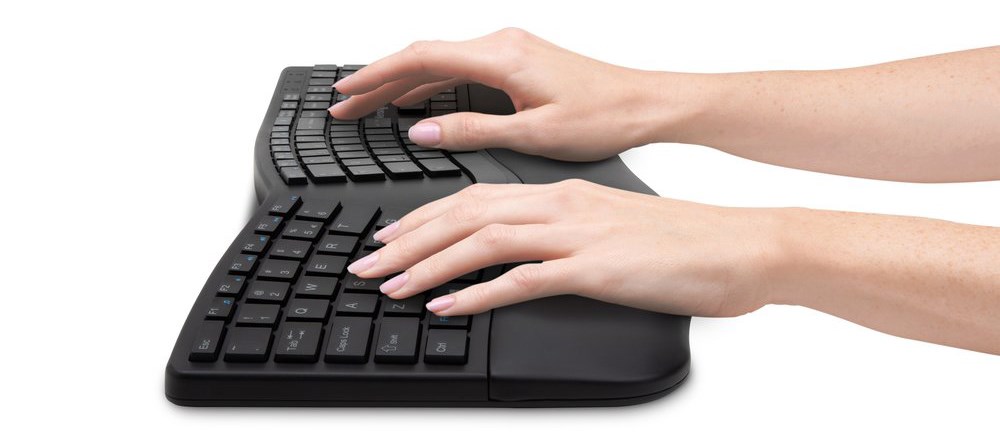 The Pro Fit® Ergo Wireless Keyboard turned out to be a semi-steep learning curve for me. Because of the way the keys are split, I was struggling with C, V, and B. It was irritating at first, but the struggle clued me into a poor typing technique (using my index finger rather than my middle finger to hit these keys). Though it took some serious discipline to slow down to train away bad habits, I could type at a speed comparable to my baseline speed once I got the hang of it. Baseline accuracy soon followed, too.
I am big on all the basic shortcuts (copy, paste, select all, undo, redo) and because the curved keyboard is splayed wider than a traditional QWERTY keyboard, learning the placement of my go-to shortcuts took some slowing down and practicing as well. My thought on this was that a 5-minute tutorial video to watch and follow along each day would help quicken adoption. New users like me could practice typing problematic keys (C, V, B, for me) and basic shortcuts until mastered. I don't use the 5-button keypad, but I note that it would be helpful for someone who does a lot of numeral entries. 
I had to tweak the setup of my workstation equipment quite a bit because the keyboard is longer than a standard keyboard, and to center it (with its 'split' evenly between both hands), the keyboard had to be placed farther to the right. So there was some tinkering to find an ideal setup.
Favorite Feature: Keyboard allows a healthier, more comfortable posture through the hands, wrists, and arms
Last year, I overused my right wrist performing a heavily repetitive task 4+ hours a day. Ever since, I've had to use a wrist brace to prevent me from overusing those small tendons and muscles. Otherwise, my wrist and arm get tingly, numb, and painful. My hands and wrists are my livelihoods, so I've been concerned — though I can dictate certain kinds of content, there is only so much else I can do to reduce use. So I was excited to try out a different mouse style that might help me adopt a healthier mousing technique.

Incidentally, the vertical mouse helped me reduce the use of my wrist by retraining me on mousing from the arm rather than pivoting and torquing at the wrist. It was definitely a learning curve for me — again; I had to slow down and feel out the vertical way of mousing. Once I got the hang of it, though, it became natural. The mouse is also contoured to the hand, so I don't have to grip it tightly to maneuver — it moves smoothly with my hand. Being able to release hand tension has given my wrist the break needed to heal.
If you're headed toward injury but can't afford to take a break from work, I would seriously recommend looking into a vertical mouse. Just note that you will probably have to slow down your pace a little as you get used to it, but it's an unbelievable hack to heal while continuing to work. 
Favorite Feature: Contoured to hand for perfect fit, glides smoothly for ease-of-use 
I've learned that movement is an essential thing for my body; static sitting is the culprit for my back pain. So I've gotten creative about bringing movement to work — my desk has various braces and struts supporting it, and I am always moving my legs around, propping one foot here and there to stretch and change postures. 
Since adopting Kensington's footrest, I would now say a footrest is a critical part of any workstation if you're looking for more movement at the desk. It simply affords more variations in posture, allowing you to do what your body naturally wants for you (movement). I can also imagine that for someone with shorter legs whose feet don't meet the ground, a footrest would literally be critical (for elevating the feet and maintaining blood flow). 
Kensington's model can be locked in place or left unlocked if you prefer to adjust its angle with your feet. And it has a bumpy surface (I forget about it, but writing this I rubbed my feet around the surface, and the sensation truly does help me relax into my work!). It brings both massage and more movement to the desk in this sense. It also has a perfect weight to it — it stays in place and feels sturdy, yet is light enough to move around easily. And it slides smoothly across my carpet.
Favorite Feature: More postural variation, heavy weight, adjustable by foot, massaging surface
Some general recommended features and benefits 
Easy setup and easy adjustment 
As a creative professional, getting lost in the flow of my work is the aim. I resent using up mental energy to adjust my workstation. Kensington's integrated SmartFit® system — which guides you in setting up your adjustable tech according to your hand size — makes the initial setup easy. And their signature One-Touch system essentially means it takes two seconds to adjust the product. For someone new to ergonomics, I would recommend looking into product lines that have such built-in systems making setup and adjustment easy. 
Professional aesthetic
Working from home, you don't get the physical trigger to transition into work mode that you get with going into the office each day.  I've had to find other habits, rituals, and environmental cues to help me shift gears — my desk setup plays a notable role. On this, I would say, don't underestimate the power of a professional, sleek aesthetic! Professional looking and well-made equipment gives dignity to your work. 
Easy to clean
I'm a person who wants my products to last 5+ years. On this, I lend a simple tip: look for durable products with easy-to-clean surface materials so you can keep your tech clean as you use it through the years. 
What ergonomic tools do I want to try out next?
I'm sensitive to the conditions of my environment — light, sound, and smell — so I'd like to try other products that improve these components of ergonomics such as Kensington's WellView™ Family (desk heater, cooler, or air purifier for different needs/season). Also on my horizon are an adjustable-height desk or desktop converter and a high-quality anti-fatigue mat.
My ultimate goal is to bring more activity to my workflow, year by year, and to make desk work part and parcel of my healthy lifestyle rather than a necessary jeopardy of it. Kensington's tools have definitely helped me along my journey!
---