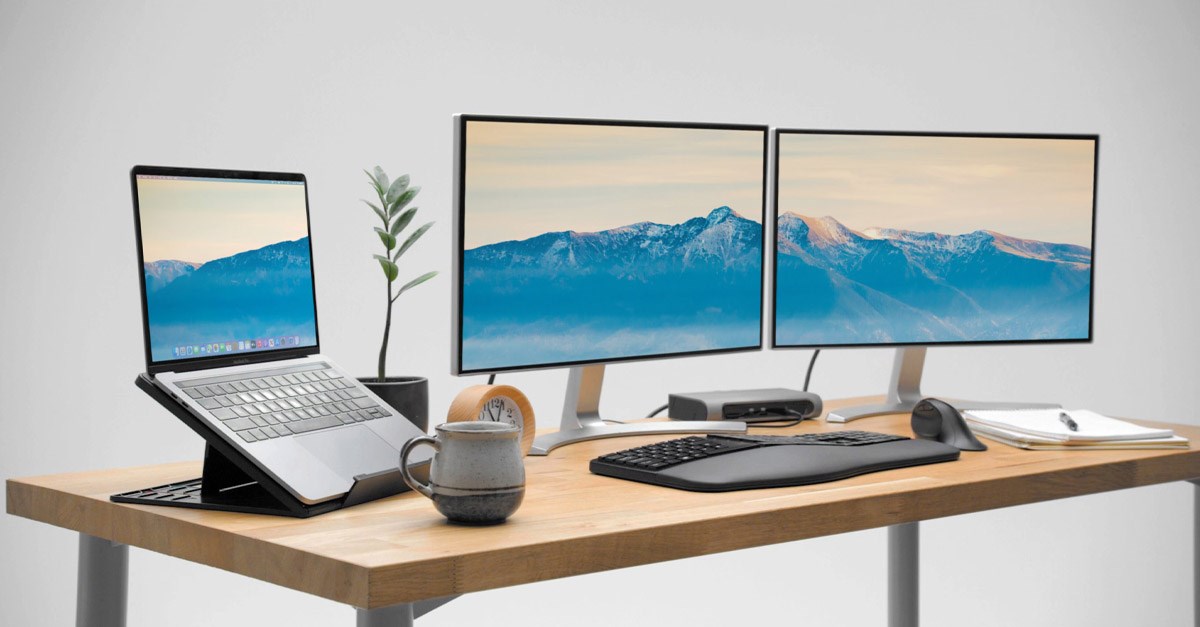 In 2020, there is not much that surprises us anymore. Most people have seen their lives altered in various ways. Perhaps you are one of the millions who are now working from home, your children are learning from home, or both.
If you fall into the work from home or learn from home category, it should not be a shock that optimizing your home office is essential for mental health, ergonomics, and overall productivity.
You have probably taken care of the essentials, your docking station, mouse or trackball, headset, and keyboard are set. Yet, how about a laptop stand, also known as a laptop riser? These are the hidden ergonomic gems that can alleviate neck and back stress while keeping your laptop running cool and decluttering your desk.
Below are a couple of laptop risers from Kensington that can take your home office or home classroom to the next level.
Raise Your Laptop and Charge Your Phone
Combining comfort and convenience, the award-winning SmartFit® Laptop Riser with Wireless Phone Charging Pad blends 20 years of ergonomic expertise with the latest in reliable wireless charging technology. Lift your laptop up to eye level to relieve neck and back strain, then use the lower platform to wirelessly charge your phone.
The SmartFit® system allows you to find your personal comfort color and self-fit the riser to your ideal height. It also utilizes Zero Footprint mounting so you can mount any compatible Kensington universal dock underneath the laptop platform, keeping your desktop less cluttered.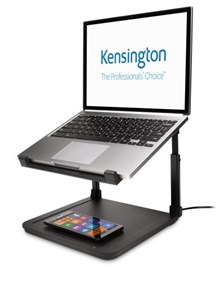 Qi Inductive Charging technology lets you wirelessly power a compatible phone simply by placing it on the charging pad
SmartFit® System allows you to find your personal comfort color for optimal ergonomics
4 available height settings
Zero footprint mounting allows you to mount a compatible Kensington universal dock under the laptop platform
Cable management under the laptop platform helps neatly route cords
Anti-skid pads keep laptop firmly in place
Kensington Security Slot available on both right and left legs
Compatible with laptops up to 15.6" and 7.7 lbs
Keep Your Laptop Cool
With over 20 years of ergonomics expertise, trust Kensington to maximize your desktop space with this professional laptop cooling stand. Our patented SmartFit™ System allows you to customize the height and angle of your laptop screen using the included hand chart to find your personal comfort color, reducing back, neck, and eye strain. The Easy Riser™ lifts your laptop off your desk, promoting airflow to improve battery performance and ease the strain on internal components.
SmartFit™ System lets you adjust height of the screen and angle of the laptop to your personal comfort color
Increases air circulation to keep your laptop cooler, easing strain on the components and battery
Padded inserts provide a secure, stable fit and keeps your laptop in place
Up to 50 degree tilt angle
Folds flat to travel easily
Fits laptops with 12" to 17" screens
TAA Compliant
Keep Your Home Office Ergonomic
Laptops provide connectivity and productivity while on the move. Yet in your home office, you do not need to be limited to restrictive viewing angles. A laptop riser is an ideal ergonomic item to keep you going as you conquer working from home, learning from home, or both.