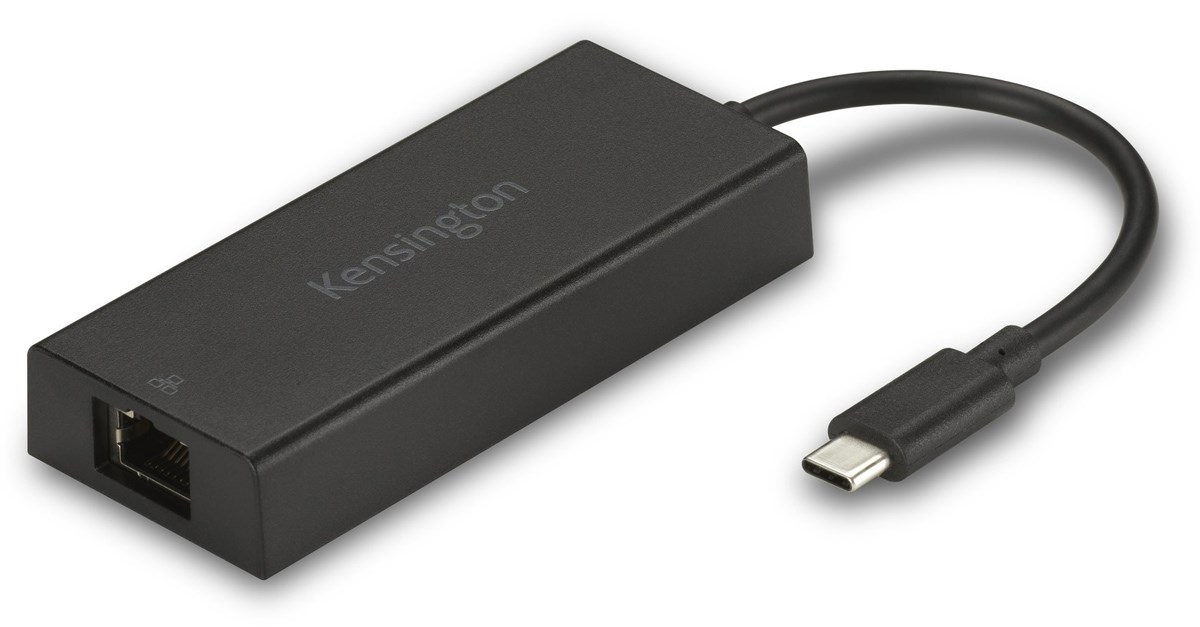 In the fast-paced, always-on world, you need to be able to connect anywhere and anytime. For most IT managers, this means developing a corporate network that is secure, fast, and accessible to any device in their deployment.
However, laptop manufacturers are now creating sleeker designs that limit the available ports on many of these devices. This port shortage is leaving IT managers frustrated and confused.
Most IT Managers access the users' laptops in their secure networks via an Ethernet port. Not only are they more secure, but they also offer better speeds over WiFi. But Ethernet as the port of choice for network connectivity on commercial laptops is quickly phasing out.
Through partnerships with AMD and HP, Kensington has your solution. A DASH and PXE Boot enabled USB-C adapter designed exclusively for HP business systems leveraging AMD Ryzen PRO processors is now available in market. Kensington's new Managed USB-C to 2.5G Ethernet (PXE Boot and DASH) Adapter is perfect for just such an environment.
Kensington has developed a solution that supports ultra-fast transfer speeds while still giving IT Managers remote management capabilities under the DASH protocol.
Why Remote Management Matters
Synonymous with innovation, AMD has long been a leader in the field of computing. Leveraging the DASH-enabled protocol, Kensington has partnered with them to bring about the perfect solution for out of band updates, including PXE Boot and other forms of remote management. These remote management capabilities, coupled with a high-speed Ethernet connection, improve productivity and reduce downtime.
Furthermore, IT Managers need to gain access to systems connected to the network remotely, to push updates, install patches and more. While WiFi is certainly convenient for users, it can pose challenges for IT Managers trying to push remote updates. Because of this, IT managers have to wait until the machine is awake to push updates, check system health, view asset inventory, among other tasks.
Kensington's USB-C to Ethernet solution eliminates worries about whether a WiFi connection is available to your IT administrators, while providing you lightning fast 2.5Gbps Ethernet speeds.
Moreover, Wake-on-LAN (WoL) networking standard messages will not work over Wi-Fi. However, this new adapter helps IT Managers gain access remotely to approved HP systems in their network that leverage the AMD Ryzen PRO chipset. This is especially useful for organizations that deploy work from home (WFH) and work from anywhere (WFA) hybrid work models. 
This evolution, with the support of the PXE boot technology, adds extras such as increased security and scalability while providing ultra-fast transfer speeds.  With all that said, it's clear that the DASH protocol should be your go-to choice for remote management of your networking infrastructure.
5 High-Level Benefits of the DASH Protocol
Kensington's Managed USB-C to 2.5G Ethernet Adapter allows secure out-of-band remote access via a single USB-C connection, providing a faster and more reliable Ethernet connection to help increase productivity. That is just one benefit of this great tech accessory. Here are the top five reasons network professionals and IT managers need this adapter.
1.  Exclusive Design
This exclusive design, built in partnership with AMD and HP, is the perfect combination of speed and reliability. Developed exclusively for HP business systems leveraging AMD Ryzen PRO processors, this accessory provides IT Managers a truly beneficial out-of-band access solution for their remote workforce.
2.  DASH & PXE Boot Enabled
With DASH and PXE Boot, IT Managers can now push updates and check the system health of systems remotely, regardless if the computer is in sleep mode. This adapter also allows for remote updates to a device's BIOS — all through a single USB-C port.
3. Fast & Reliable
This adapter addresses the needs of data center administrators (as well as users), providing them with a fast and reliable connection. Enabling Ethernet speeds up to 2.5Gbps, this adapter provides rapid data transfer speeds while maintaining a consistent connection.
4. Plug-and-Play Functionality* 
These adapters are Plug-and-Play for most users. Meaning there is no configuration required to leverage lightning fast 2.5Gbps Ethernet speeds.
*Optional software is available for IT administrators to leverage DASH tools and capabilities.  
5. Compact Mobile Design
The adapter is designed with mobility in mind. Leveraging a compact and lightweight design, it stores easily within your laptop bag or carrying case to be ready at a moment's notice should you need it on the go.
What are the Supported Laptops by HP?
HP offers a growing selection of laptops that are compatible with this DASH and PXE Boot-enabled adapter. It all began with the 2020 HP EliteBook G7 835, with expansion continuing with new models launched by HP. Here are the currently supported laptops:
2020 HP EliteBook G7 835
2020 HP EliteBook G7 845
2020 HP EliteBook G7 855
HP ProBook 645 Aero Edition
If you're looking for an HP ProBook or one of their EliteBooks listed above, then your laptop is fully compatible as they all have AMD Ryzen PRO processors installed on them already.
For a running list of the supported models from HP, please check this listing on HP's site, or contact your Kensington or HP representative. 
Kensington's Exclusive Design Enhances Network Capabilities
If you are looking to upgrade your company's network connection, while enhancing remote management capabilities, then now is the time.
AMD is transforming network management through the use of the DASH-enabled protocol, and Kensington's solution provides an ultra-fast connection to meet your needs. To learn more about DASH, we recommend viewing the below PDF created by AMD.
https://www.amd.com/system/files/documents/out-of-band-client-management-overview.pdf
DASH enables the next generation of network management, faster than ever before. It provides the speeds you need, the management capabilities you desire, all from brands you can trust.
Kensington strives to make connectivity easier no matter what device you are connecting to your company's network. This adapter provides a fast, wired connectivity option, that makes it easy for IT personnel to manage their network remotely.
To learn more about this innovative product, and all the capabilities it provides, please contact us today.