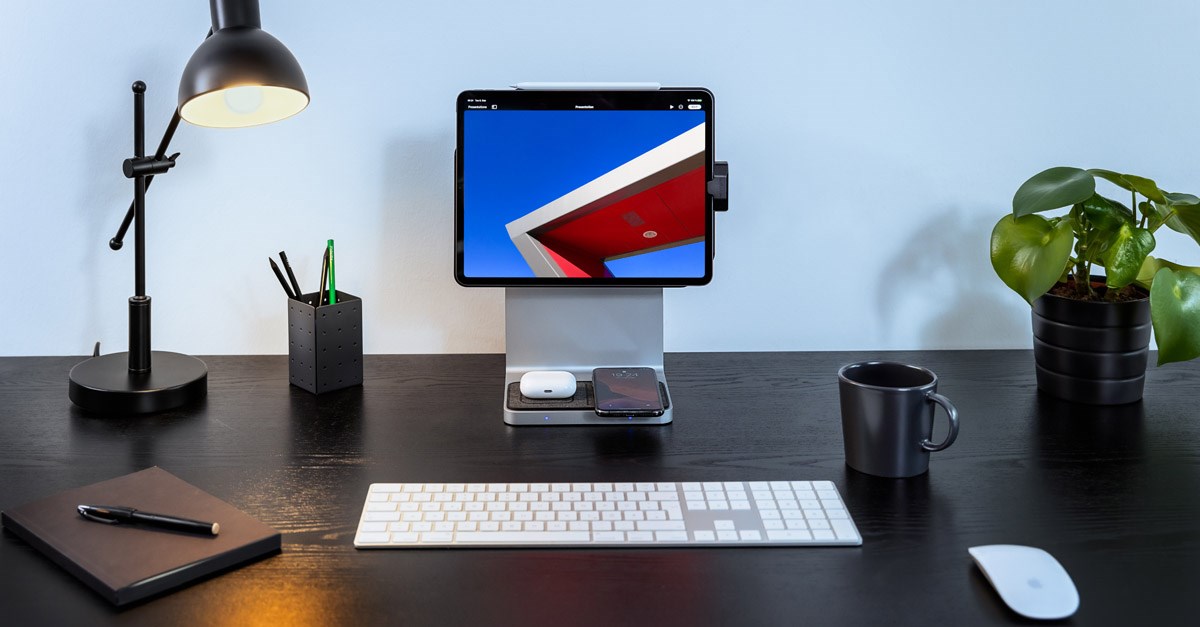 Most of the users who bought an iPhone or iPad will naturally gravitate towards the entire Apple ecosystem. Although it may just be a way to ensure device compatibility, if you were one of the early iPhone users, you'll likely also have an iPad, Apple Watch, AirPods, and many other Apple accessories to keep you productive.
Apple also has some of the world's most loyal customers. A survey in 2019 found only 21% of Apple iPhone users would consider switching to an Android device. The majority of users are happy to stay with a company that's become synonymous with innovation and user-centric design.
Next-Generation Productivity from the iPad Pro
The latest versions of the iPad Pro 11" and 12.9" (2018+) devices pack a powerful punch, enabling users to set up a desktop workstation similar to a laptop or desktop. With the release of the iPad Air (2020+), Apple goes one step further by giving you a vivid 10.9" retina display, a smaller form factor, and support for all the same accessories as the 11" iPad Pro.
With these upgrades, you're able to configure your entire iPad home or office workstation with only a few additional accessories. USB-C technology allows you to connect the iPad quickly to a docking station that gives you maximum expansion possibilities.
How Wireless Charging Benefits Users
Simply put, Qi charging gives users greater convenience. With wired chargers, you'll need a new adapter for every accessory, or swop around to keep your Apple devices powered. With wireless charging now widely accepted as the future for new devices, Apple is again leading the way by being one of the innovators in the field.
Although it doesn't look like the iPad will receive wireless charging anytime soon, you'll be able to charge the rest of your Apple ecosystem without needing multiple adapters and cables.
Charging Your Apple Ecosystem with Kensington's StudioDock™
Kensington's new StudioDock™ doesn't just enable you to create a complete and productive desktop setup for your iPad but it also supports all your devices' charging requirements. For the iPad, the standard USB-C connection delivers faster charging than the Apple equivalent, while you also have Qi charge pads for your iPhone and AirPods. In addition, an optional Apple Watch charging module provides rapid charging for your Apple Watch.
StudioDock's Charging Features
With our new StudioDock, you can create the perfect desktop arrangement for your entire Apple ecosystem. You'll always be ready to go but when you spend time behind your desk, you can charge all your devices by simply placing them on the appropriate charge pad.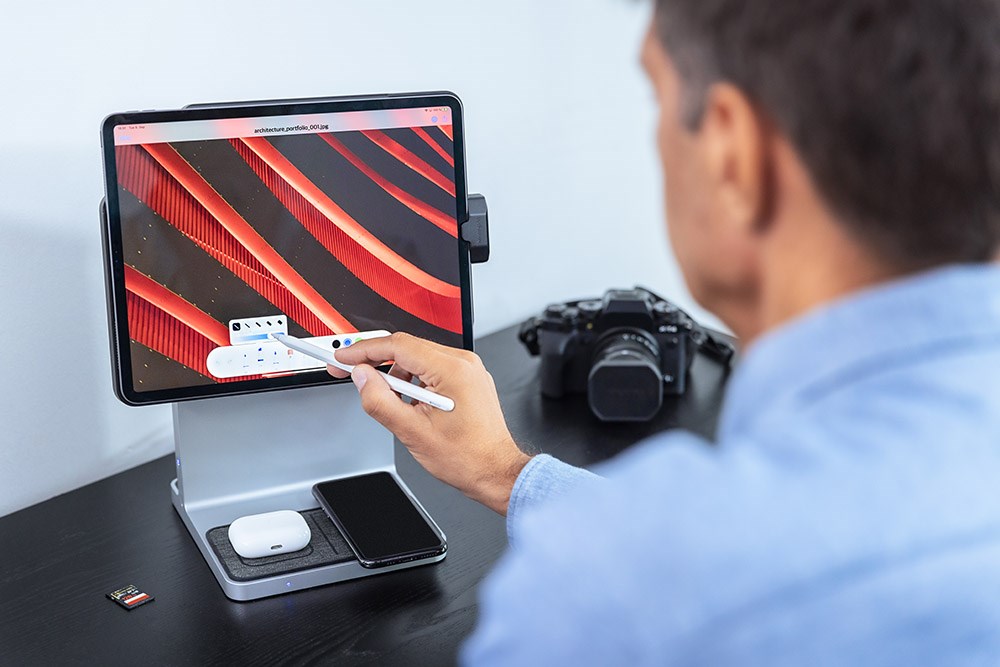 The StudioDock's charging features have all your devices covered. You can easily charge your:
iPad – Quick charge (up to 108% more) using USB-C technology
iPhone – Qi wireless pad included with up to 7.5-watt charging capability
AirPods – Up to 5 watts for keeping your Air Pods powered using the wireless charging case
Apple Watch – The StudioDock also has an optional Apple Watch adapter that will charge your Apple Watch at 5W
Additional StudioDock Productivity Features for Your Apple Ecosystem
The release of the iPad Pro 11" and 12.9" in 2018 (and the subsequent upgrades) had many Apple users experimenting with different desktop setups. While it is possible to configure a desktop workstation using only your iPad, you'll need a variety of different accessories to accommodate and connect all your devices.
The StudioDock is the first solution that makes your entire iPad desktop workstation possible without needing bundles of cables or adapters. Ideal for creative designers and music or video engineers, the StudioDock enables everyone to transform their iPad into a creative studio.
Quickly Move from Your iPad Workstation to Anywhere
The quick attach/detach connection means you can grab your iPad and head to a meeting without dealing with cables or clamps. Once you're back at your desk, reconnecting your iPad is as easy as setting it down on the table. If you're reading a document, you can switch to portrait mode and when busy with design work, just flip back to landscape view.
Expanded Connectivity for All Your Accessories
Along with the StudioDock's charging and mounting capabilities, you also have a wealth of ports to keep your other productivity tools connected at all times. The Gigabit Ethernet port ensures a reliable internet connection for browsing while the 3.5mm audio jack ensures you get crisp sound over either speakers or earphones.
You also get three USB-A ports for all your wireless accessories and external drives, and an additional USB-C port supporting charging at 5V/3A or 9V/2A. For storage, SD 4.0 card reader helps to quickly import images from your camera to your iPad.
Maximize Your Creativity with 4K Video
An HDMI 2.0 video port provides support for single 4K 60Hz video output from your iPad. The high-resolution video is perfect if you use apps like Netflix, Keynote, or iMovie. For graphic designers, you can trust your second monitor to deliver the same crisp, clear video that you depend on when working directly on the iPad.
Unleash New Possibilities with Kensington's iPad StudioDock
Kensington's StudioDock gives you new opportunities to unleash your creativity by enhancing your efficiency during any of your daily workflows. Our team remains dedicated to quality, which is why you'll get a three-year warranty with your new StudioDock. We also provide dedicated support, so if you face any issues, our team is always available to assist.
With the iPad's future looking bright and many more users now preferring to use a tablet PC when performing their tasks, the StudioDock will keep you productive in any location. If you want to configure a desktop workstation for your iPad Pro 11" and 12" (2018+), or iPad Air (2020+), then start with Kensington's StudioDock. It is the ideal solution with a minimalist design, giving you enhanced productivity and the ultimate iPad desktop experience.