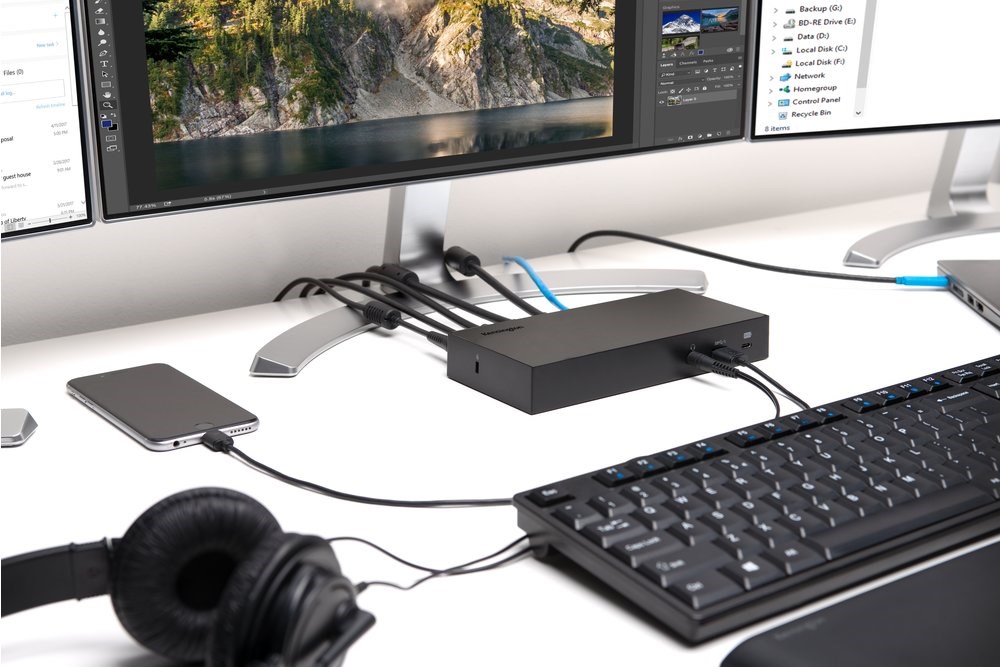 These days, resource intensive applications are driving demand for displays with better resolution and richer color. At the same time, the visual multitaskers amongst us want the convenience of a single interface that can support multiple displays. You may already be familiar with DisplayPort in personal computers and monitors, but are you aware of its latest game-changing iteration?
DisplayPort 1.4 opens up new possibilities for digital displays and computing, and will be setting a new standard for consumer electronics being released from late 2019 onward. Whether you're up to speed with the current digital interface standards, or you can't tell a DisplayPort from an HDMI connector—everyone can benefit from understanding what's on the horizon for interconnect technology. In this article, you'll learn about DisplayPort's origins in personal computing, comparison with HDMI, what to expect from DisplayPort 1.4, and how to future-proof your technology investments in preparation for this newest high performance interface.
What is DisplayPort Today?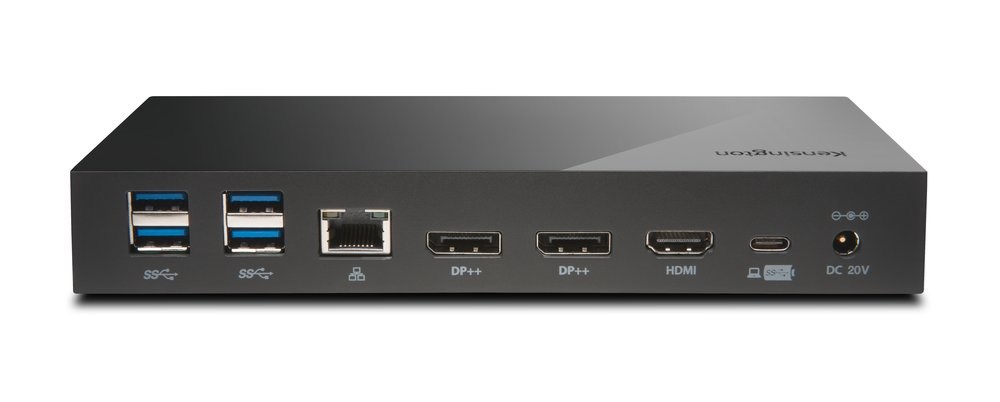 At its most fundamental level, DisplayPort is a digital interface that transmits a video source to a display like a computer monitor, and can also transmit audio. DisplayPort traces its creation back to personal computers, and was developed by the Video Electronics Standards Association (VESA) to replace older interface standards like DVI and VGA that were mainly used for computer displays.
Because it was designed for the computer industry, DisplayPort is the first display interface to use packet-based data transmission—the same kind of digital communication as USB technologies. VESA designed DisplayPort to support multiple displays with one cable connection, and developed DisplayPort MultiMode (DP++) to have the flexibility to convert the DisplayPort signal to VGA, DVI, HDMI, or other signals with the proper adapter.
DisplayPort packs 20 pins (the conduits that carry video and audio) into two connector sizes. The full DisplayPort connector is slightly larger than a rectangular USB-A connector. A smaller alternative called Mini DisplayPort has been commonly found in PC laptops and older Apple products. Mini DisplayPort was the connector shape that Thunderbolt and Thunderbolt 2 were based on—until the most recent Thunderbolt 3 technology switched to a USB-C connector shape. As we'll learn later, the latest DisplayPort technology can also be incorporated in USB-C connectors.
Since the first version of DisplayPort was approved by VESA in 2006, each subsequent iteration has improved resolution and bandwidth. For example, when the current standard—DisplayPort 1.3 (DP 1.3)—was released in 2014, it increased the maximum link bandwidth by 50% over the previous standard to 32.4 Gbps. In 2014, VESA also introduced HBR3 (High Bit Rate 3), a transmission mode for DisplayPort that made this boost possible. With HBR3, DP 1.3 can drive a 5K x 3K (5120×2880) display at 60hz, or two 4K UHD monitors each with a resolution of 3840×2160. DP 1.3 is widely available today, but in the coming months DisplayPort 1.4 will be a new high performance standard incorporated in more and more products. Before we get to the newest DisplayPort standard, let's set the record straight about DisplayPort and another popular interface: HDMI.
DisplayPort vs HDMI
You may have heard DisplayPort compared with HDMI (High Definition Multimedia Interface) as two digital interfaces that can transmit high-definition digital video and audio from a source to a display. Apart from their different connector shapes, there are some key technical differences to be aware of, that stem from each interface's origins. While DisplayPort was designed for personal computers, HDMI was originally developed in 2002 with a home entertainment focus. One popular HDMI feature is an audio return channel (ARC), which is useful if you want to listen to audio on a surround sound system and not a TV's built-in speakers. HDMI is used widely as an AV interface in consumer electronics such as HD, 4K, and OLED TVs, as well as in some projectors, PCs, and monitors.
On the other hand, DisplayPort's origins in personal computers led to its ability to drive multiple displays with one cable—handy for those who prefer a desk setup with one or more external monitors. This capacity, along with DisplayPort MultiMode's ability to support many display standards via an adapter, makes it an incredibly flexible interconnect technology. You'll find DisplayPort in a range of monitors, tablets, notebooks, and desktop computers, as well as some digital TVs. You should know that some consumer electronics feature both HDMI and DisplayPort—giving you the best of both worlds.
DisplayPort 1.4 and the Future Standard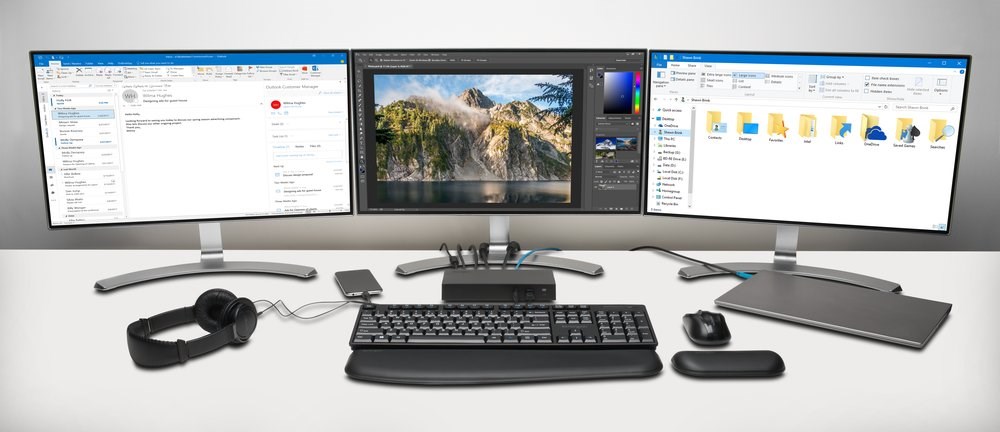 Building on its previous version, DisplayPort 1.4 offers high display performance, the versatility to connect multiple displays, and the flexibility to work with different device types. When DisplayPort 1.4 (DP 1.4) was published by VESA in April 2018, it defined a new norm that will increasingly be available in a range of products released over the next few years. Some key improvements in DP 1.4 include adding support for VESA's Display Stream Compression (DSC) technology, an encoding technique that allows up to 3:1 compression ratio that is visually lossless. With DSC and HBR3, DP 1.4 can drive an 8K UHD (7680 × 4320) display at 60 Hz, or two 4K UHD monitors with pixel resolution of 3840×2160 each—opening new possibilities for high definition displays.
DisplayPort technology's packet-based transmission allows DP 1.4 to be incorporated into other connector shapes like the new reversible pill-shaped USB-C interface and Thunderbolt, as well as into embedded displays. Users can transmit both high-definition video and SuperSpeed USB over a USB-C connector, while also enabling High Dynamic Range (HDR) and up to 8K video. Of course, few of us will immediately upgrade all our electronic devices to the new standard, but fortunately DisplayPort 1.4a is backward compatible with earlier DisplayPort standards and still supports display adapters for legacy display types.
How to Future-Proof your Technology Investment
The idea of changing standards doesn't have to cause anxiety. Choosing products that are future-proofed for the increase in DP 1.4 and HBR3 devices will make the transition to newer, more powerful products a smooth one. For instance, Kensington's SD4800P Universal USB-C Scalable Video Dock with Power Delivery enables users to take advantage of the best interconnect technology available now and in the future. Users can create the ultimate workstation for visual multitasking with support for up to three external displays. The SD4800P provides two DisplayPort++ ports and one HDMI port to allow users to select the right connections for their environment, while also eliminating the need for expensive adapters. Triple display configurations are supported up to 1600 x 900 @ 60Hz on DP 1.2 compliant laptops and up to 1920 x 1080 @ 60Hz on DP 1.3 and DP 1.4 compliant laptops. With the right technology investment, you'll be covered for currently available technology as well as future standards.
At its core, DisplayPort was designed to connect video and audio from a source device to a display simply, flawlessly, and adaptably. This fundamental aim is taken to new levels with DP 1.4's improvements to compression, transmission, and overall performance. Whatever DisplayPort devices are in your current possession and in your future, investing in solutions to help you future-proof your technology investments will enable you to enjoy the visually stunning applications out there today—and tomorrow.
If you'd prefer to test out a new dock before your organization fully invests in it, Kensington's ProConcierge program allows you to try a dock tailored to your organization's requirements, with no obligation to buy. Apply for the ProConcierge program today, and let Kensington take the complexity out of docking.