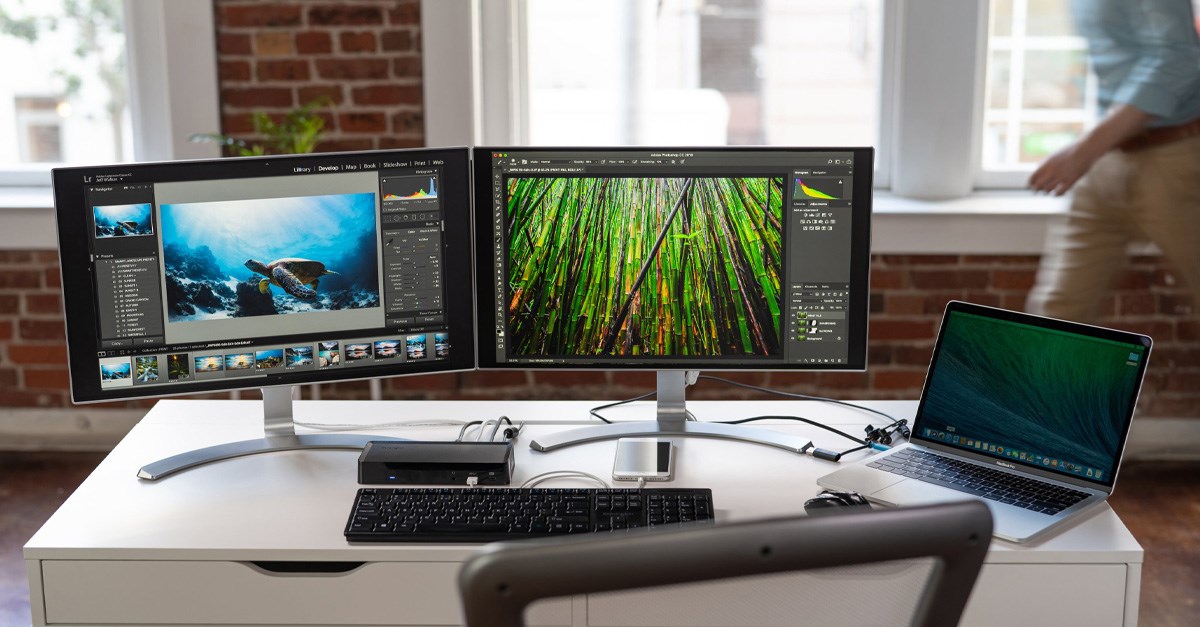 Hybrid docking is an increasingly cost-effective solution for businesses. Over four million employees around the United States alone work remotely at least part-time. This leaves you needing new ways to accommodate them while optimizing the usage of available office space. BYOD (Bring Your Own Device), shared workspace environments, hoteling, hot desking and agile workspaces are becoming more common.
Hot desking is one of the dynamic work environments used by industry giants of efficiency, such as Amazon, Toyota, and UnitedHealth Group. Companies across all industries find operational cost savings and revenue-generating opportunities from them.
When combined with hybrid docking, the return on investment of these new office setups is worthwhile. It's because traditional offices had uniform equipment, making your IT headaches easier to diagnose. Now, you're working with multiple people using any number of devices from varying original equipment manufacturers (OEMs.) The best docking station provides streamlined connectivity and security while maximizing the potential of each device and workstation.
Hybrid Docking for Any Environment
Technology continues evolving the way we live and work in the 2020s. According to Gartner, IT leaders are increasingly driving disruption via hyper-automation, distributed cloud, and other AI-powered applications. Although remote working is more common, virtual workers are coming into the office at least once a week to combat loneliness and disengagement.
Without a dynamic office environment, you'll end up coming into a ghost town anyway. These solutions are meant to make efficient usage of the commercial space you have available so there's a reason to turn on the lights every day. Of course, using them comes with challenges. IT requires policies that can deal with devices from multiple manufacturers running on multiple platforms and more. That's where hybrid docking comes in.

Kensington developed hybrid docking stations specifically for business environments where mixed devices are being deployed. Hybrid docking stations support multiple host connector technologies (the port you use to connect your device to the docking stations), so you can install a docking station that supports your businesses today and into the future. In our offering, we have solutions that support Thunderbolt 3 and USB-C, as well as solutions that support USB-C and USB 3.0 (Type-A) devices.
In short, Kensington's docking stations protect devices while enabling flexible work options. Studies show universal docks are increasingly being sought over proprietary ones, due to the wide range of "standards" used in consumer devices. In addition, based on Kensington's research, you could see a return on investment of up to $379.98 per seat/desktop using these hybrid docking solutions.
Check out how our hybrid docking station support different office environments:
1. Hybrid Docking for Hoteling and Hot Desking
Hoteling is an ideal way to organize your office. Instead of assigned seating, employees reserve a seat in the office before coming in. This transforms a stale office into a dynamic hub. Companies are increasingly learning the cost savings of hoteling, especially when using Kensington docks, which can save a business an estimated $189,990 over seven years for a 500-seat office.
Hot desking is similar to hoteling, but there's no reservation system. Employees are encouraged to sit in the available spaces. This creates a collaborative environment where teams work with each other more effectively.
2. Hybrid Docking for BYOD
BYOD policies let businesses leverage employee-owned devices. Uber's impressive growth is attributed to its usage of employee-owned vehicles, and BYOD lets businesses in every industry leverage employee resources for infrastructure. Hybrid docking is how businesses save on operational costs through BYOD policies by accommodating a wide range of devices.
3. Hybrid Docking in Shared Workspaces
Some people just want freedom. Shared workspaces give freelancers and remote workers an office without having to be an employee of the workspace. Renting existing office space out as a co-working space is a great way to generate revenue while your workers are at home. You'll need to accommodate whatever manufacturer devices they have – it'll require an IT policy and a hybrid dock.
4. Hybrid Docking in Agile Workspace Environments
While there are many different types of flexible workspaces available, people all learn and work differently. Simply having an open floor plan is not always the answer. With agile workspace environments, businesses can create various creative collaboration zones that allow people to come together to work on various projects. This allows for greater collaboration, while still allowing users to work in quieter environments, or remotely, to perform deep work tasks.
Hybrid Docking Solutions
What all of these environments have in common is the need for hybrid docking. Selecting a docking station that can adapt to the various devices being used is critical in these environments, as you don't know each day who will be sitting at each location and what device(s) they might be using.
SD5500T/SD5550T is a first-of-its-kind Thunderbolt 3 and USB-C docking solution. This hybrid docking solution has you covered with support for Dual 4K, up to 40Gbps data transfer speeds, device charging up to 60W and more. It's plug-and-play, so you can focus IT resources on more important tasks than continuous setup issues.

SD4900P/SD4750P/SD4700P are Kensington's lineup of USB-C and USB 3.0 docking solutions. They support both newer USB-C and legacy USB 3.0 (Type-A) devices. Supporting speeds/video/power up to 10Gbps/Triple 4K/60W (SD4900P) or 5Gbps/Dual 4K/85W (SD4750P) and 5Gbps/Dual 2K/60W (SD4700P), these hybrid docking stations enable solutions that can truly scale with your business.
Start Earning a Return on Investment Today
New technologies always come with big promises, but the potential isn't always fulfilled. Some people adapt well to changing work environments and emerging technologies – others don't. It's not easy to roll-out changes across a live production environment in an existing business. Kensington supports everybody's tastes and comfort levels with the ProConcierge program.
By signing up for ProConcierge, you'll be assigned a personal Sales Engineer who will guide you through the process of selecting the right hybrid docking stations for your business's needs. They'll help with selecting the perfect setup and get your equipment sent directly to your company for installation.
We're so confident you'll love it that if you don't, simply send it back and let us know why. You never have an obligation to buy the equipment you try, and you'll receive the flexible customer service to match your flexible office environment.
Once you've tried hybrid docking, you won't want to go back to the old way of doing things. These secure solutions provide expanded power and usability for existing equipment. They integrate old devices with new, making your business more sustainable with longer-lasting equipment. In addition, each hybrid docking station futureproofs your investment for advancements on the horizon (like USB4).
Contact us today to learn how you can maximize your return on investment with hybrid docking stations that also secure your workplace.
---