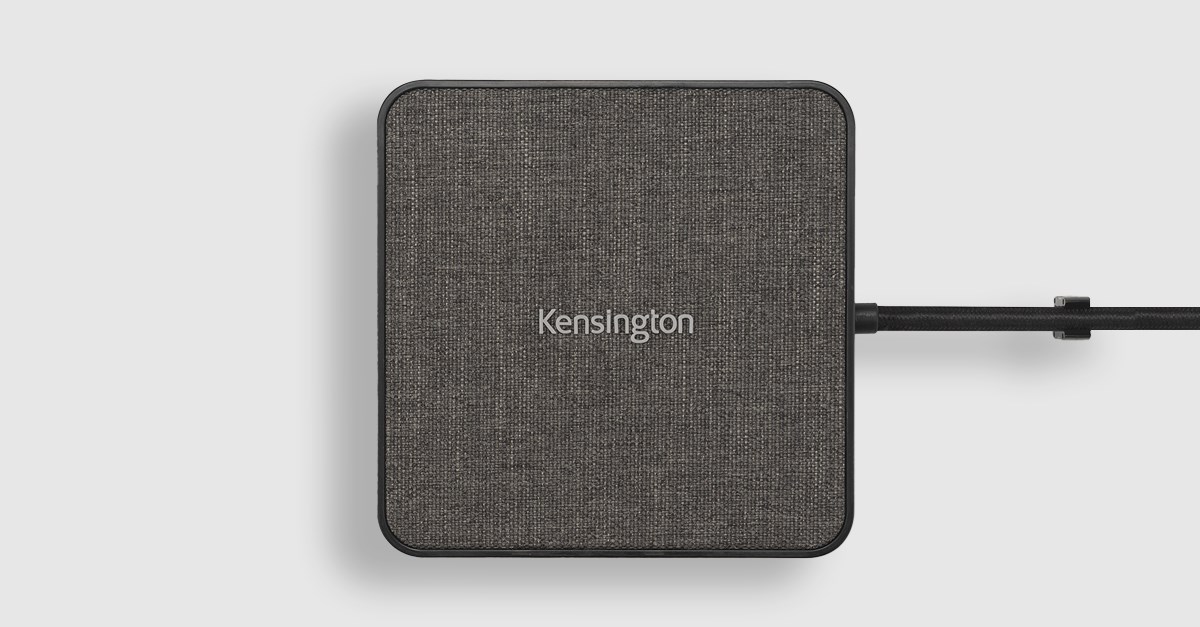 New USB4, Thunderbolt™ 4, Qi Charging, and Innovative Universal Docking Stations Expand Connectivity Options and Capabilities to a Wide Array of Mobile Devices to Support the Demands of an Increasingly-Mobile Workforce.
LAS VEGAS – Jan. 5, 2023 – Kensington, a worldwide leader of desktop computing and mobility solutions for IT, business, and home office professionals, today announced at CES 2023 the expansion of its comprehensive portfolio of award-winning, productivity-enhancing connectivity solutions. The addition of four new docking stations; MD120U4 USB4 Mobile Dock, SD5780T Thunderbolt 4 Dock, SD1700P Mobile Dock with Qi Charging, and a new universal Thunderbolt 4 docking station that goes beyond connectivity to maximize usability and productivity, provides users the ability to increase their productivity and enhance the capabilities of a wider variety of laptops, tablets, and mobile devices.
MD120U4 Innovative USB4 Portable Docking Stations Provide Hybrid and Mobile Workers with Lightweight Compact Solutions for Increasing Productivity While in the Office or on the Road
The innovative MD120U4 USB4 Portable Docking Station (K32850WW) is one of the first mobile USB4 docking stations, delivering the power of USB4, dual 4K support, up to 40Gbps upstream speed, and up to 100W power pass-through in a compact solution that supports macOS, Windows, iPadOS, and Samsung DeX®. Ideal for use with USB-C or USB4 laptops that support Power Delivery, the MD120U4 is compatible with USB4, Thunderbolt 3, Thunderbolt 4, and USB-C 3.2 devices running Windows 10 or above. Two HDMI 2.1 ports deliver up to 8K @ 60Hz for a single monitor, and up to 4K @ 120Hz for dual monitors, and a 2.5Gbps Ethernet port eliminates bandwidth bottlenecks between the computer and the network. In addition to two USB-A 3.2 Gen2 ports, the docking station also includes one USB-C 3.2 Gen2 port that supports power pass-through and data transfer at upstream speeds up to 40Gbps.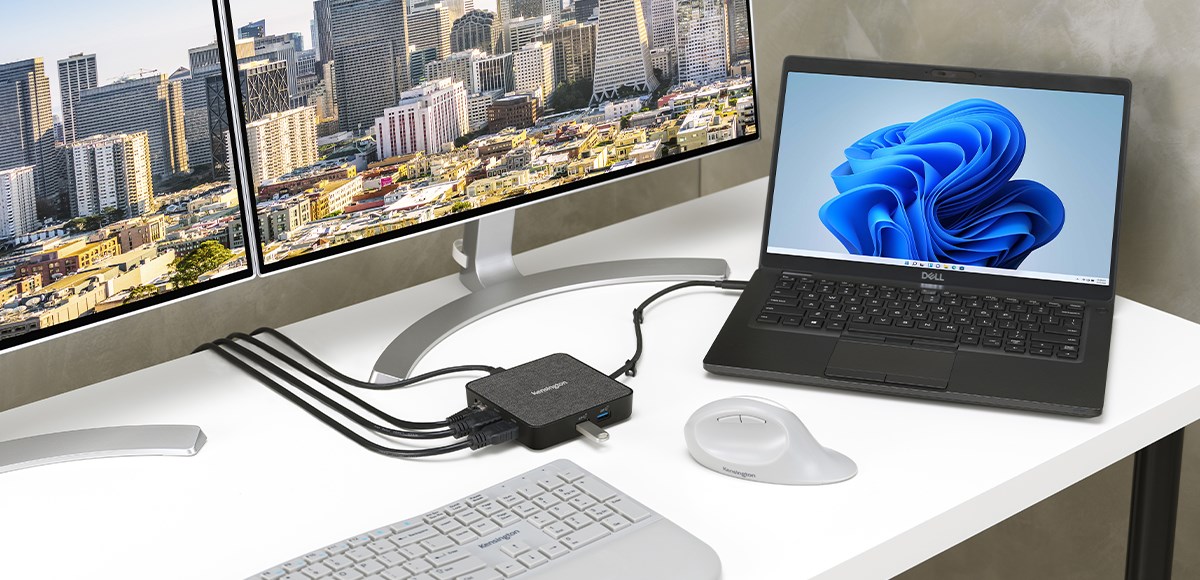 SD5780T Thunderbolt 4 Desktop Docking Station Turns Laptops into Complete Workstations
SD5780T Thunderbolt™ 4 Dual 4K Docking Station (K33040NA) is the latest addition to Kensington's family of high-performance Thunderbolt 4 docking stations. The SD5780T enables users to transform the latest MacBooks, Surface devices and other Thunderbolt 4-enabled laptops into complete, high-performance desktop workstations using a single Thunderbolt 4 port.
The plug-and-play, multi-Gigabit SD5780T supports one 8K monitor or up to two 4K monitors, and allows the user to connect a mouse, keyboard and other USB devices at ultra-fast data transfer speeds up to 40Gbps, enabling a future-proof desktop workstation. The SD5780T provides fixed 96W of power to charge the laptop and attached USB-C or USB4 accessories, and the 2.5Gbps Ethernet port helps eliminate bottlenecks between the laptop and the local network. The SD5780T is universally compatible with Thunderbolt 4, Thunderbolt 3, USB4, and USB-C devices running Windows (10 or later) or macOS (11 or later), and includes a one meter Thunderbolt 4 passive cable for ease of mounting and placement.
The SD5780T is the latest addition to Kensington's growing portfolio of high-performance Thunderbolt docking stations for home and office. Kensington's family of desktop docking stations also includes:
SD1700P Provides the Speed and Power of an Industry Leading Docking Station, while Integrating Qi Charging for your Mobile Phone
An ideal docking solution for mobile professionals, the innovative SD1700P USB-C Dual 4K Portable Dock w/Qi Charging (K32800WW) integrates wireless Qi charging (up to 10W) into a compact, full-featured portable dock, simplifying the work space and eliminating the need for users to carry a separate charger for their mobile phone. The SD1700P supports Windows, macOS, iPadOS, and Samsung DeX, and provides up to dual 4K @60Hz through two HDMI 2.0 ports. The dock also features one 1Gbps Ethernet port, two USB-A 3.2 Gen2 ports, and one USB-C 3.2 Gen2 port that supports up to 100W power for pass-through charging.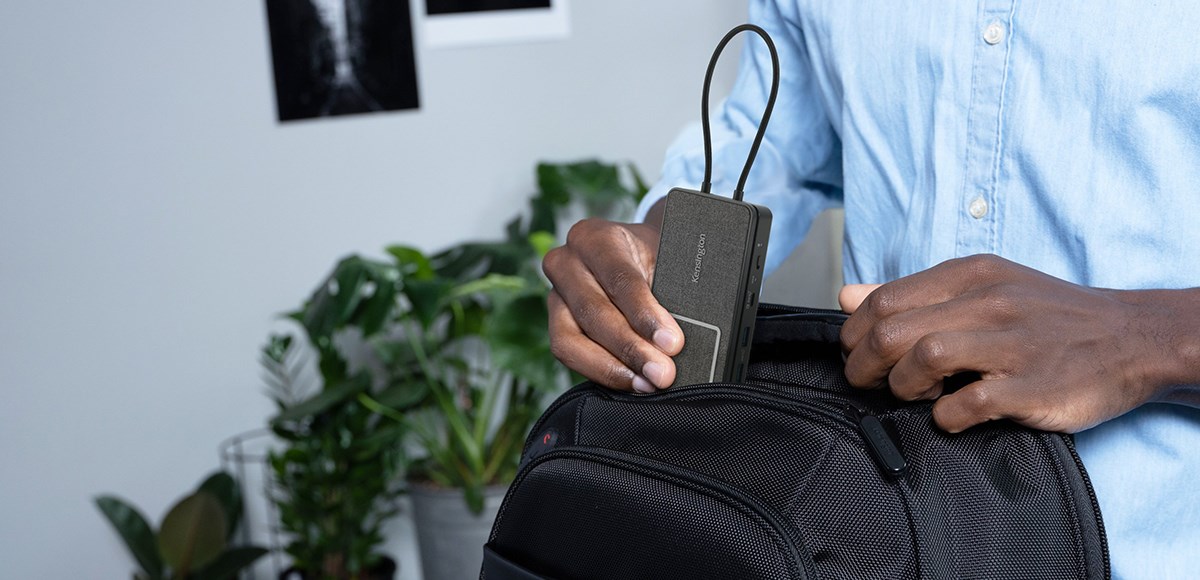 The new MD120U4 and SD1700P Portable Docks expand Kensington's growing portfolio of portable docking solutions which also includes:
Universal Thunderbolt 4 Docking Station Expands Capabilities of Any USB-C/USB4 or Thunderbolt 4-Enabled Laptop or Tablet
Ideal for the modern work environment, a new universal Thunderbolt 4 docking station maximizes user productivity by enabling users to instantly connect USB and Thunderbolt accessories, external monitors, audio devices, and multi-gigabit Ethernet, through a single Thunderbolt port - expanding the capabilities of any USB-C/USB4 or Thunderbolt 4-enabled laptop or tablet. Available in Q2 2023, the new docking station enables accessories such as input devices, USB drives, an external monitor, and Gigabit Ethernet to stay connected and become available instantly to the mobile device when connected using a single USB-C cable.
The docking station combines a high-performance dock with an ergonomic riser to create a solution that converts the mobile device into a complete, ergo-friendly desktop workstation, enabling modern professionals to get the most from their computing devices. The laptop riser places laptop screens at the ideal height to reduce eye strain, and places tablets in a 20-degree angle for sketching, which is ideal for creative projects. The versatile dock also provides a groove at the front that enables users to stand a tablet (including the case) upright in reading mode, use a laptop in closed lid mode, support a Surface Pro with the keyboard in open or closed modes, or stand a cellphone upright.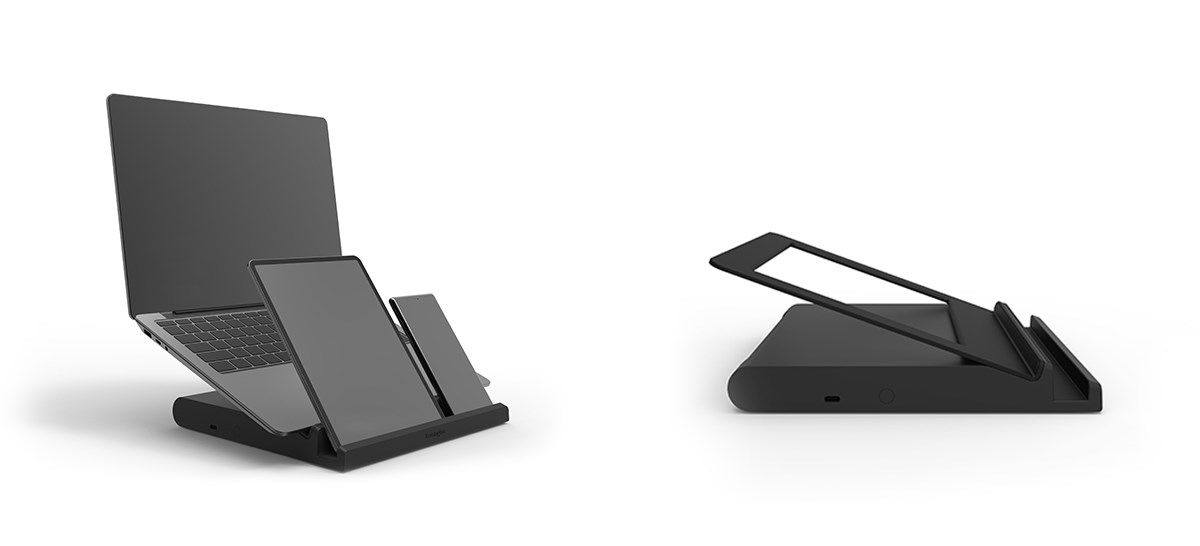 The universal Thunderbolt 4 docking station joins Kensington's innovative line of award-winning products like the StudioDock™ iPad Docking Station for USB-C enabled iPads Pro devices (12.9" K39160WW) and (11" K34031WW).
"For more than 40 years, Kensington has focused on bringing to market innovative products that make computers and mobile devices easier, safer, and more secure to use" explained Louie Yao, Director of Global Product Management at Kensington. "This latest expansion of our portfolio of connectivity solutions reflects our vision to continue to deliver best-in-class products that enable users to expand and maximize the capabilities of their computing devices."
Kensington's comprehensive portfolio of docking stations, hubs, and other connectivity solutions are available globally through Kensington.com and its partner sites.  Learn more about Kensington's comprehensive portfolio of products and solutions for consumers and businesses, visit www.kensington.com.
Resources
Follow Kensington on:
About Kensington
Kensington is a leading provider of desktop and mobile device accessories, trusted by IT, educators, business, and home office professionals around the world for more than 40 years. Kensington strives to anticipate the needs and challenges of the ever-evolving workplace and craft professional-tier award-winning solutions for organizations committed to providing peak professionals the tools they need to thrive. The company prides itself as the professionals' choice, and on its core values surrounding design, quality and support.
In office and mobile environments, Kensington's extensive portfolio of award-winning products provides trusted security, desktop productivity innovations, professional video conferencing, and ergonomic well-being.
Headquartered in Burlingame, California, Kensington is the inventor and a worldwide leader in laptop security locks. Kensington is a division of ACCO Brands, the Home of Great Brands Built by Great People, which designs, manufactures and markets consumer and end-user products that help people work, learn, play and thrive.  In addition to Kensington®, ACCO Brands' widely recognized brands include AT-A-GLANCE®, Five Star®, Leitz®, Mead®, PowerA®, Swingline®, Tilibra and many others.  More information about ACCO Brands Corporation (NYSE:ACCO) can be found at www.accobrands.com.
Kensington is a registered trademark of ACCO Brands. StudioDock is a trademark of ACCO Brands. All other registered and unregistered trademarks are the property of their respective owners.
© 2023 Kensington Computer Products Group, a division of ACCO Brands. All rights reserved.