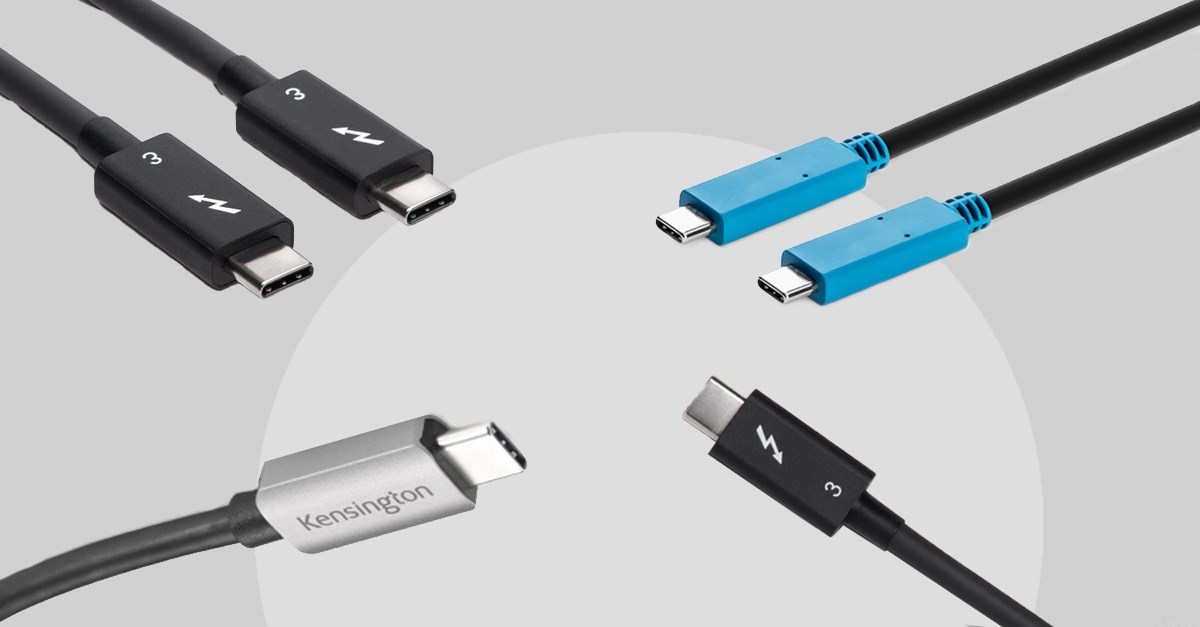 Both Thunderbolt™ and USB-C allow devices to efficiently communicate with each other.  They are fast, can transmit lots of data, use reversible type-C connectors, and great for connecting devices such as monitors, hard drives, and printers—so it's easy to see why there might be confusion around the differences between the two.  While Thunderbolt™ and USB-C seem similar at first glance, there are significant technological differences that may influence how you choose to use or integrate them into your workspace.
How are Thunderbolt™ and USB-C Similar?
The simplest way to understand the similarities between Thunderbolt™ and USB-C begins with Intel's tagline for Thunderbolt™ technology, "The Fastest, Simplest and Most Reliable USB-C Connection." So, Thunderbolt™ is a faster version of USB-C with higher spec standards.  Let's dive in a little deeper.
Both Thunderbolt™ and USB-C support USB Protocols.  They share identically shaped ports and cables that are physically compatible with each other.  This compatibility is convenient in today's mixed technology world since it means you can use a Thunderbolt™ cable with a USB-C port or a USB-C cable with a Thunderbolt™ port—albeit with different results, which we will discuss below.  Both technologies use cables that are reversible, which are basically dummy proof since either end of the cable will connect an accessory to a Thunderbolt™ or USB-C port on your laptop, docking station, or charger.  And, both Thunderbolt™ and USB-C can support high-speed data, video, and audio transfer, as well as provide power to laptops and accessories.  But, while they share many physical traits, their internal attributes are quite different.
Key Differences Between Thunderbolt™ and USB-C
The primary difference between the two technologies is that Thunderbolt™ uses a USB-C connector, but requires higher minimum spec standards for power, data, and video than base USB-C protocols.  For example, USB-C can transfer data up to 20Gbps, while Thunderbolt™ brand certification requires 40Gbps bandwidth in each direction.  The following highlights the primary differences between Thunderbolt™ and USB-C:
Data Transfer
Thunderbolt™ is significantly faster than USB-C.  All versions of Thunderbolt™ support transfer rates up to 40Gbps.  By contrast, the most popular USB-C spec today is the USB 3.2 Gen 1 protocol that supports transfer rates up of 5Gbps.  The next level up for USB-C, including USB 3.2 Gen 1x2 and USB 3.2 Gen 2x1, supports up to 10Gbps, and the latest USB 3.2 Gen 2x2 supports up to 20Gbps.  This means that, in general, a laptop with Thunderbolt™ can transfer data over that port to another device 2-4 times faster than a laptop with USB-C.  It's important to keep in mind that the attached device must also support those speeds (e.g., a Thunderbolt™ docking station or Thunderbolt™ external hard drive). 
Display Connections
Thunderbolt™ can support up to two external 4K monitors at 60Hz. While USB-C can also support external displays, the host device must support DisplayPort Alternate Mode, or Alt Mode, if you intend to use an external display over USB-C. 
Device Support
Thunderbolt™ supports PCIe devices like fast external hard drives and external GPUs.  USB-C cannot connect to these kinds of devices.
Daisy-Chaining
Thunderbolt™ supports daisy-chaining or linking, up to 6 compatible devices on one port.  This allows you to connect multiple devices together for a clean and clutter free workspace. With USB-C, these devices would each need their own USB-C port on the host device.
Backward Compatibility
Thunderbolt™ is backwards compatible with USB-C.  A Thunderbolt™ port will support any USB-C device by reverting to USB-C mode—and supporting the device to the max of its USB-C capabilities.  By contrast, a USB-C port will not support a Thunderbolt device.  So, while a Thunderbolt™ host laptop will support Thunderbolt™ and USB-C devices, a USB-C host laptop will only support USB-C devices.  It's also important to mention that a Thunderbolt™ cable is the easiest choice for Thunderbolt™ hosts since it will support both Thunderbolt™ and USB-C devices to their max capabilities.
Identification
Identifying a Thunderbolt™ port or cable should be as easy as looking for a lightning symbol next to or on top of the port. and directly on the cables. If the cable or port doesn't have the lightning symbol, it is probably a USB-C port.  There are scenarios where Thunderbolt™ ports are not labeled.  You can download the Intel Driver & Support Assistant (Intel DSA) to detect what ports you have on your PC.
What's Next?
Both Thunderbolt™ and USB-C will continue to advance to keep up with the demands of today's fast-paced environment.  As the technology evolves, Kensington will continue to support with  Thunderbolt™ and USB-C docking stations, cables and accessories that keep you productive and on task. 
Learn more about Kensington's Thunderbolt™ docking stations