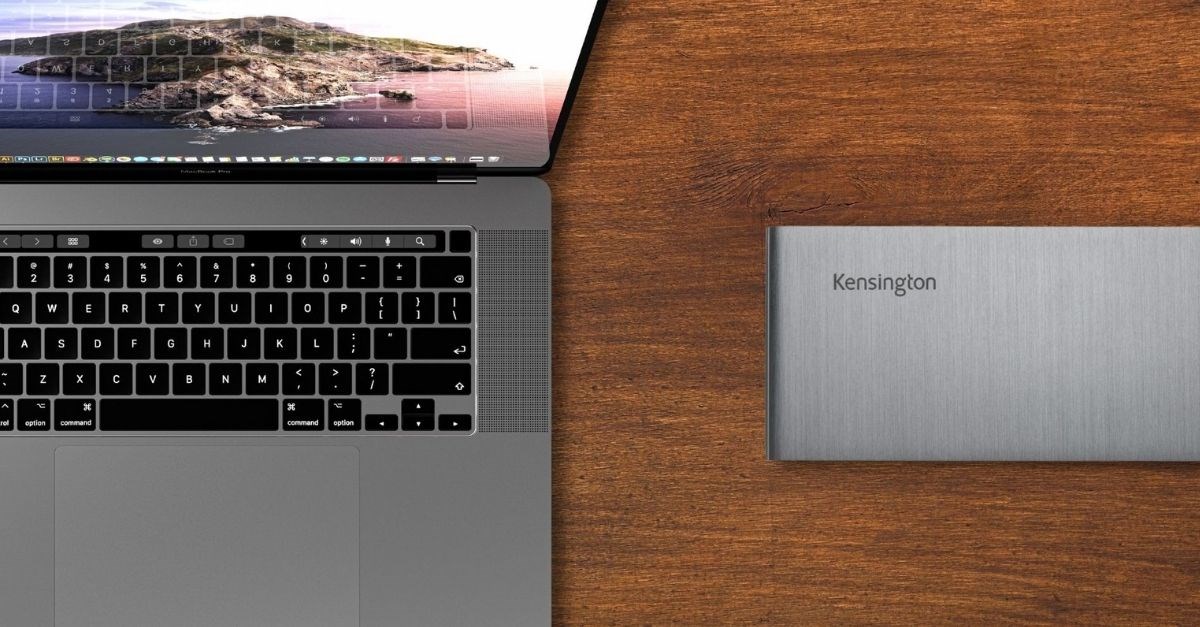 Apple built the M1 MacBook Pro and M1 Max with the most powerful chips ever made. The tech giant designed these MacBooks for developers, filmmakers, photographers, 3D artists, music producers, scientists, and anyone who simply wants the best in notebook technology.
According to Creative Strategies, 60% of employees surveyed agree they want the option to use Macs in the workplace. Kensington understands this trend and the needs of Mac users. That is why they continue to create products to meet these needs and support users in expanding their creativity.
Docking stations remain one of the best options for users who want to improve their connectivity. Let's look at how Kensington docking stations works within the Apple ecosystem to boost your MacBook experience.
8 Ways Thunderbolt™ Docking Stations Boost Your MacBook Experience
Docking stations connect to your MacBook Pro with a single cable. Furthermore, with Kensington's plug-and-play technology, your dock works right out of the box with no additional software or hardware required, making it one of the easiest docks available.
Here are eight additional reasons why a Thunderbolt™ can help boost your MacBook experience:
1. Various Port Types  
You have a variety of ports to suit your needs when you connect your Thunderbolt™ docking station to your MacBook. For example, the Kensington Thunderbolt™ 4 Dual 4K docking station comes with eleven ports for connectivity. You get:
1 x upstream Thunderbolt 4 port
3 x downstream Thunderbolt 4 ports
4 x USB-A ports
1 x Audio combo jack
1 x Gigabit Ethernet port
1 x UHS-II SD 4.0 card reader
2. Mounting and Locking Capabilities
Connect all your devices while maximizing desktop space. You can also reduce clutter caused by all your cables by mounting your docking station. It can help streamline your processes and give your workstation a sleeker look.
You can also lock your dock using the built-in lock slot so that you can protect your investment. Kensington offers the cable lock for their Thunderbolt™ docks, which you can purchase separately.
3. High-Speed Internet Connectivity
Connect to your high-speed internet directly with the Ethernet port on your Kensington docking station. Your Kensington dock supports internet connection speeds of up to 1,000 Mbps. Thanks to this direct connection, you no longer have to rely on spotty Wi-Fi signals.
4. Device Charging
The M1 Pro and M1 Max deliver exceptional battery life. Pairing with a Thunderbolt™ docking station means you never have to worry about not having a charge on the device you need.
Thunderbolt™ docking stations charge multiple devices simultaneously. You can charge your smartphone and other connected devices to the USB ports.
5. Prevents Wear and Tear on Ports
Connecting your devices and accessories to a docking station extends the lifespan of your MacBook's ports by reducing the number of times you have to plug and unplug various external devices. It allows you to hard-wire your internet while charging multiple devices with room left over for additional accessories like a keyboard and mouse.
6. Supports External Displays
Having an additional display can increase your productivity by up to 50%. It saves users more than two and a half hours per workday, possibly more, depending on the nature of your work.
For example, a writer can connect an additional monitor while writing an article. One screen can display their word document, and they can use the other monitor for their internet research. They no longer need to toggle from one tab to another on a single screen.
Your Thunderbolt dock allows you to add external displays. This only applies to the newer Apple devices (M1 Max and M1 Pro chipsets) found in the MacBook Pro 14" and MacBook Pro 16."
The original M1 MacBook (M1 Chipset) only supports a single video output. You can find these chipsets in the MacBook Air and MacBook Pro 13."
If you need your MacBook Pro 13" or MacBook Air to support a multi-monitor setup, check out Kensington's Hybrid USB-C DisplayLink docking stations (such as the SD4750P, SD4700P, SD4780P, or SD4900P). You could also opt for Kensington's USB-A DisplayLink adapters (HDMI K33988, DisplayPort K33989, DVI-I K33974).
7. Fast SD Card Reader
Transfer files with the ultra-fast UHS-II SD 4.0 card reader. You can transfer files and data at lightning-fast speeds. Not only can you transfer data quickly, but you can also rest assured that your data is secure.
Your Thunderbolt docking station will have the protection of Intel VT-d DMA technology. It stops unauthorized access to the system memory of your peripheral devices, helping you keep sensitive data secure.
8. 3.5 Millimeter Audio Ports
Your Thunderbolt dock comes with a 3.5mm audio port. Use this port to connect speakers, headphones, or another device that uses an audio port. You can also use this port to plug in microphones, allowing you to stay connected with your team when working from home.
With the rise of hybrid working models and remote workers, video conferencing is now a priority for many employees. The Thunderbolt docking station lets you plug in any device or accessory you need – making working from anywhere more accessible.
Benefits of the Thunderbolt™ Docking Stations by Kensington
The Thunderbolt™ 4 Dual 4K docking station can instantly boost your MacBook user experience. Kensington's premium SD5700T delivers optimum power delivery, regardless of how many devices you connect. Here are some of its benefits for M1 MacBook Pro users:
Dual 4K or Single 8K video output 
Comes with eleven ports for connectivity
1 x upstream Thunderbolt 4 port
3 x downstream Thunderbolt 4 ports
4 x USB-A ports
1 x Gigabit Ethernet
1 x 3.5mm audio jack
1 x UHS II 4.0 SD card reader
Security cable slots
On/Off power button. It's rare on docks, which means you can rest the laptop battery when you are away
Three-year warranty
Thunderbolt Technology for Mac Users
While Kensington was the first to release a Thunderbolt™ 4 docking station, we continue to innovate around Thunderbolt 4 docking stations to fulfill the needs of Mac users.
Check out this video for reviews of Kensington's Thunderbolt™ 4 Docking Station:
Learn more about our macOS compatible docking stations today.