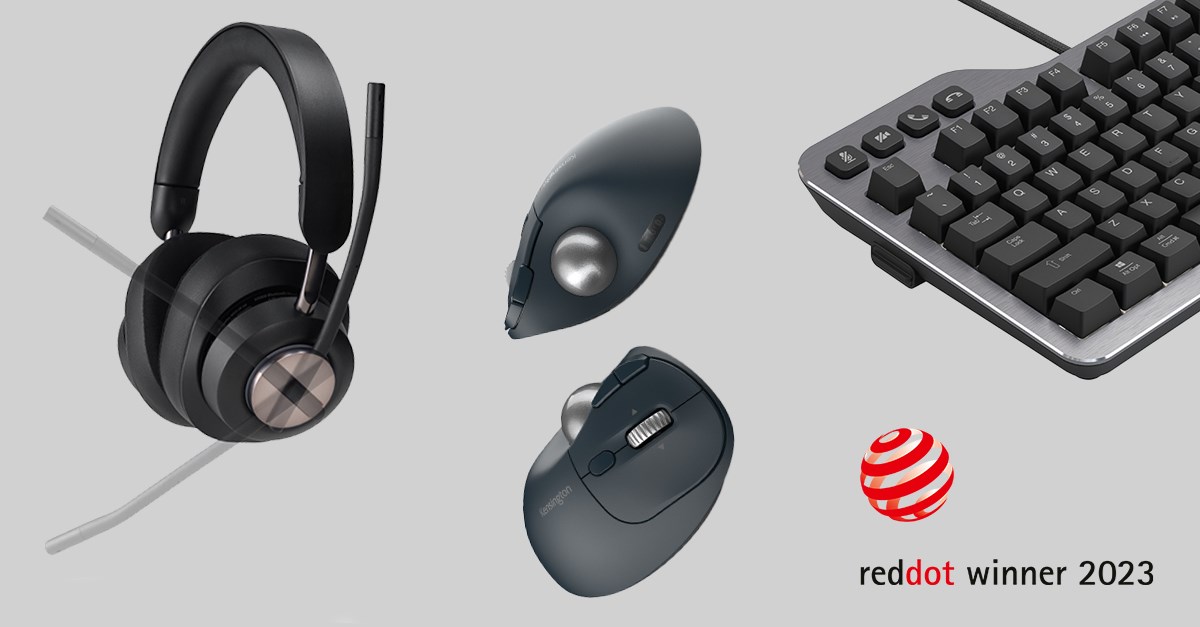 New Trackballs, Bluetooth® Headset, and Mechanical Keyboard Recognized for Outstanding Design that Incorporates Aesthetic Appeal, Function, and Innovation.
BURLINGAME, Calif. – June 19, 2023 – Kensington, a worldwide leader of desktop computing and mobility solutions for IT, business, and home office professionals, today announced the TB450 and TB550 Pro Fit® Ergo Trackballs, H3000 Professional Bluetooth® Headset, and MK7500F QuietType™ Pro Silent Wireless Mechanical Keyboard have been awarded 2023 Red Dot Design Awards in the Product Design category. The Red Dot Design Award is one of the world's largest design competitions, and is one of the most sought-after international marks of design quality.  
TB450 and TB550 Pro Fit® Ergo Trackballs
The affordable, ergonomic, thumb-operated TB450 and TB550 Pro Fit® Ergo Trackballs feature a unique shape that was sculpted from clay to conform to the natural curvature of the hand, making them natural, comfortable alternatives to the traditional computer mouse. The natural hand positioning, combined with the familiar button layout of a mouse, and a 4D scroll wheel (TB550) that enables the user to intuitively scroll left, right, up and down, enhances productivity and provides a comfortable user experience. Capable of connecting with up to three devices via 2.4GHz or Bluetooth®, the versatile trackballs allow users to switch between devices with the push of a button. The rechargeable TB550 eliminates battery waste, and the total plastic components of the trackballs each incorporate a minimum of 50% post-consumer recycled content.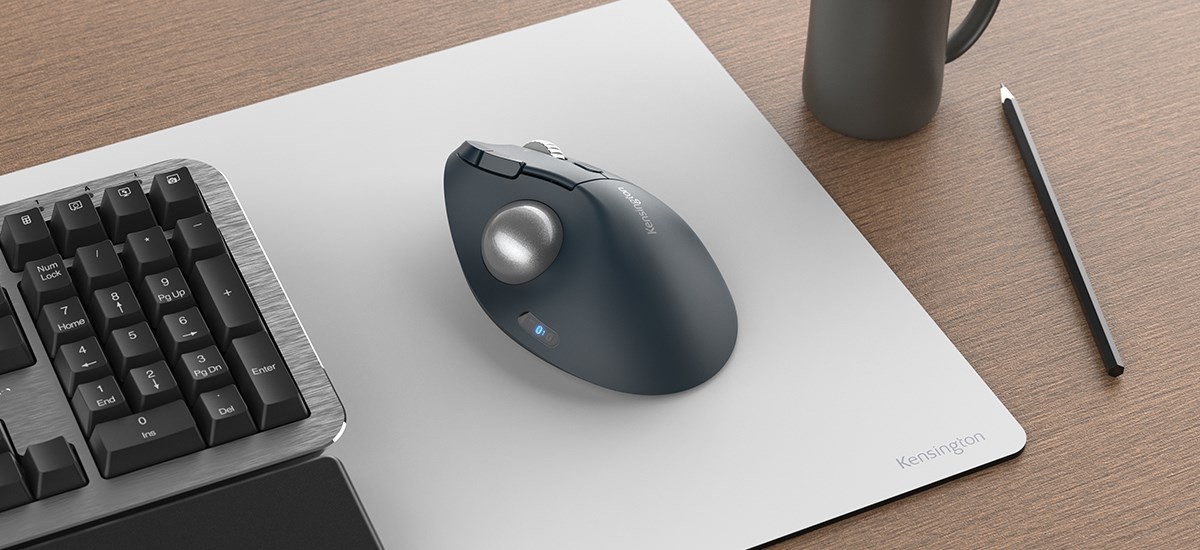 H3000 Professional Bluetooth® Headset
Engineered for Intel® Evo™ Laptops, the H3000 Professional Bluetooth® Headset is a premium over-ear headset that combines cutting-edge artificial intelligence and passive noise-cancellation technologies with a comfort-focused design to deliver a premium audio experience. The versatile headset incorporates Kensington's INTERSECT design strategy, leveraging visual innovation to deliver a clean, minimalistic design. The flexible boom microphone rotates 270 degrees, and the lightweight headset combines just-right clamping force with cooling gel-infused memory foam earpads, and heat-transferring, breathable fabric for all-day comfort.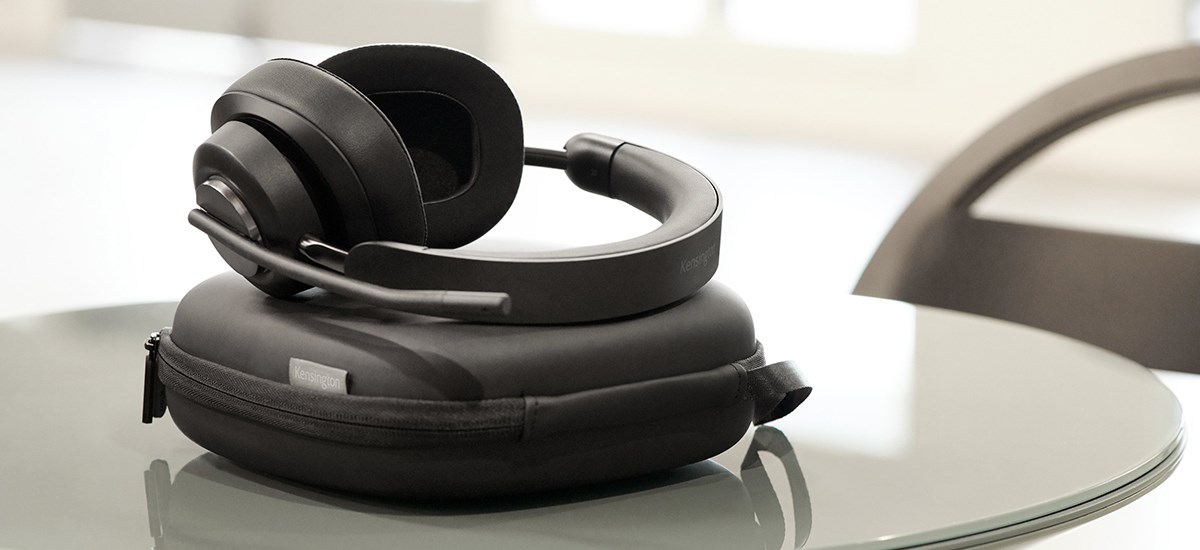 MK7500F QuietType™ Pro Silent Wireless Mechanical Keyboard
The MK7500F QuietType™ Pro Silent Wireless Mechanical Keyboard incorporates QuietType™ keys, which are 15db quieter than traditional mechanical or membrane-type office keyboards, to minimize keyboard-related distractions during online meetings and in the surrounding workspace. The ergonomic design makes the keyboard comfortable for all-day use, and integrated meeting control keys enhance productivity by providing convenient camera and audio controls to simplify and optimize the virtual meeting experience. MK7500F features a full-size ergonomic extruded aluminum frame, diamond edge bezel, high polish, and an adjustable white backlight. Laser-etched ABS keycaps ensure longevity of the keyboard legend, and spill-proof MK7500F is IPX4 rated for water resistance, protecting it from damage due to accidental spills.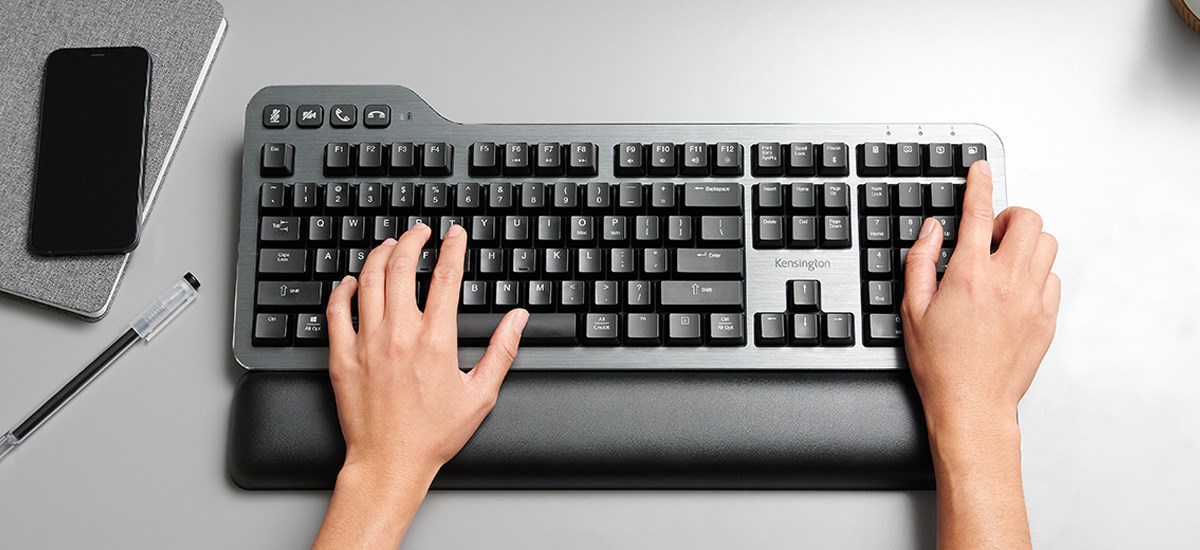 "The receipt of the Red Dot awards is particularly exciting because it validates our efforts to bring to market innovative products that increase productivity and comfort for professionals whether working in the office, at home, or anywhere in between" stated Erik Campbell, Senior Lead Industrial Designer at Kensington. "This year's award-winning products effectively address the challenges posed by hybrid and work-from-home environments, where desktop space is at a premium, and environmental noises can create distractions during virtual meetings. These awards reflect the value that Kensington brings to the market as we innovate to meet the ever-evolving requirements of the business environment."
The H3000 Professional Bluetooth® Headset and MK7500F QuietType™ Pro Silent Wireless Mechanical Keyboard are available now, and the TB550 Pro Fit® Ergo Trackball will available in mid-July, in North America through the Kensington store and its partner sites. The TB450 ProFit® Ergo Trackball will be available in mid-July in EMEA and other regions.  Learn more about Kensington's comprehensive portfolio of products and solutions for consumers and businesses, visit www.kensington.com.
Follow Kensington on:
About Kensington
Kensington is a leading provider of desktop and mobile device accessories, trusted by IT, educators, business, and home office professionals around the world for more than 40 years. Kensington strives to anticipate the needs and challenges of the ever-evolving workplace and craft professional-tier award-winning solutions for organizations committed to providing peak professionals the tools they need to thrive. The company prides itself as the professionals' choice, and on its core values surrounding design, quality and support.
In office and mobile environments, Kensington's extensive portfolio of award-winning products provide trusted security, desktop productivity innovations, professional video conferencing, and ergonomic well-being.
Headquartered in Burlingame, California, Kensington is the inventor and a worldwide leader in laptop security locks. Kensington is a division of ACCO Brands, the Home of Great Brands Built by Great People, which designs, manufactures and markets consumer and end-user products that help people work, learn, play and thrive.  In addition to Kensington®, ACCO Brands' widely recognized brands include AT-A-GLANCE®, Five Star®, Leitz®, Mead®, PowerA®, Swingline®, Tilibra and many others.  More information about ACCO Brands Corporation (NYSE:ACCO) can be found at www.accobrands.com.
Kensington®, Pro Fit® and QuietType™ are trademarks of ACCO Brands. All other registered and unregistered trademarks are the property of their respective owners.
© 2023 Kensington Computer Products Group, a division of ACCO Brands. All rights reserved.