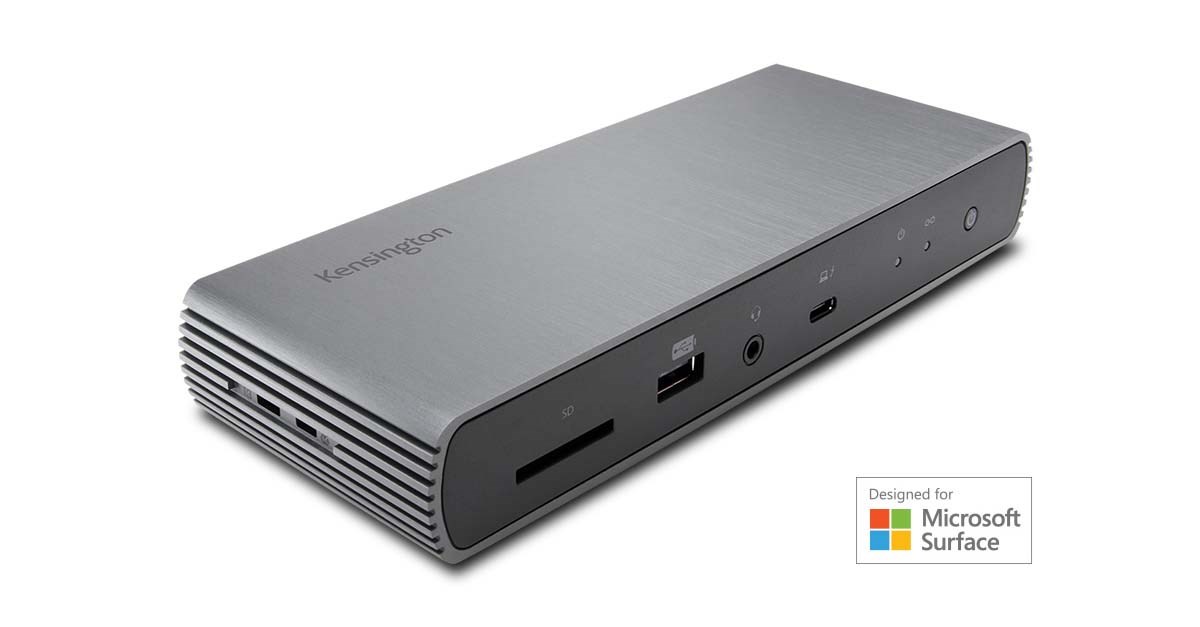 Designed in Collaboration with Microsoft, Kensington's Accessories Integrate Seamlessly with Surface Pro 8, Surface Go 3, Surface Pro X, Surface Laptop Studio, and Surface Duo 2
SAN MATEO, Calif. – September 23, 2021 – Kensington®, the worldwide leader of desktop computing and mobility solutions for IT, business, and home office professionals and The Professionals' Choice, offers a comprehensive portfolio of products and solutions designed to protect and extend the productivity of Microsoft Surface devices. Designed in collaboration with Microsoft, Kensington's Designed for Surface (DFS) products integrate seamlessly with Surface devices to protect, secure data and enhance functionality enabling users to maximize the potential of the Surface device at home, in the office and everywhere in-between.
Surface Locks and Rugged Cases Provide Best-in-Class Device Protection
Kensington Keyed and Combo Cable Locks for Surface Pro 8, 7+, 7, 6, 5th Gen, and 4, and Surface Go 3, Go 2, and Go provide professional-level security and superior device engagement to secure the Surface device with confidence. The keyed lock, which is available in master keyed and supervisor keyed options for use in mixed technology environments, features a strong lock head with patented anti-pick Hidden Pin Technology for tamper reisistance, reliability and durability. A plastic sheath-covered carbon steel cable provides maximum security and greater mobility.
Kensington BlackBelt™ Rugged Case for Surface Pro 8 provides military-grade drop and wipe-down protection and was built in collaboration with Microsoft for the highest quality, form, fit and function. The case, which can easily be secured with a Kensington keyed or combination lock, allows full use of the integrated Surface kickstand and conveniently secures and stores the Surface Pen. The Kensington BlackBelt Rugged Case with Integrated Smart Card Reader (CAC) for Surface Pro 8 incorporates a FIPS 201-compliant Smart Card Reader for secure access to the device and the network, making it a great TAA-compliant solution for second factor authentication (2FA).
Recognizing that the portability and capabilities delivered by Surface devices is driving usage into new, creative environments, Kensington's next evolution of innovative rugged cases will integrate its proven device protection and connectivity technologies to provide users with peace-of-mind and maximum productivity wherever they use their Surface devices.
Privacy Screens and Biometric Security Solutions for Surface Protect Sensitive Data
Kensington MagPro™ Elite Magnetic Privacy Screen for Surface Pro 8 narrows the field of vision to +/- 30 degrees to keep information private and reducing chances of a visual data breach, and filters out harmful blue light rays by up to 22 percent to ease eye strain. The privacy screen conveniently attaches to Surface Pro's magnetic frame and allows full use of Surface Pro by touch and Surface Pen. The reversible screen features a matte finish on one side matte to reduce glare and fingerprints, and a glossy side which provides a clearer view of the Surface screen. Other Kensington privacy screens are available for Surface Go 3 and Surface Laptop Studio.
Kensington VeriMark™ Fingerprint Key provides professional-level biometric security for Microsoft Surface devices, combining superior biometric performance with anti-spoofing technology to provide universal 2nd-factor authentication to protect data from cyber thieves. Support for Windows Hello™ and FIDO U2F ensures seamless interoperability and meets 2nd-factor security key login requirements for cloud-based services and software providers. VeriMark also supports popular password management tools, allowing the fingerprint to authenticate and automatically fill in usernames and passwords for websites.
Kensington VeriMark™ Guard Fingerprint Key is certified by Microsoft Intelligent Security Association (MISA), an ecosystem of independent software vendors and managed security service providers that have integrated their solutions to better defend against a world of increasing threats.
Surface Docking Stations Greatly Enhance Productivity in the Office and at Home
Kensington SD5750T Thunderbolt 4 Dock for Surface Pro 8 and Surface Laptop Studio, the only DFS-certified Thunderbolt 4 dock, takes your /Thunderbolt™ 4 Surface device to new heights of speed and performance. The plug-and-play dock enables users to connect multiple monitors and any accessory (Thunderbolt or USB) through a single Thunderbolt 4 cable that provides 40Gbps of bandwidth for video and data, while charging Surface at the same time. SD5750T supports single 8K or dual 4K (@ 60 Hz) video output and provides 11 ports of connectivity including four Thunderbolt 4 ports. Kensington's family of Surface docking stations, which include the innovative, award-winning Surface Pro and Surface Go docking stations, will continue to grow to enhance the usability and functionality of Surface devices. Next year, the company will launch a refresh of their award-winning SD7000 Surface Pro Docking Station.
"As our award-wining portfolio of Surface devices continues to grow, we trust working with partners like Kensington to develop Microsoft certified solutions through our Designed for Surface program. Our program works with partners to develop versatile, high-performance accessories that match each user's unique lifestyle and enables them to express their originality, creativity, and productivity whenever, and from wherever they desire," explained Patrick Mendenall, Director of Microsoft's Designed for Surface program. "We value partners like Kensington in the DFS program because the collaboration results in added benefits for our customers. We work closely with all of our partners to develop accessories that seamlessly integrate, elevating our Surface users' experiences and extending the functionality of one of the most versatile computing platforms in the market."
"As a trusted partner of Microsoft, we share their excitement around the recent product announcement as the versatility and performance delivered by Surface devices has untethered the Windows OS from the desktop and made full-powered computing truly mobile," said Louie Yao, Director of Product Management at Kensington. "We value the ability to work closely with Microsoft to develop solutions that take the usage of Surface devices to the next level."
"We are excited to see Kensington's SD5750T Thunderbolt™ 4 Dual 4K Dock as a great complement to the new Microsoft Surface systems featuring Thunderbolt™ 4," said Jason Ziller, GM of Intel's Client Connectivity Division. "Thunderbolt™ technology delivers the fastest, simplest and most reliable cable solution for connecting to power and any of your favorite accessories."
To learn more about Kensington's comprehensive portfolio of accessories designed exclusively for new and prior models of Microsoft Surface devices, visit Kensington's dedicated Microsoft Solutions page.
Follow Kensington on:
About Kensington
Kensington is a leading provider of desktop and mobile device accessories, trusted by IT, educators, business, and home office professionals around the world for more than 35 years. Kensington strives to anticipate the needs and challenges of the ever-evolving workplace and craft professional-tier award-winning solutions for organizations committed to providing peak professionals the tools they need to thrive. The company prides itself as The Professionals' Choice, and on its core values surrounding design, quality, support, and sustainability.
In office and mobile environments, Kensington's extensive portfolio of award-winning products provides trusted security, desktop productivity innovations, and ergonomic well-being.
Headquartered in San Mateo, California, Kensington is the inventor and worldwide leader in laptop security locks. Kensington is a division of ACCO Brands (NYSE: ACCO), one of the world's largest designers, marketers, and manufacturers of branded business, academic, and consumer products, sold in more than 100 countries across the globe.
Kensington is a registered trademark of ACCO Brands. Kensington The Professionals' Choice is a trademark of ACCO Brands. All other registered and unregistered trademarks are the property of their respective owners.
© 2021 Kensington Computer Products Group, a division of ACCO Brands. All rights reserved.