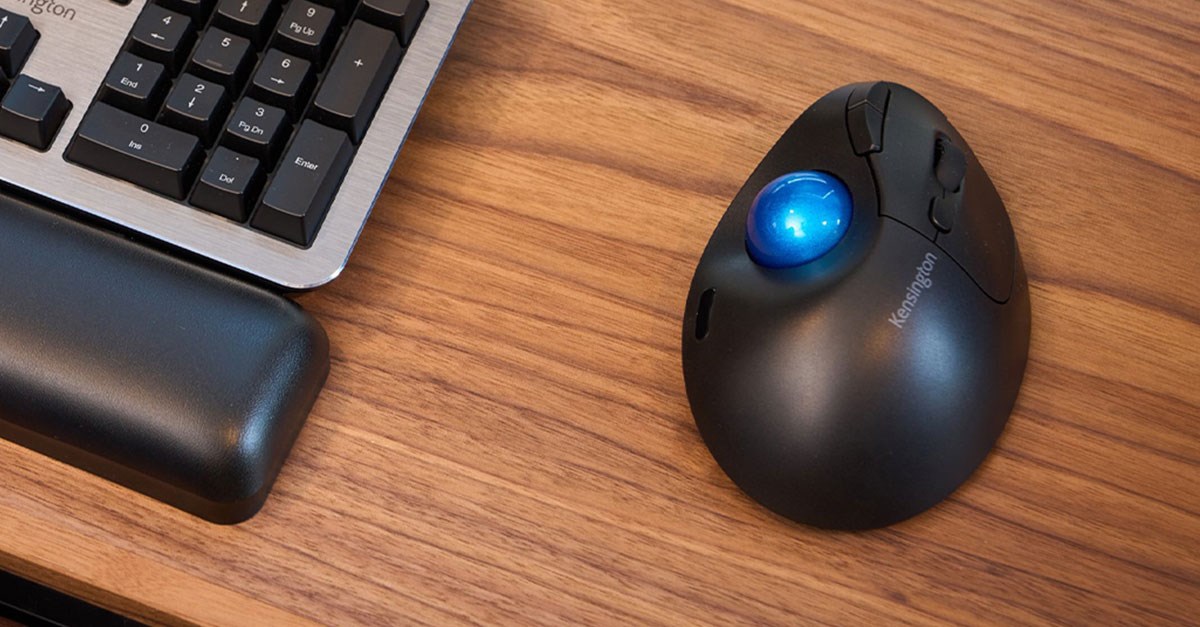 The adoption of hybrid and remote office policies is requiring professionals to work in areas, such as homes and public spaces, that are typically characterized by limited desktop space and lack of proper ergo-friendly workstations. With today's professionals spending hours upon hours typing and clicking away at their computers, the demand for computing accessories that support small workspaces and prioritize ergonomics and comfort has increased. That's why ergonomic trackballs have become increasingly popular, offering a more comfortable and efficient alternative to traditional computer mice.  It's also why Kensington was inspired to design two such trackballs, the ProFit® Ergo TB550 Trackball and the ProFit® Ergo TB450 Trackball—with each winning the coveted Red Dot Award for Product Design. In this article, we'll delve into the making of these award-winning trackballs, from their design and construction to their innovative features and functions.  So, let's explore how you can "track your way to comfort and convenience" with these Red Dot Award-winning ergonomic trackballs.
Red Dot Award: The Gold Standard in Product Design Recognition
The Red Dot Design Award is one of the world's largest design competitions, and one of the most sought-after international marks of design quality.  It is a prestigious international competition with products evaluated by an independent panel of experts based on criteria such as innovation, functionality, formal quality, and sustainability. Winning a Red Dot Award is widely regarded as one of the most prestigious awards in product design, with winners receiving global recognition for their design achievements. The award is highly competitive, with thousands of entries from over 60 countries each year, and only the most exceptional designs receiving the coveted Red Dot label. Overall, the Red Dot Award for Product Design is a symbol of excellence and innovation in the design industry, and winning the award is a significant achievement.
Kensington earned the 2023 Red Dot Award for Product Design for both the ProFit® Ergo TB550 Trackball and the ProFit® Ergo TB450 Trackball.  Both were "Recognized for Outstanding Design that Incorporates Aesthetic Appeal, Function, and Innovation".
Award-Winning Trackballs Designed for Comfort and Convenience
Both the ProFit® Ergo TB550 Trackball and ProFit® Ergo TB450 Trackball secured their Red Dot Awards for Product Design thanks to innovative design elements that deliver a premium trackball experience. Ideal for use in tight spaces, such as coffee shops, kitchen tables, and even aircraft trays, these ProFit® Ergo trackballs are a natural and comfortable alternative to a traditional computer mouse.
The unique shape of these trackballs contributed to their Red Dot Award achievements.  Both were sculpted from clay to conform to the natural curvature of the hand.  Their ergo-friendly form factor makes them comfortable for all-day use and provides opportunities for reducing the chances of acquiring repetitive stress injuries to wrists and forearms. 
Watch the "Making of the ProFit® Ergo TB550 Trackball" Video
While both trackballs simplify the transition from mouse to trackball by providing a natural handshake position and the familiar button layout of a mouse, the ProFit® Ergo TB550 Trackball complements these design elements with next-gen functional elements.  An impressive 4D scroll wheel allows users to intuitively scroll left, right, up, and down to enhance productivity and provide a comfortable user experience.  The TB550 also provides seven programmable buttons and allows users to switch between devices with the push of a button—connecting to up to three devices via 2.4GHz or Bluetooth®.   
Additional forward-thinking features contributed to the Red Dot Award selection for both the ProFit® Ergo TB550 Trackball and ProFit® Ergo TB450 Trackball, including long battery life, patented ball ejection system for easy cleaning, precision optical-tracking technology, 128-bit AES encryption technology, and an environmental commitment to using 70% post-
consumer recycled ABS. 
"The honor of the Red Dot Awards for our ProFit® Ergo trackballs is particularly exciting because it validates our efforts to bring to market innovative products that increase comfort and productivity for professionals working in the office, at home, or anywhere in between" stated Oscar Coutinho, Lead Industrial Designer at Kensington. "Our team is proud to have created trackballs that not only enhances productivity but also prioritize the user's health and comfort, and we are honored to be recognized for our innovation and design excellence by the Red Dot Award jury."
Best-in-Class Trackballs for Today's Professionals
Today's professionals demand trackballs that combine comfort and convenience.  Kensington's ProFit® Ergo TB550 Trackball and ProFit® Ergo TB450 Trackball are Red Dot Award-winning solutions that bring the comfort and convenience of trackball technology to users who want to
improve wrist and forearm alignment or work in tight areas with limited desktop space.  In addition, they are ideal solutions for people who want to try a trackball for the first time. With ergonomic designs, precision optical-tracking technology, long battery life, and 128-bit AES encryption technology, they offer a best-in-class trackball experience that will help you stay comfortable and productive throughout the day.