The modern workforce just received a major makeover. Welcomed or not, you'll need to accept how and where you work just became more complicated. Establishing a pandemic response plan is already on every business owner's agenda going forward, however it will also require additional protocols to address employee health and wellbeing.
Workers returning to the office safely require new interventions such as social distancing, separation cubicles, and elevated sanitisation processes. Your business will have to galvanize these approaches into your work processes to become more resilient. Even after the current pandemic, emergency response planning should cater to a resurgence of the coronavirus, or any other outbreak of disease where social distancing is the best protection for your workforce.
New Strategies Required for the Future Workplace and Employee Wellbeing
The COVID-19 pandemic has posed challenging questions to every business owner and employee. Organisations that already embraced remote working were better suited to adapt to the new work from anywhere scenarios required. The tools, setups, and connections the modern workforce requires are no longer confined to the office alone.
One of the first questions you should ask is whether you still need a traditional office and the same amount of space to keep your teams productive. The current format of an office needs a review, and the circumstances created by the COVID-19 pandemic provides a great opportunity for a global reset. It has forced everyone to revisit the idea that all employees or business functions depended on a central work location.
What the coronavirus pandemic showed was that productivity levels could match or even exceed performance from anywhere if done correctly and with the right equipment. Enabling your workforce with the tools needed can keep your teams productive whether working from home, the office, or any other location as and when required.
360° Approaches to Employee Performance and Business Resilience
Employee engagement and efficiency require your company to take a holistic approach to work arrangements. Enabling teams to connect and perform work from any location is no longer a luxury or a perk, it's an imperative response towards business continuity. Helping your teams to work from anywhere will become a vital part of business resilience planning from here onwards.
This includes:
Helping your teams connect to business networks from any location.
Updating policies for remote work to include data security for a home office setup.
Providing your team with the tools needed that improve employee productivity.
Considering employee wellbeing and health while you enable them to work from anywhere.
Establishing a system that enables employees to perform work from any location using the right set of tools and devices.
Future workforces will require a set of systems and devices that enable your staff to connect and operate productively from any kind of environment. This can help you to weather the storm and ensure team success using remote work collaboration techniques.
Changes Required to Enable a Future Workplace
Remote work collaboration requires an environment that remains conducive to efficiency. Although traditionally this required a dedicated workstation in an office, that is no longer essential. Anywhere an employee can set up a mobile workstation and access company information using a network will be a viable workplace in the future. The science regarding remote work and telecommuting had already supported a change in how your employees preferred to work before the start the current pandemic.
According to the American Physiological Association (APA), remote work can:
Attract better talent to an organisation.
Empower employees with a better work/life balance.
Improve concentration and focus when working on complex problems.
Help employees to be more engaged and foster greater loyalty towards the organisation.
To help your employees remain productive while working from anywhere, you'll need to consider everything from the devices used to the sitting position in home office environments. Establishing a framework for productive remote work will require the following considerations.
1. Data and Device Security
When considering changes you'll need to make to enable your remote workforce, security should be a primary consideration. How your staff secures devices physically and how you enable remote logins are both equally important. For improved cybersecurity, you can implement a biometric authentication solution like fingerprint scanners. To secure devices, use one of our compatible security locks designed specifically to fit your device.
2. Workplace Ergonomics and Employee Health
To ensure the long-term health and wellbeing of your employees, you'll also want to provide ergonomic products such as footrests, back supports, or monitor risers. If you expect an employee to work from home (or another location) for extended periods, also consider monitor arms or risers that can help your team to be productive, engaged, and healthy while performing their duties.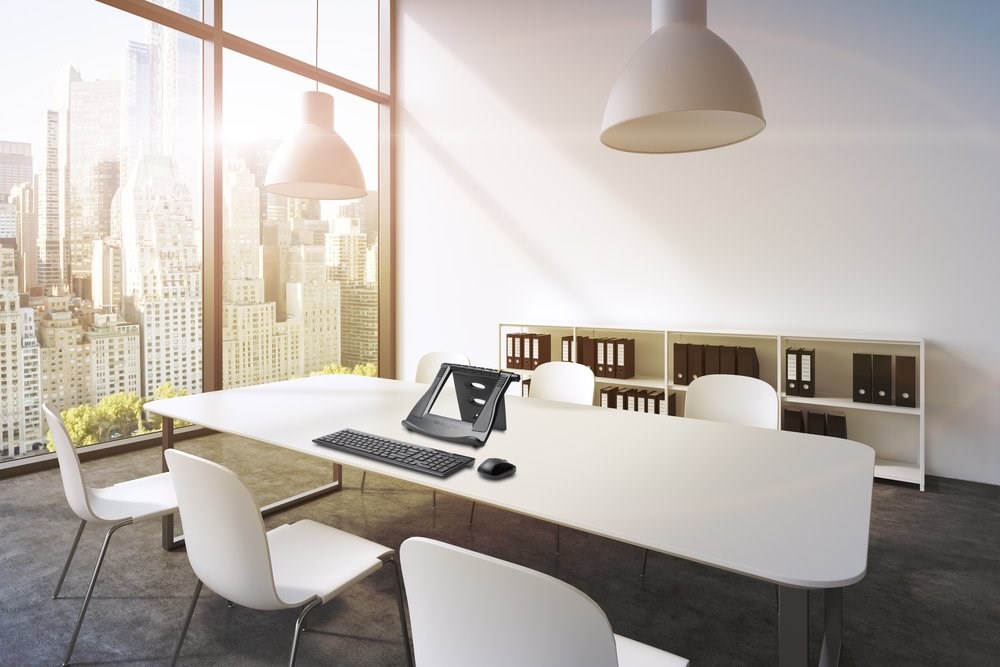 A bad posture when working from any location is still something you should always try to avoid. Giving your employees tools that help them improve their work from anywhere set up will be vital for future workplaces. As a company, you may want to specify the minimum requirements for your remote workers' home offices.
3. Connectivity and Mobility for Your Workforce
Although your workers may have a decent internet connection, how you let them set up the home workstation and connections to the network should be efficient. A docking station can help your staff to easily transition from the office to home, or anywhere else when required.
To help staff remain efficient while working from anywhere, you should also ensure you give them the tools to connect all their essential peripherals. A USB hub provides you with a variety of connection solutions that support many devices. To ensure your team remains operationally efficient at all times, use a Kensington universal docking station and connection hub.
Keeping Teams Collaborative and Safe in the Future Workplace
The advances in digital technologies can help your organisation overcome the challenges posed by a global pandemic. Kensington has a variety of solutions that help both office and work from home scenarios. If you opt to deploy these solutions correctly, you can create teams that operate effectively from any location and at any time required.
Mobility, connectivity, and ergonomics remain one of Kensington products' defining design benefits. To help you keep your teams productive, look to Kensington solutions engineered to enable a workforce from any location. Overcoming the pandemic may be a current priority, however to ensure future sustainability and resilience, you'll need a workforce that's capable of staying productive from anywhere.
Our products support the teams of the future and can help you enable your future workplaces, no matter what challenges your organisation will have to overcome.