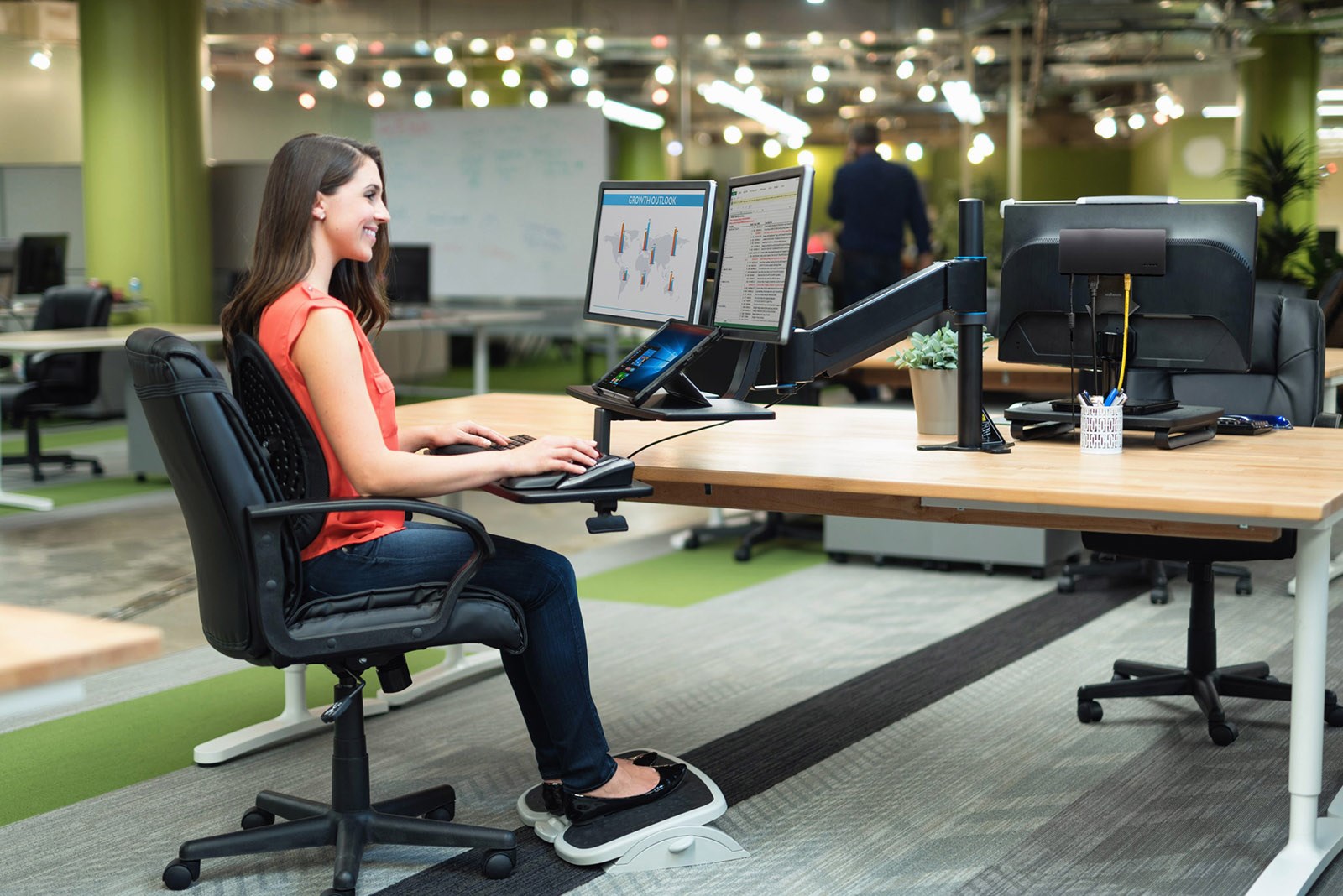 What do you think of when you hear the phrase "workplace wellness"? Fitness? Nutrition? Stress management? Investing in employee wellness has been shown to produce major returns in increased productivity, reduced workplace-related injury, and fewer lost workdays. Unfortunately, the best intentioned wellness programs might focus on big-picture lifestyle issues, but overlook a critical risk factor right in front of them: daily strain on the body from prolonged sitting in a poorly designed workstation. This physical stress compounds over time, and can contribute to musculoskeletal disorders (MSDs) such as carpal tunnel syndrome that are the leading cause of employee injury.
Fortunately, we can turn to ergonomics—the science of fitting workplace conditions to the capabilities of the human user—for guidance about how to revamp a damaging office environment into one that supports employees' health and comfort. Ergonomics teaches us that a neutral body position is one where the head is level, the forearms are parallel to the floor, and the back, legs, and feet are fully supported. Kensington's range of scientifically-designed ergonomics products offer a simple solution to give any desk setup a much-needed wellness makeover.
Workspace Comfort is Crucial

It can be difficult to focus on the task at hand in a desk environment that is unfriendly to the body. Kensington's ergonomic products bring comfort into the workplace to give users the stability and support they need as they go about their workday. The Premium CoolGel Seat Cushion helps users maintain a refreshing personal climate during long periods of sitting, while its ergonomic design promotes healthy posture and relieves spinal pressure for those with hip, leg, or lumbar discomfort. Making choices to increase workplace comfort helps reduce the bodily strain, fatigue, and stiffness that can result from extended periods of sitting.
Find the Right Solution with Ease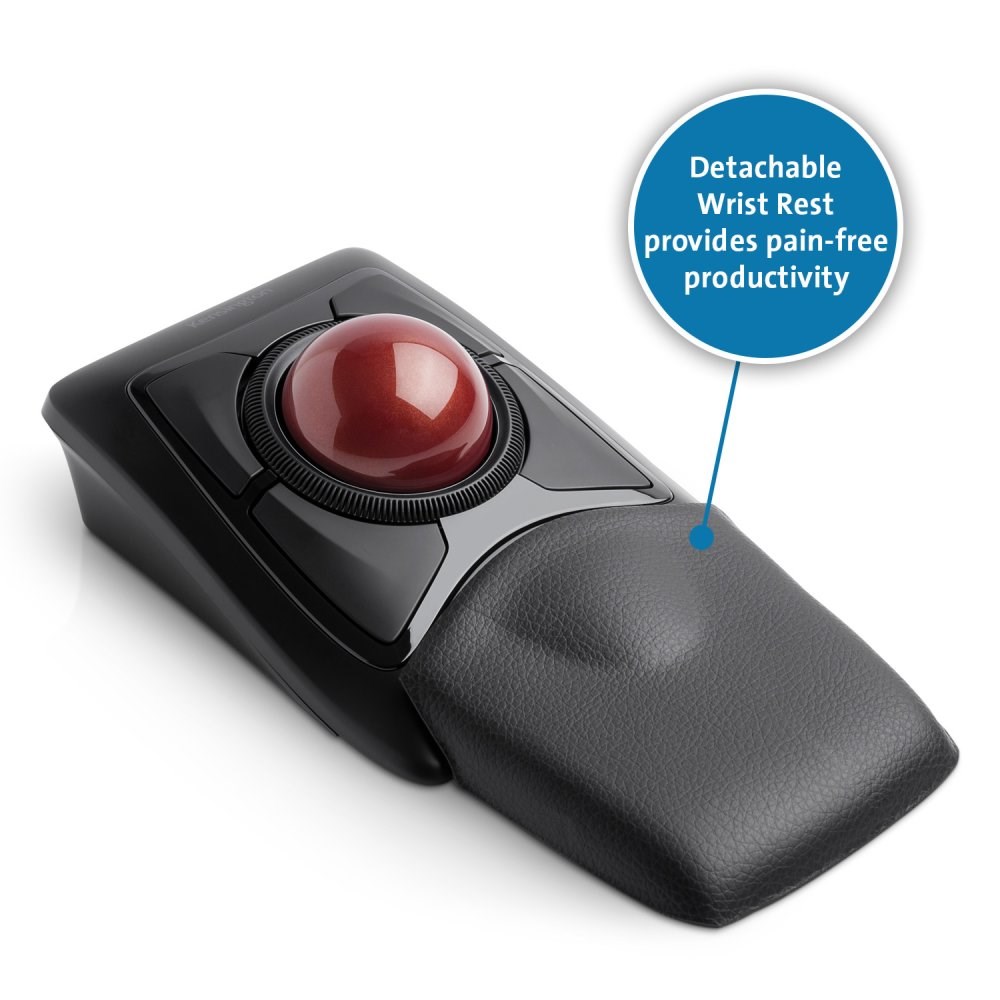 Kensington products are designed to be intuitive to use, which means each individual will find it easy to select the right setting to promote wellness. Poor body alignment at the desk can lead to carpal tunnel syndrome, the #1 reported work-related medical problem that accounts for about half of all work-related injuries. Keyboard users can prevent harm while optimizing comfort with Kensington's line of ErgoSoft wrist rests, which protect the hand and wrist through proper alignment, tailored dimensions, and a unique curve design that minimizes the impact of repetitive strain. One size definitely does not fit all, and Kensington makes it easy to find a personalized fit with multiple styles for mechanical, gaming, slim, or standard sized keyboards and mice. Users can also find hand and wrist relief with control devices like Kensington's Expert Mouse® Wireless Trackball, which features a scroll ring to move up and down documents with ease—and the Trackball even comes packaged with a detachable wrist rest for pain-free productivity.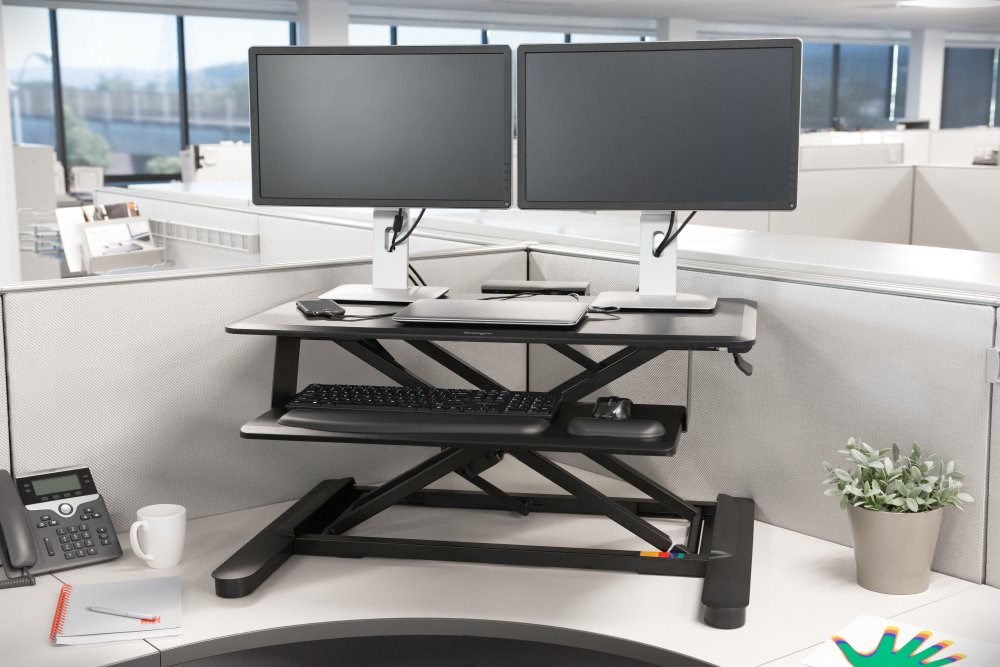 Even in the best circumstances, remaining in a sitting position for hours each day can put strain the body. Kensington's sit/stand products help maximize the health benefits of alternating between sitting and standing during the workday. Solutions like the SmartFit® Sit/Stand Desk take the guesswork out of finding the correct desk position to help you prevent injury and increase comfort. Incorporating movement and positional changes into the daily routine is a proven way to have a healthier workday by decreasing strain on the body.
An improperly set up workstation can cause discomfort, hinder the ability to focus, and cause longterm damage to the muscles, joints, and bones. Ergonomics shows us how to make targeted improvements to help maintain a comfortable working posture that alleviates stress on the body. An office environment that truly supports wellness produces decreased fatigue, fewer injuries, and better overall health—which in turn means increased productivity for employees and ROI for employers. To learn more about Kensington's range of ergonomics products that can transform your office, visit our Workplace Ergonomics and Wellness offerings.