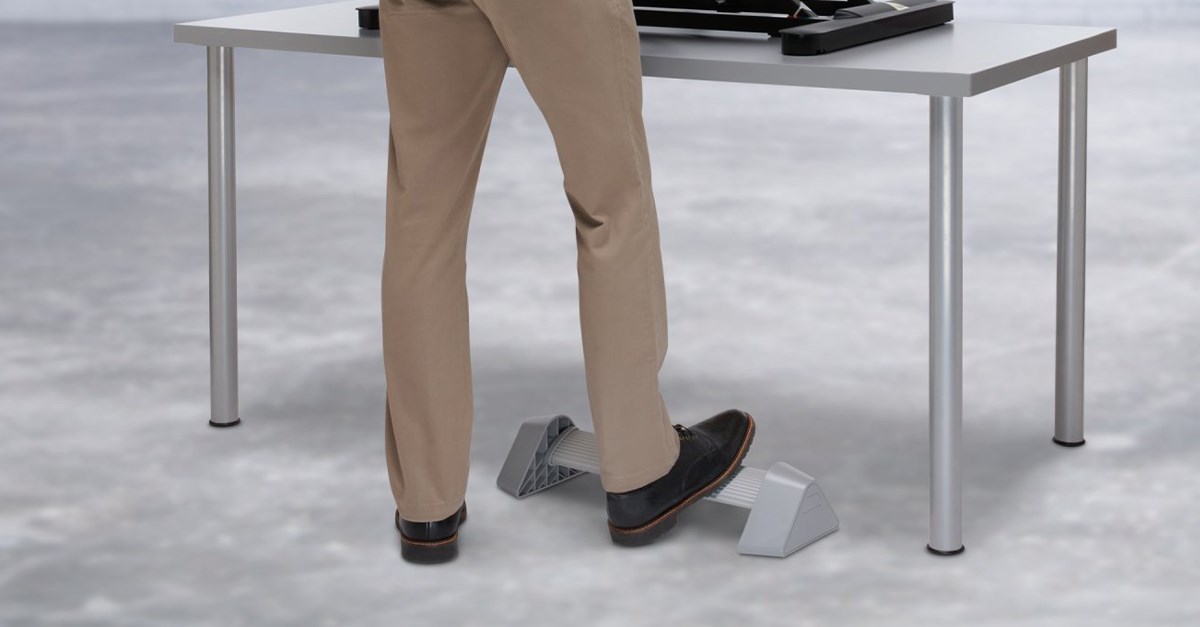 You can reduce problems you might be experiencing with your lower back and legs when using an under-the-desk footrest. However, if you have never purchased (or even considered using) a footrest, you probably have some questions.
To find the best one for you and your workstation, you have to consider several factors like desk height, your height, and what type of support you need to promote proper officer ergonomics. 
Take a moment to review the answers to these commonly asked questions to help you get started in your hunt for the perfect ergonomic footrest for your workstation. 
5 Key Benefits Of Under Desk Foot Rests
They promote blood circulation, preventing problems such as varicose veins.

For shorter individuals, they keep their feet planted for more comfort.

They allow you to elevate your feet so you can sit in a more comfortable position in your chair.

They help you lean into the support of your chair, granting a more neutral posture.

Overall, they create a more ergonomic set-up for remote workers who spend many hours a day sitting at their work stations.
Should I use a footrest at my desk?
Yes, because you sit for long hours of the day, and this can have a negative impact on your body. A footrest promotes leg circulation and keeps your feet firmly planted if you are a shorter individual.
The layout of workstations hasn't changed much over the years. Even though the workforce is more inclusive today, workstations are still set up for people 5'10" or taller. A footrest will help those who do not fit the standard height of a desk sit in a more neutral position.
How do you elevate your feet under your desk?
A footrest will allow you to elevate your feet so you can sit in a more comfortable position in your chair. That way, if you happen to be under the height standards for most workstations, your feet will not dangle off the floor.
To use a footrest properly, you should have it under your feet but out in front of you. That way, you are comfortable resting on it and can lean back into the support of your chair.
Are foot rests good for you?
Yes. A footrest under your desk will allow you to remain in a neutral position throughout the workday by promoting proper posture while sitting at your desk. Having a footrest positioned under your desk is great for improving your ergonomic setup. 
Also, a rocking footrest improves the circulation in your legs by maintaining consistent movement throughout the day. The angle of the footrest helps you sit back further in your chair and lean into the support of your chair. It will keep you sitting upright in a more neutral posture.
How high should a desk foot rest be?
Typically, they should be between 2 and 5 inches. A footrest should be high enough to rest your feet casually on the rest. You want your legs out straight or slightly downward in front of you and keep your body at open angles.
Footrests are not just for short people. If you are taller, you would just need an adjustable footrest. For proper support, you can simply push the footrest out further in front of you.
How do I find the right footrest for me?
Chiropractors agree the best footrests for WFH workstations will promote proper posture and help you sit in a neutral position when working at your desk.
This can be a challenge, and many do not know what to look for when shopping for a footrest. The ergonomic experts at Kensington recommend the following footrests for under your desk.
Best Footrest for Standing and Active Users: Rocking Foot Rest
This Kensington rocking footrest helps to relieve pressure points and improve circulation for all-day comfort. The design helps to encourage leg and foot movement throughout the workday when most people are usually the most inactive. 
It contributes to engaging in non-exercise activity thermogenesis (NEAT0), such as typing, rocking your feet, and even fidgeting. Basically, it promotes activities that help to increase our metabolic rate and keeps us healthy.
It fits discreetly under your desk, with a low-profile design that tucks away neatly when not in use. You can even use your rocking footrest when you are standing at your desk to promote proper posture and NEAT activities. 
It offers comfortable and stable support with a 300-pound (136 kg) weight limit. That makes this footrest perfect for nearly anyone in virtually any work environment.
Features  
Promotes movement and stretching
Sleek, versatile design
360° swiveling bar
Extruded aluminum non-slip bar
Best Footrest for Working from Home: SmartFit® Solemate™ Plus Foot Rest
This Kensington footrest is part of the SmartFit® System to help set up a workspace that works for you. 
Eliminate strain and pressure points in your foot by incorporating this footrest into your ergonomic setup. Its adjustable height means that you can get the perfect fit, no matter your height. 
It even has a locking foot pedal control. The pedal allows you to adjust the footrest without getting up from the comfort of your chair.
Features 
Adjustable height and angle position 
Locking foot pedal
Non-skid surface
TAA Compliant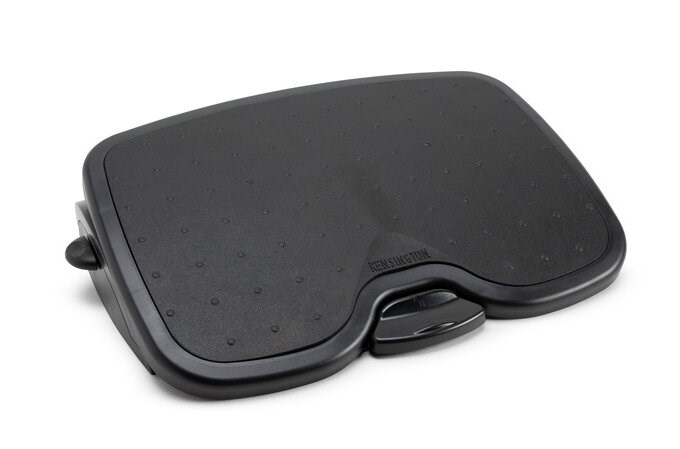 Best Budget-Friendly Footrest: SoleMassage Exercising Footrest
The Kensington® SoleMassage Exercising footrest includes a unique surface that helps stimulate and promote blood flow in your feet. The exercising motion of the footrest invigorates your legs and ankles to improve circulation. 
It features a special heel stop so that your feet do not slip off the footrest while in use. It also has five adjustable height settings and a 30° tilt to guarantee your ultimate comfort.
Features 
Stimulating surface
Exercising motion improves circulation
Heel stops to avoid slipping
Five adjustable height settings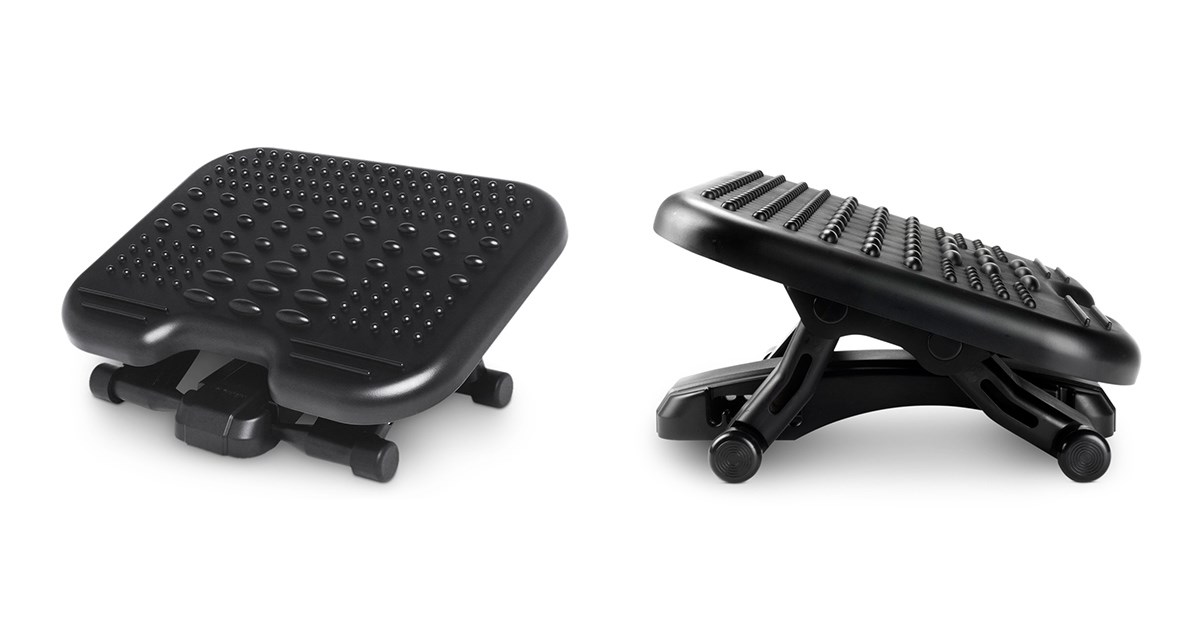 How ergonomic solutions help prevent discomfort
It's important to note that incorporating a footrest or other ergonomic accessories into your workstation will not cure your discomfort. If you struggle with aches and pains after a long day of sitting at your desk, you may want to speak to a medical professional for ways to manage these issues.
That said, if you are experiencing discomfort from a lack of proper posture and alignment, consider ergonomic footrests and back support products. They will not heal any current conditions you might have, but they can help prevent your discomfort.
At Kensington, we have a vast collection of foot and back support solutions. They will help make your workstation more comfortable and ergonomically friendly.