Great design may involve that cinematic lightbulb moment of inspiration, but it always requires a strong grasp of the right information. When designing an accessory for an existing product, it's going to take expert-level knowledge of that product to create the perfect fit. That's why Kensington partnered with Microsoft through the Designed for Surface™ program to create exceptional accessories that work seamlessly with Surface devices. As an official participant in the program, Kensington worked closely with Microsoft to craft accessories that enhance Surface devices—from rugged cases that unobtrusively protect Surface Pro and Go, to locks that enable Surface users to meet security compliance requirements without sacrificing functionality, to docking and locking solutions that turn the Surface Pro into a mini Surface Studio. Explore how Kensington's accessories, exclusively Designed for Surface™ can take your Surface experience to the next level.
Rugged Cases Protect Surface Tablets and Preserve Access
Lightweight portability is one of the best features of the Surface Pro and Surface Go, but that same portability increases the risk of drops, slips, and damage. Kensington's BlackBelt™ Rugged Cases give Surface users the confidence to bring their tablets everywhere by offering military grade drop protection without compromising access to the devices.
Accidents happen, but damage doesn't have to, when a Surface Pro is protected by Kensington's BlackBelt™ 2nd Degree Rugged Case for Surface™ Pro 6, Surface™ Pro (5th Gen) & Surface™ Pro 4. Safeguard your Surface Pro from harm with the rugged case's strong polycarbonate body, which meets the military-grade MIL-STD-810G testing protocols for drop protection. A built-in silicone hand strap provides a convenient and secure way to hold the tablet, reducing the risk of slips while facilitating sharing or collaborating. A raised bezel protects the corners and screen from scratches and damage, while a textured non-slip exterior makes the case easier to grip and prevents it from sliding off a table or desk.
This level of protection doesn't require sacrificing performance, and strategic cutouts in the BlackBelt™ Rugged Case allow you to take full advantage of the Surface Pro kick stand, buttons, ports, jacks, and cameras. A quick fold design allows the Type Cover to be folded neatly up the case's backside, and the entire Type Cover can be quickly attached or detached without having to remove the case. Keep things in their proper place with the integrated form-fitting Surface Pen holder, and small elastic Type Cover strap that ensures the cover stays closed over the screen while you're walking. With a BlackBelt™ Rugged Case, users can enjoy the full Surface Pro experience and superior device protection.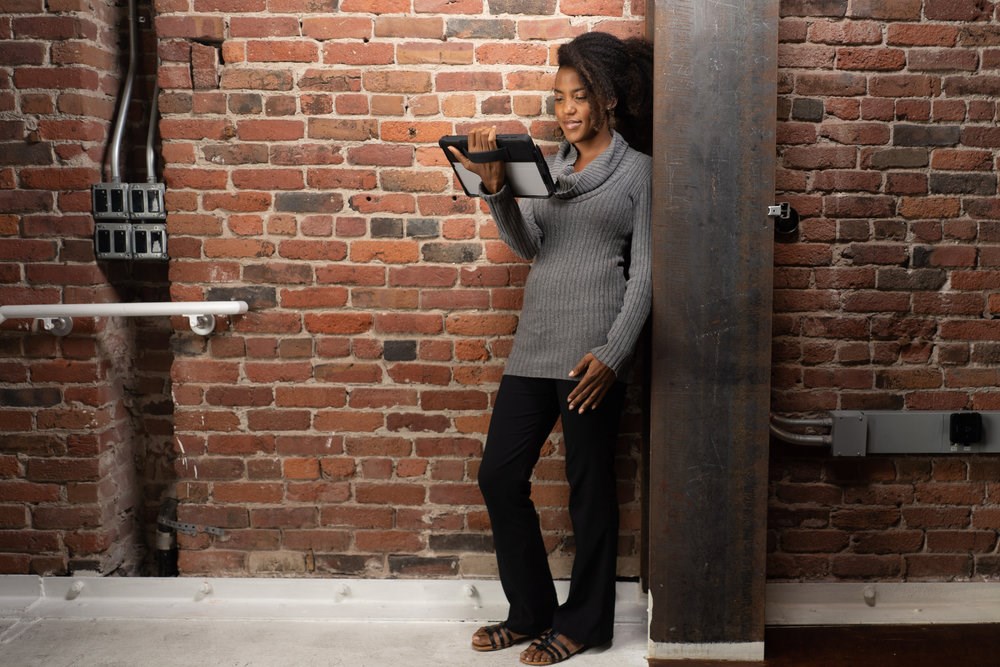 Surface Go users can also upgrade their tablet experience with Kensington's  BlackBelt™ Rugged Case for Surface Go. Strong enough to resist damage by offering military-grade drop protection, the case also makes it easier to carry the Surface Go with an integrated hand strap for worry-free holding. The Type Cover can be easily folded along the back of the case, or conveniently attached and detached while the case remains on the Surface Go. Strategically designed cutouts allow full functionality of the tablet's kick stand, buttons, ports, and cameras while maintaining the integrity of Kensington's protection. A built-in pen holder and tether keeps the Surface Pen handy and safe. Guard your Surface Go from damage while maintaining its ease of use with a Kensington BlackBelt™ Rugged Case.
The Ultimate Locking Solutions for Surface
Designed in collaboration with Microsoft, Kensington's portfolio of Surface locking solutions enable employees to meet security compliance requirements without detracting from the fit, form, and function of Surface products. As the gold standard in locking and security solutions, Kensington locks are tested for torque/pull, foreign implements, lock lifecycle, corrosion, key strength and other environmental conditions—so you can be confident that your devices are secured when it counts. For organizations looking to help employees guard against theft, Kensington's custom keying solutions allow users to choose the ideal level of control over devices, and Kensington's 5mm keying system means IT admins need only one keying system to manage across their entire organization.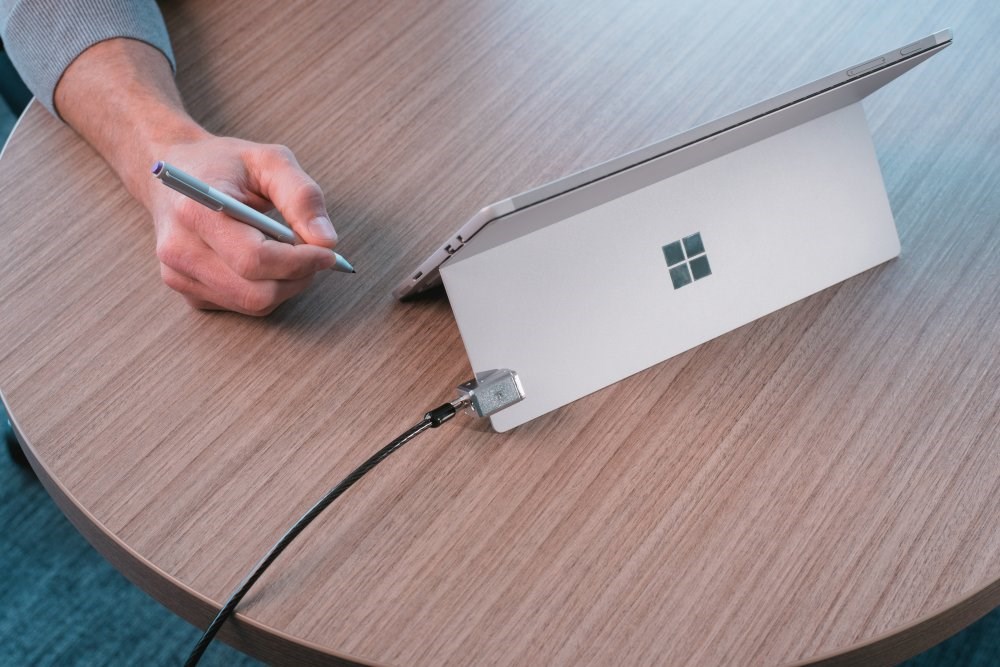 Kensington's Red Dot Design Award-winning Keyed Cable Lock for Surface Pro and Surface Go is exclusively designed to provide professional-level security and superior device engagement for Surface™ Pro 6, Surface™ Pro (5th Gen), Surface™ Pro 4, and Surface™ Go. The innovative non-invasive locking technology easily attaches to the kick stand without requiring device modifications, preserving the Surface Pro's hardware warranty and aesthetics. A cut-resistant carbon steel cable, tamper-resistant lock head, and patented anti-pick Hidden Pin™ Technology deter theft. For mobile professionals, the Portable Keyed Cable Lock for Surface Pro and Surface Go features a self-coiling steel cable that can shrink down for easy packing while offering the same level of theft-resistance as thicker cables. Available in Standard Keyed, Master Keyed, and Supervisor Keyed options, the 5mm keying system allows IT managers to minimize the number of keys required to secure devices in mixed technology environments.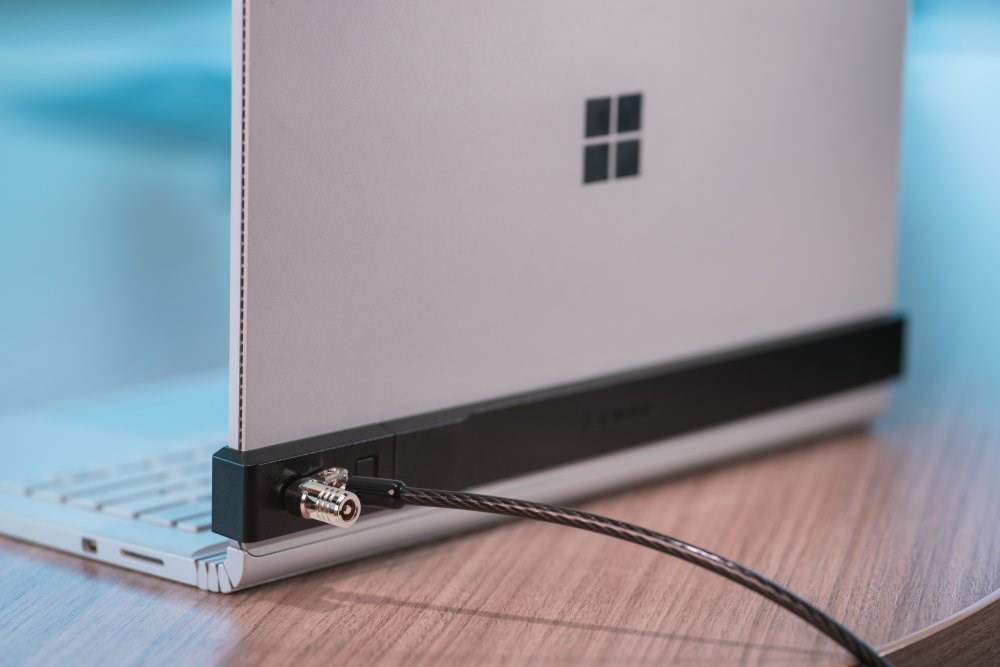 Keep your Surface Book 2 secure while you're away from the device with the Locking Bracket for 13.5" Surface Book with MicroSaver 2.0, which features non-invasive locking technology that attaches to the bottom of the screen for an easy-to-use security solution that requires no device modifications. The steel-reinforced security bar provides strong anti-theft protection, while the MicroSaver® 2.0 Keyed Laptop Lock offers industry-leading security in a convenient smaller size. The 5mm Keying System with anti-pick Hidden Pin™ Technology includes Standard Keyed, Master Keyed, and Supervisor Keyed options to fit each organization's preferred level of control.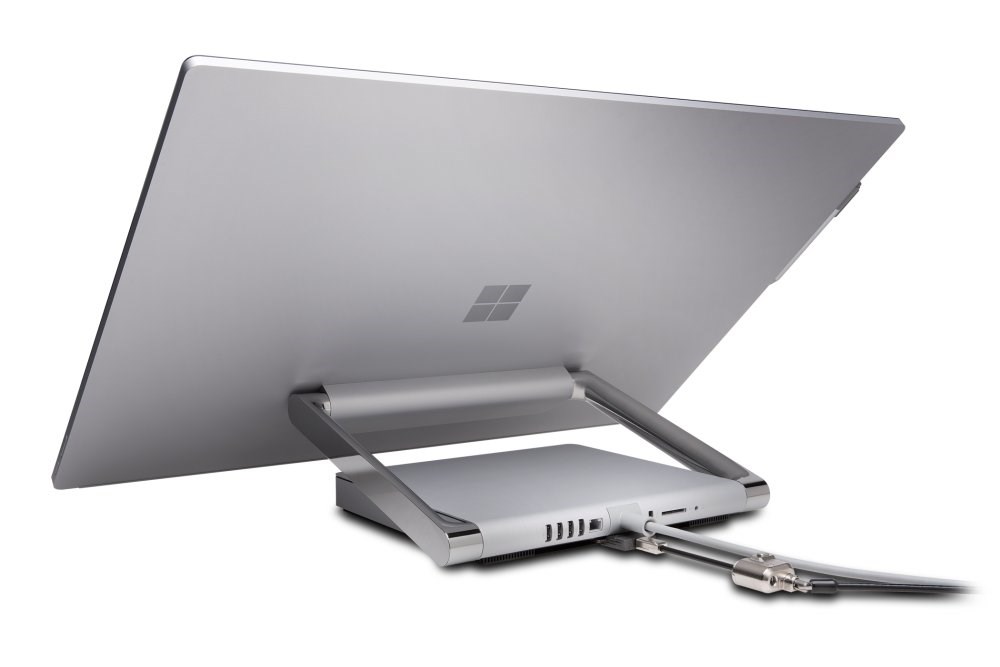 Built for strength and designed specifically to provide security for Surface Studio and Surface Studio 2, Kensington's Locking Kit for Surface™ Studio thwarts theft with a lock adapter that attaches underneath the Studio's back section. The MiniSaver Keyed Lock featuring Cleat™ Locking Technology uses retracting "claws" to create a strong connection between the adapter and MiniSaver Lock. A simple push-button design allows the Cleat to be quickly inserted and locked into the Kensington Mini Security Slot™ for easy one-handed operation. A cut-resistant carbon steel cable anchors to any fixed structure, and the pivot and rotating hinge eliminates awkward angles and allows for easy key engagement wherever you secure your device. An option for Master Keyed locks provides IT admins with universal access to unlock any piece of equipment for upgrades, relocation, replacement, or misplaced keys.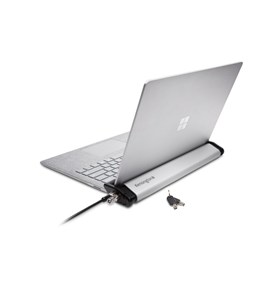 Designed to provide a simple locking solution for laptops without security slots, Kensington's Laptop Locking Station 2.0 provides trusted theft protection for the Surface Laptop with a high level of functionality. Requiring no hardware modifications, the locking station secures the laptop while preserving its aesthetics and hardware warranty. Securing your device is as easy as placing the laptop on the base, closing the adjustable security arms, and locking. Available with either a keyed lock or a combination lock, the MicroSaver® 2.0 locks are verified and tested for industry-leading standards. The sleek, brushed aluminum locking station offers access to side ports with the flexibility to rotate, slide, and tilt your laptop as desired.
The Laptop Locking Station 2.0's protection goes beyond physical security, with non-skid feet to prevent unwanted slipping and scratch-resistant bumpers lining the back wall and base to protect against cosmetic damage.
For all our locks, if a key is ever lost or a combination forgotten, Kensington's Register & Retrieve™ program enables free and secure cloud-based key replacement or combination retrieval. Kensington's security solutions help employees meet corporate security requirements, while thoughtful design ensures unobstructed access to a Surface device's full functionality.
Turn the Surface Pro into a Mini Surface Studio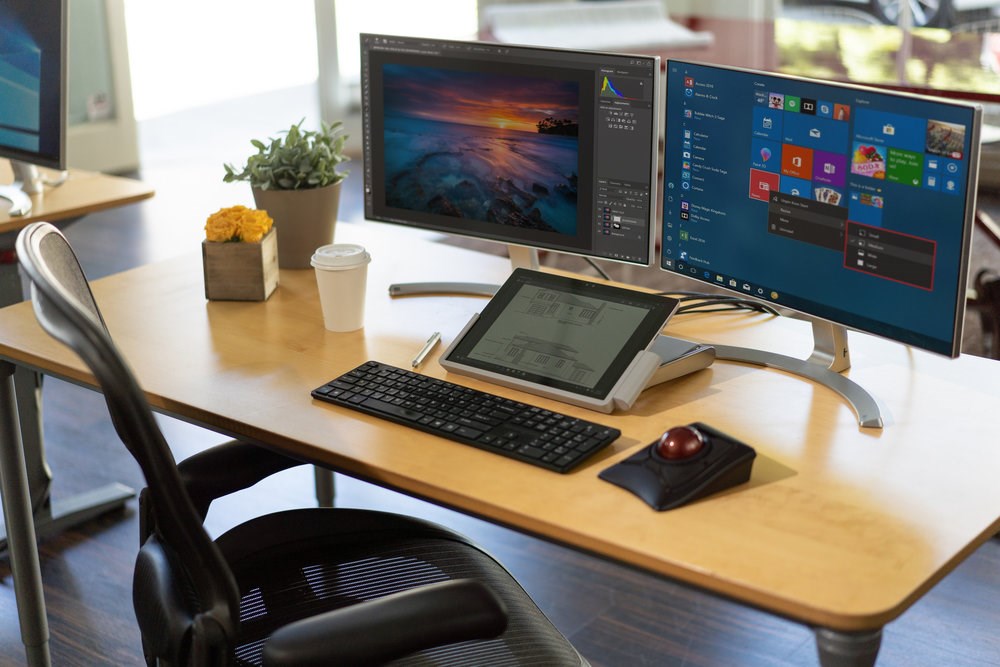 Sometimes, an accessory comes along that truly transforms your experience with a device. Designed in collaboration with Microsoft, the groundbreaking SD7000 Surface Pro Docking Station makes the Surface Pro into a full desktop PC replacement with the freedom to go mobile at a moment's notice. Inspired by the Surface Studio, the SD7000 dock features a two-position hinge that allows the Surface Pro to be comfortably positioned upright as a display or at a comfortable drafting table angle for painting, drawing, or editing photos. Built with Microsoft's proprietary Surface Connect technology, the SD7000 dock ensures seamless charging and connectivity with a display, keyboard, mouse, storage and other favorite desk peripherals—all just by clicking the tablet into the dock. An optional Lock Module secures both the Surface Pro and the dock, allowing users to comply with corporate IT security policies. The ultimate docking and locking solution for Surface Pro gives users the connectivity and performance to support the desktop of the future. 
Designed and engineered in close partnership with Microsoft, Kensington's Surface accessories have been painstakingly crafted to deliver a flawless fit with your favorite Surface device. Explore Kensington's full portfolio of accessories Designed for Surface™—including rugged cases, locks, and docking stations—and find the perfect solution to protect and enrich your Surface experience.