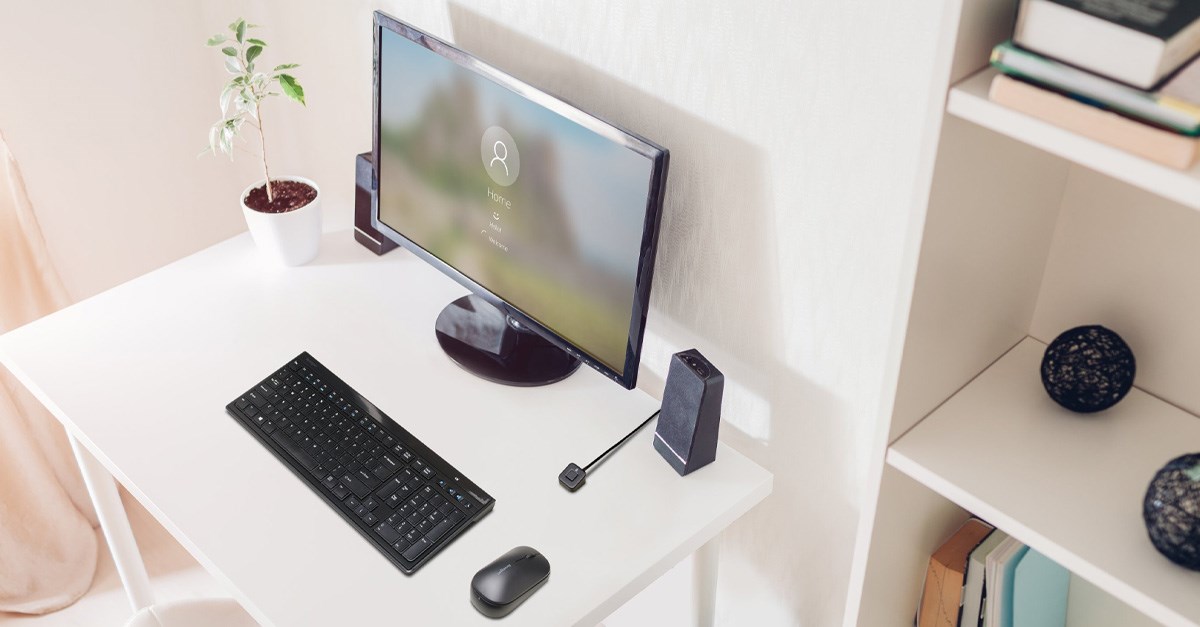 New VeriMark™ Guard USB Fingerprint Keys and VeriMark™ Desktop Fingerprint Key offer the latest in biometric authentication technology for any device or PC.
London, July 28, 2021 – Kensington®, the worldwide leader of desktop computing and mobility solutions for IT, business and home office professionals and The Professionals' Choice, today announces the launch of its new VeriMark™ biometric authentication solutions: the VeriMark™ Guard Fingerprint Keys ideal for portable devices such as laptops and tablets and VeriMark™ Desktop Fingerprint Key for business desktop PC deployments.
Data breaches are on the rise, increasing to a staggering 36 billion exposed records in 2020 (source: Risk Based Security 2020). Passwords – even strong ones – are vulnerable to routine theft and interception and are the cause of 80% of data breaches. Whilst more flexible working spaces such as coffee shops, or shared workspaces are on the rise following the pandemic, these spaces are much less secure when working with a non-secure network. By requiring an additional piece of information to authenticate, such as fingerprint, Multi-Factor Authentication (MFA) blocks 99.9% of enterprise account hacks (Microsoft Study 2019). Biometric credentials are superior to traditional SMS texts or security questions since they cannot be intercepted without the user being aware.
VeriMark Guard and VeriMark Desktop keys utilise Match-in-Sensor™ technology to store fingerprint data within the fingerprint key itself – a more secure solution than storing it in the laptop/desktop. The anti-spoofing technology used in the key exceeds industry standards for false rejection, (i.e. not accepting a valid fingerprint) and false acceptance (i.e. accepting a non-valid fingerprint) ensuring convenience and security. VeriMark Guard & Desktop are certified to the FIDO U2F (Fast Identity Online Universal 2nd Factor Standard) to ensure compatibility with the widest range of web services including Google Services, Amazon Web Services, Salesforce, Dropbox and popular password managers such as Dashlane and LastPass.
The VeriMark™ Desktop Fingerprint Key is ideally suited for point-of-sale and front-of-house applications with its 1.2m cable enabling placement virtually anywhere on the desk. Compatible with Windows 10, VeriMark Desktop adds support for Windows Hello and Windows Hello for Business to enable a passwordless log-on.
VeriMark™ Guard Fingerprint Key are perfectly suited to mobile devices such as laptops and tablets, and is available in two versions – one for laptops with USB-A ports and the other for USB-C laptops. Both fingerprint keys are compatible with Windows 7/8/10, macOS and Chrome OS, with browser support for Chrome, Edge, Firefox and Safari. VeriMark Guard also adds FIDO2 Certification that offers expanded authentication options.
Backed by a two-year limited warranty, the VeriMark security solutions expand Kensington's winning family of data protection products for home and business.
Pricing:
Resources:
Follow Kensington on:
About Kensington
Kensington is a leading provider of desktop and mobile device accessories, trusted by IT, educators, business, and home office professionals around the world for more than 35 years. Kensington strives to anticipate the needs and challenges of the ever-evolving workplace and craft professional-tier award-winning solutions for organizations committed to providing peak professionals the tools they need to thrive. The company prides itself as The Professionals' Choice, and on its core values surrounding design, quality, support, and sustainability.
In office and mobile environments, Kensington's extensive portfolio of award-winning products provides trusted security, desktop productivity innovations, and ergonomic well-being.
Headquartered in San Mateo, California, Kensington is the inventor and worldwide leader in laptop security locks. Kensington is a division of ACCO Brands (NYSE: ACCO), one of the world's largest designers, marketers, and manufacturers of branded business, academic, and consumer products, sold in more than 100 countries across the globe.
Kensington is a registered trademark of ACCO Brands. Kensington The Professionals' Choice is a trademark of ACCO Brands. All other registered and unregistered trademarks are the property of their respective owners.
© 2021 Kensington Computer Products Group, a division of ACCO Brands. All rights reserved.
Contact us: