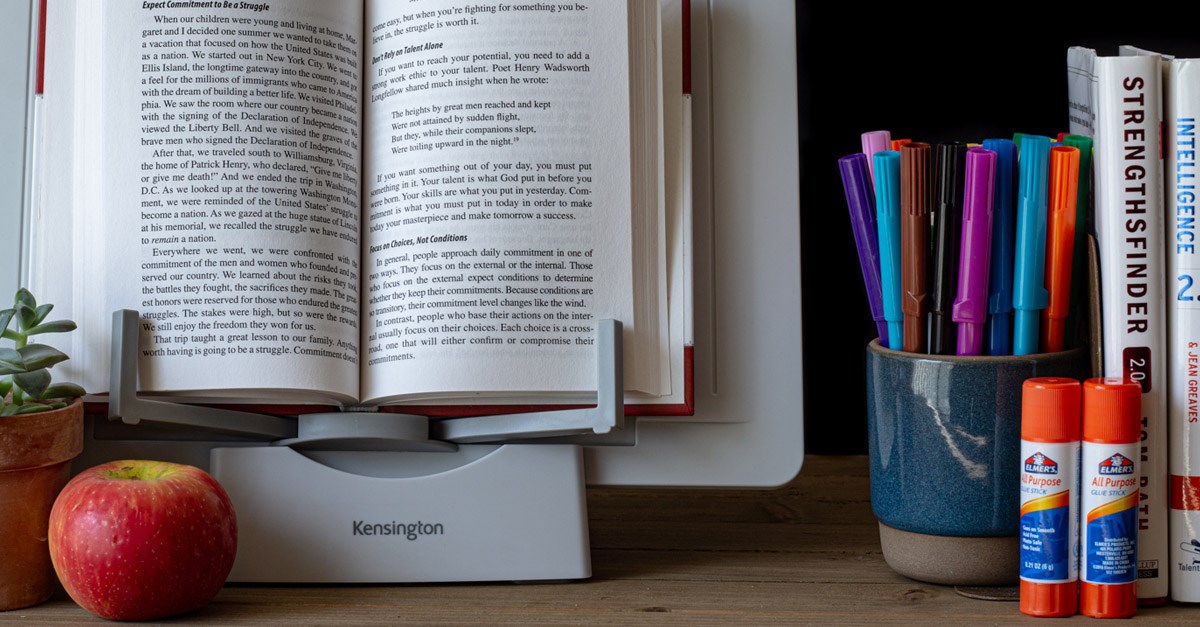 Educating the generation of tomorrow will depend on more of a hybrid setup similar to remote workers in the future. At a moment's notice, students may need to transition between a school and a home environment. To limit the disruption, it has become more important for every student to have a home setup that improves focus when having to resort to remote schooling. As educators scramble to improve virtual classrooms, parents and students need to also invest in learning from home resources.
The same products and peripherals that make employees productive from anywhere can help students achieve academic success from a home environment. The trick is ensuring you have the right online learning resources in place that is as close as possible to a face-to-face experience. A perfect setup is possible at an affordable price with a combination of Kensington ergonomic solutions.
Top 10 Products to Make Remote Schooling Effective and Healthy
Parents already know that setting up a dedicated space is important, but to get the best results, it's necessary to also optimize the area to boost focus, nurture learning, and minimize stress. Health concerns apply to students just as it does to telecommuters when studying from a home setup for an extended time. A desk, computer, and internet connection are essential, but here are the top ten accessories to enhance the ergonomics of your virtual learning setup.
1. Laptop Risers and Monitor Stands
Spending hours behind a laptop can lead to neck and shoulder pain. The problem is so common that some institutions have started referring to it as "Laptop-itis". According to experts, a laptop's design will inevitably lead to bad posture and repetitive strain injuries. Luckily, there's a simple way to overcome this issue using a laptop riser or monitor stand.
The primary problem with working on just a laptop is the fact that the screen and keyboard cannot detach. It leads to both wrist and neck strains as you struggle to read and type at the same time. The Kensington SmartFit® Easy Riser™ laptop cooling stand elevates the screen to eye level while providing a more comfortable typing position for your wrists. Similarly, to raise a PC monitor to eye level, the Kensington SmartFit® Spin2™ monitor stand is perfect for any environment, especially when your desk has limited space available.
Apart from improving your posture while studying, an Easy Riser laptop stand also increases air circulation, keeping the internal components cool. It's suitable for laptops between 12"-17" and adjustable to your child's height using the Kensington SmartFit® system.
2. Ergonomic Keyboards
Students will probably end up typing a lot more during the remote learning process, even if it's just to clarify lessons with teachers. To protect wrists and prevent repetitive strain injuries, the Kensington Pro Fit™ Ergo wireless keyboard comes with enhanced support that cushions and cradles your wrists.
For your child's iPad®, the Kensington Wired Keyboard with Lightning™ connector has full-sized chicklet keys for extra durability. With an easy connection and no additional software required, students can turn an iPad into a versatile learning tool.
3. A Comfortable Mouse
There's no point trying to protect your wrists with an ergonomic keyboard if you don't pair it with a comfortable mouse. A wireless mouse designed to reduce the stress on your wrists and give you more precise control will keep you comfortable for longer when doing online research or reading documents on a PC. With the SureTrack™ Dual wireless mouse you gain extra comfort without having to compromise on style.

For an even better student learning experience, the Kensington Orbit™ wireless mobile trackball takes navigation to an advanced level. Certified to work with Chromebooks and any other laptop or PC, it also has touch scrolling allowing you to scan through webpages or long documents conveniently. Both of these input devices are ambidextrous and support a quick and easy connection with your computer.
4. Wrist Rests
With standard keyboards, the Kensington ErgoSoft™ wrist rest is a healthy and affordable option to help improve alignment. The unique curve design is ergonomist-approved, and it comes with a premium exterior with gel-cushioned padding to offer soft, comfortable support at all times. Suitable for keyboards with a front-height of between 10mm-20mm, it's the quickest way to improve your child's typing position and stabilize the keyboard with its non-skid rubber backing. To further extend the ergonomic setup, you should also consider the Kensington Wrist Pillow® mouse rest as a secondary support layer for all-day comfort.
5. Headphones
Whether it's for focusing on an instructor's words or to play relaxing music while studying, the Kensington USB 3.0 or 3.5mm Hi-Fi headphones deliver both crisp sounds and improved safety. Set to limit output to 94dB and with an adjustable headband, it's perfect for all ages while ensuring you remain comfortable with soft leatherette covers. Both come with a 6-foot cord and is built to withstand the rigors of K-12 environments.
6. Connection Hubs
Making a single USB port into a connectivity hub is easy with the Kensington CH1000 USB-C 4-Port hub. Instead of complaining about limited port availability, the hub has two USB-A and two USB-C ports for smartphones or tablets. You'll also benefit from the superfast 5 Gbps transfer speeds and can take it anywhere with the portable design.
7. BlackBelt™ Rugged Cases for iPads and Surface Tablets
An iPad or Surface tablet has become an essential student learning tool in today's age. Encasing these devices with BlackBelt™ Rugged Cases for both iPads and Surface Go will ensure they can withstand even most heavy-duty environments. Designed and tested according to military standards, it will ensure you can protect your kids' devices without sacrificing any functionality.

8. Back Rests
Returning to products that help improve posture while sitting, the Kensington SmartFit® Conform™ backrest provides maximum support for any kind of chair. The height-adjustable SmartFit system will ensure you find an optimal setting for lumbar and spine support. Covered with washable fabric and ventilated support, it's perfect for any distance learning situation and will continue to deliver maximum support with four independent springs.
9. Cushions
Promoting healthy posture, improving circulation, and relieving spinal pressure makes the Premium Cool-Gel seat cushion from Kensington a healthy addition to the home learning environment. Internal cooling gel and soft fabric will help decrease internal body temperatures and as it uses honeycomb memory foam, you'll remain comfortable even after extended sitting periods. With the machine washable cover, it's easy to clean and will retain its color even after years of washing.
10. Footrests
Finally, to finish off the healthy home learning desk, the Kensington SoleMate™ Comfort Footrest helps to eliminate foot pressure points and ensures a healthier sitting position. The SoleMate Footrest is a versatile support solution that uses the SmartFit system to find the optimal height and tilt adjustment.
Setting Up the Ideal Home Learning Environment with Kensington
Enhancing the home school set up for your children will help them to be more productive and healthy. The importance of an ergonomic learning environment cannot be overstated. With Kensington's office mobility and productivity products, you can rest assured that your child is comfortable while learning from home.
Kensington continues to deliver quality solutions that use the latest science and technology to enhance the home office or remote learning setup. Find your optimal ergonomic solution.