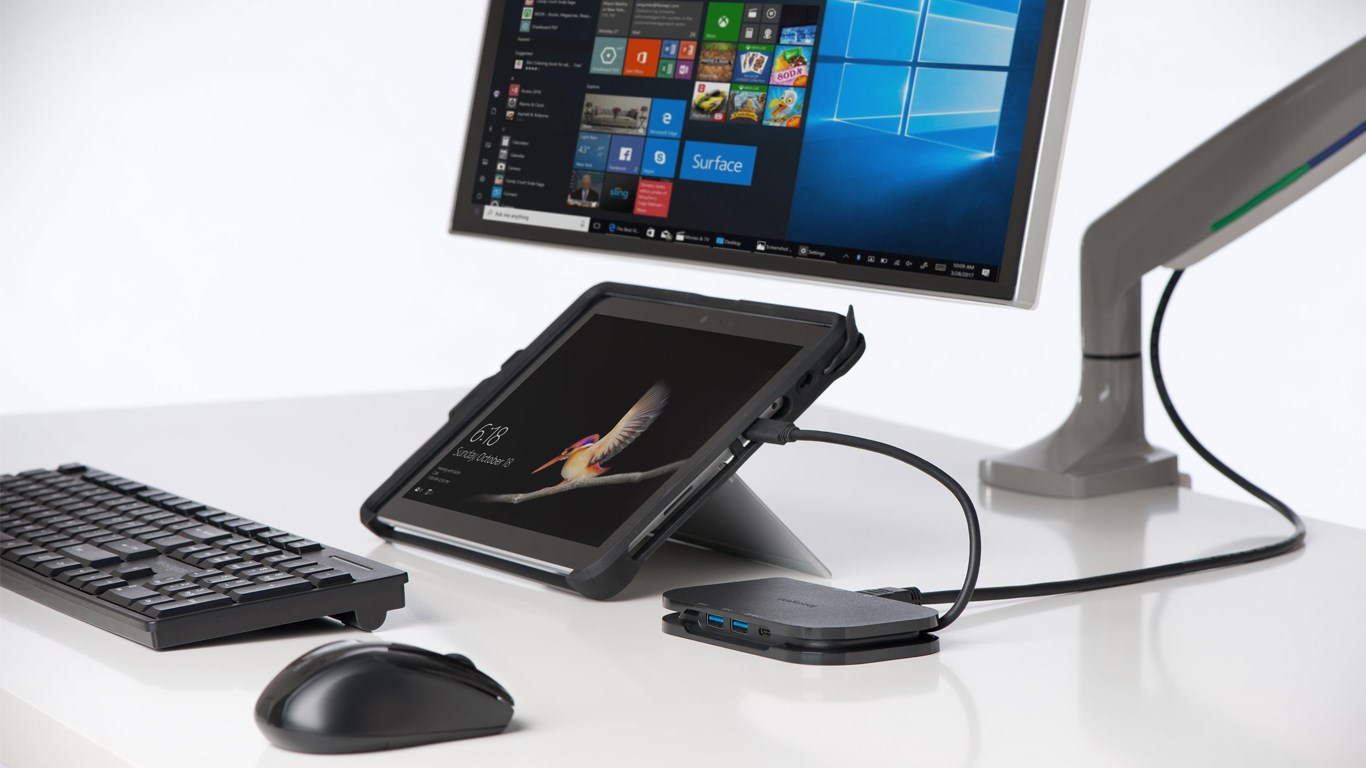 In today's flexible workplaces, mobile professionals may find themselves working in many different spaces with a mix of old and new technologies. Equipped with the right dock, you can arrive in an unfamiliar space confident that you have the connectivity you need to be productive. For work environments that require only one monitor—from hot desking and hoteling to home offices to education—Kensington has designed a range of cost-effective docking solutions to allow users to connect and power their mobile devices quickly and easily. Are you a road warrior who needs a compact mobile dock that will allow you to sync up with favorite accessories and a display on the go, or do you prefer a fixed desk setup that will give your portable laptop all the connectivity of a bulkier desktop PC? Either way, Kensington has you covered with docking solutions that offer versatile video output options and all the ports and features needed to enjoy a desktop experience with your mobile laptop. 
Compact Docking for the Pro on the Go
Whether you're in a temporary workspace or a conference room, you can expand your laptop's capabilities, use your peripheral accessories, and power your device with Kensington's SD1600P USB-C Mobile 4K Dock with Pass-Through Charging. A cost-effective way to extend the functionality of thin and light laptops as well as tablets like the Surface Go, the SD1600P provides two USB 3.0 ports and an extra USB-C port for data synchronization, along with a 1Gbps ethernet port for a reliable wired networking connection. The dock's video connections support a full HD (VGA) or 4K (HDMI) display, so you can sync up to an external monitor, TV, or projector wherever you need to work.
With the SD1600P you can leave your extra chargers at home. Simply plug your laptop's power adapter into the dock to provide pass-through power to the laptop—a built-in charging hub powers the dock and connected accessories using the laptop's battery when traveling. The dock's universal compatibility means it works with any laptop equipped with USB-C or Thunderbolt™ 3, and supports PC, MacBook or Chromebook operating systems for a smooth plug & play experience without the need for drivers or downloads. Best of all, the low profile dock easily fits into a laptop backpack or carrying case thanks to a compact design featuring an 8" hideaway USB-C cable that conveniently stows within the dock. With the SD1600P Mobile Dock, you can bring connectivity with you wherever you work.
Connect Anywhere with a Mobile Dock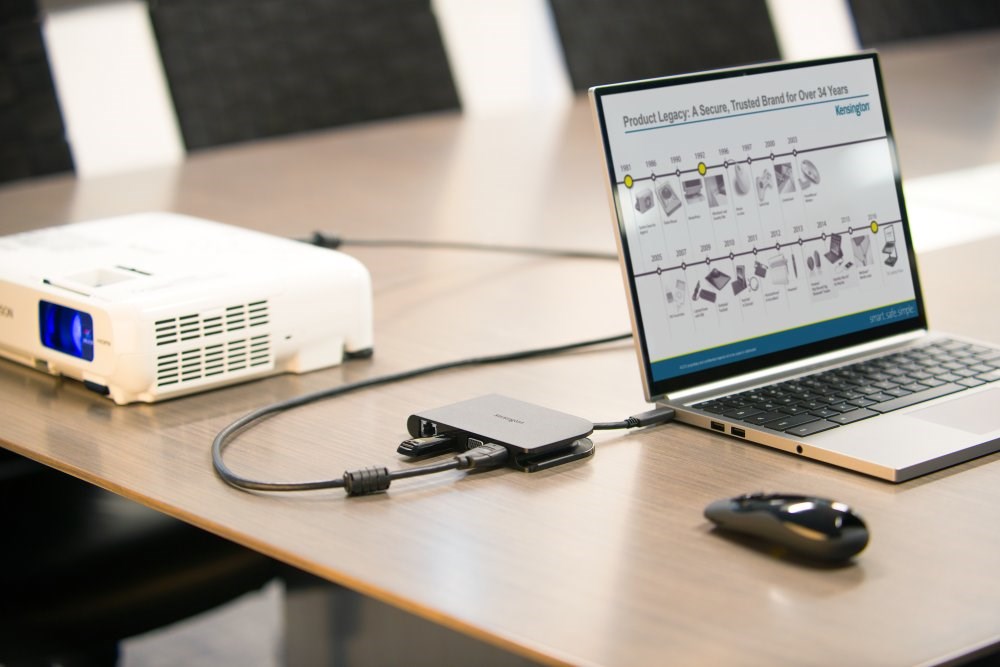 For the business traveler looking to create a desktop-like environment on the road while keeping dock size and weight to a minimum, the SD1500 USB-C Mobile Docking Station provides essential connectivity features in a tiny package. The universal USB-C docking station works with devices supporting Windows, Mac and Chrome systems, as well as Thunderbolt™ 3 ports. The compact productivity enhancer enables the user to add a mouse, keyboard, or flash drive via a USB 3.0 port, as well as to connect to a wired network via a 1Gbps ethernet port.
The SD1500 Mobile Dock allows a laptop supporting DisplayPort™ Alt Mode over USB-C to output video using either the HDMI port that can display in Ultra HD or the VGA port that displays in full HD, so you'll be ready for any conference room setup by carrying just one compact dock instead of two different adapters. The mobile dock's compact design takes up very little space, thanks in part to a hideaway USB-C cable that can be tucked neatly into the dock when it's not in use. The SD1500 enables your laptop to connect to a bigger screen, stable Internet, and a favorite peripheral accessory while easily fitting into a backpack or overnight bag. 
Docking Solutions for the Fixed Desk Environment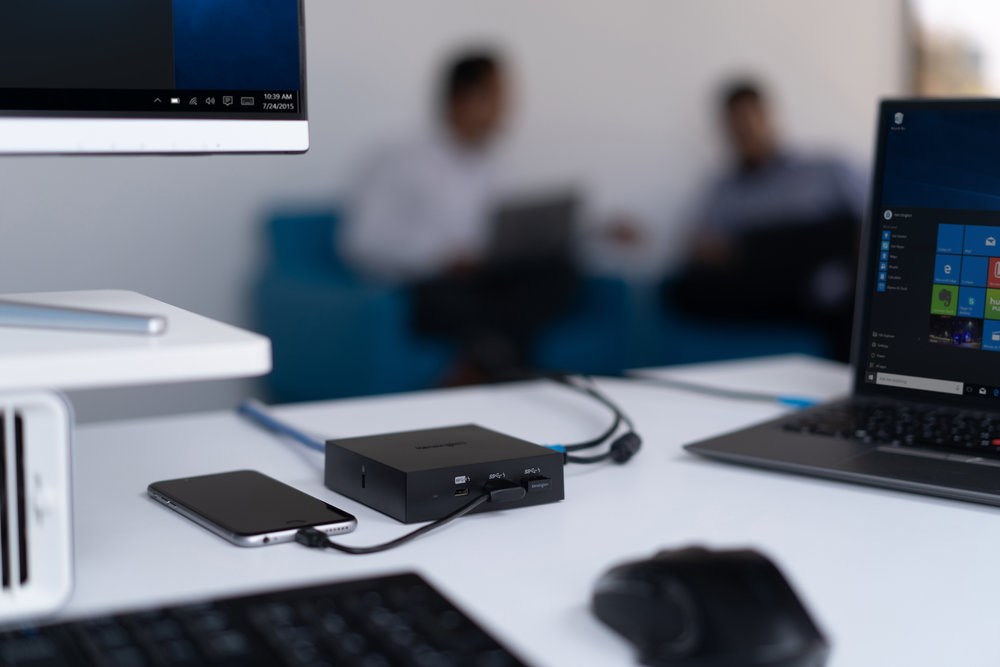 For hot-desking, home office, and educational environments that depend on the portability of a laptop supported by a full single monitor desktop setup, the SD2000P USB-C Single 4K Nano Dock with Power Delivery allows users to quickly and easily connect to a range of desktop accessories just by plugging in a single cable. The cross-platform compatible SD2000P works with any USB-C or Thunderbolt™ 3 equipped laptop, and supports Windows, Mac, and Chrome operating systems so you can always connect with confidence. The dock's included 1M USB-C cable transfers data, video, and audio for a simple plug and play experience, while also providing 60W of power delivery to USB-C enabled laptops with PD function so you can leave your laptop's power adapter in the drawer.
With output options for HDMI (4K@30Hz) or DP++ (4K@30Hz), the SD2000P can connect any laptop that supports USB-C Alt mode to a single external monitor, TV, or projector for spectacular true-to-life images. Extend a laptop's productivity capabilities via two USB 3.1 ports (up to 5Gbps) with charging up to 5V/2.4A per port, and one USB-C 3.1 port (up to 5Gbps) with power delivery for an external device (5V/3A). Enjoy a reliable wired networking connection by connecting to a gigabit ethernet port. A Kensington Security Slot allows you to protect your technology investment from theft by easily implementing a cable lock from the #1 brand in physical device security. The SD2000P supports zero footprint mounting for a tidier desktop, allowing you to attach the dock to the back of any 75mm or 100mm VESA compatible external display using an optional mounting plate. Built on USB-C technology and Power Delivery 3.0, the SD2000P enables users to expand their workspace, connect their favorite accessories, and power their device all at the same time.
For the modern mobile workforce, the right dock enables you to be productive wherever you choose to work by seamlessly connecting your portable laptop to an external display and peripheral accessories you need. Kensington's single video universal docking stations are a cost-effective way to bring a desktop experience to mobile devices requiring only one monitor. Check out Kensington's extensive portfolio of docking solutions to find the perfect fit for your work environment. If you've got questions about docking, we encourage you to reach out to us at dockguy@kensington.com for help selecting your ideal docking solution.
If you'd prefer to test out a new dock before your organization fully invests in it, Kensington's ProConcierge program allows you to try a dock tailored to your organization's requirements, with no obligation to buy. Apply for the ProConcierge program today, and let Kensington take the complexity out of docking.