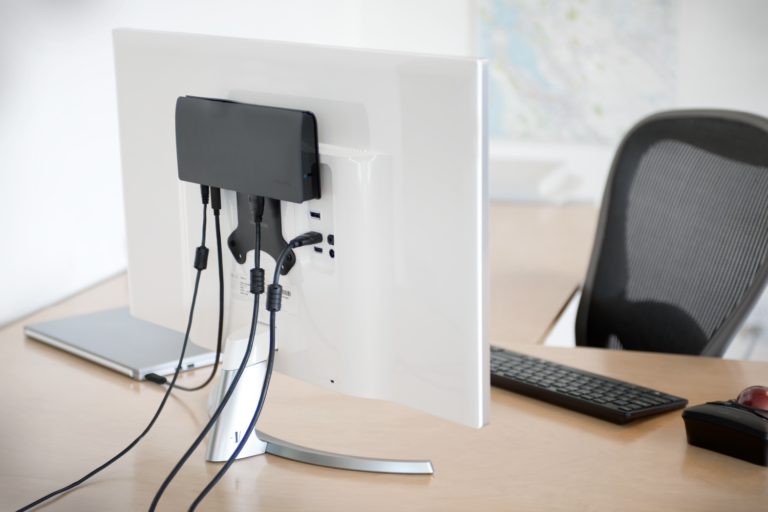 USB-C docks are fast becoming the most versatile and functional accessory in the market.
With portability now a vital factor, manufacturers are constantly looking for new ways to reduce the weight of their devices. As a consequence, whilst devices get lighter, so have their number of ports. This has resulted in as little as one port having to cope with all the demands and necessary functions that would usually be spread across several USB ports, hence why USB-C is being so readily adopted by hardware manufacturers. By implementing USB-C docks, there's no need to compromise on the performance of a device.
4K display, Ethernet and extra USB 3.0 ports are just some of the extra functionality you can gain from a dock and now USB-C has completed the circle, thanks to power delivery. Arguably the final piece of the puzzle, USB-C docks that offer power delivery can present a 360° approach to connectivity, encompassing everything the office professional needs.
As users jump from room to room or city to city, these docks keep productivity at its peak, expanding the number of functions available without having to sacrifice an on-device port to charge - particularly vital where USB-C is the only port.
And for a device packed with so many offerings, they can be surprisingly light, with mobile, portable, USB-C docking stations fitting snugly into any laptop bag or backpack, or even large pockets.
But when looking for a device which can be rolled out across a large workforce, compatibility is key – and once again USB-C steps up. At the time of writing, no less than 81 laptop, tablet and 2-in-1 models - from a variety of manufacturers including HP, Dell, Apple, ASUS, Acer, Samsung and Google – already offer USB-C ports
Combined with the fact that 37 of these offer USB-C power delivery, a number which will only increase as time goes on, and you'd be hard pressed to find a better connectivity solution. Take Lenovo's ThinkPad X1 tablet, the SD4600P universal USB-C dock is the perfect partner offering power delivery, connectivity expansion and operating system compatibly.
Taking the long-term view is essential when making a significant outlay on new equipment for your employees. Especially with the rise of BYOD, the right blend of functionality and compatibility is key; the last thing an IT Manager should worry about is having to narrow down what kit employees can purchase to just a handful of devices. USB-C can cover all bases, whilst offering a truly 'future proof' solution.
Could USB-C power delivery boost your workforce's productivity? Take a look at our SD4600P model to see what benefits a dock can bring.