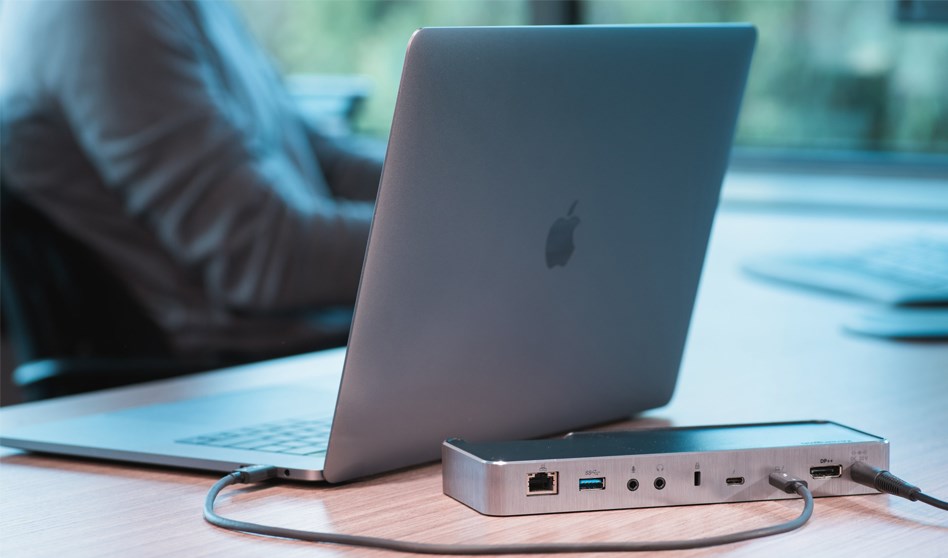 A large majority of employees at most modern companies rely heavily on laptops to do their jobs, especially those whose work regularly requires them to operate from various locations – either within the office or from offsite locations.
This often means inconvenient setup routines or simply going without the ideal amount of functionality.
However, with Thunderbolt™ 3 docking stations, users can achieve the ultimate desktop experience via a single cable connection to their laptop.
The Best Reason to Invest in a Thunderbolt 3 Docking Station
One of the best reasons to switch to a Thunderbolt 3 dock is because it provides the most advanced, efficient, and versatile I/O solution available – up to 40Gb/s for data and video while also supplying power.
That said, if your company hasn't begun leveraging it yet, let's review some of the advantages the Thunderbolt 3 has to offer over the USB-C connector.
1. Speed
If your company's mobile computers are currently relying on the Thunderbolt 2, you'll enjoy twice the bandwidth when you switch to the Thunderbolt 3 at 40Gbps.
For example, Thunderbolt 3 is eight times faster than USB 3.0 (Type-A connector) and four times faster than the USB 3.1 Gen2 (USB-C connector).
2. Flexibility
When Thunderbolt 3 was first introduced, Apple caused waves by announcing that it was the only port their new models would accommodate.
Fortunately, it turns out that the Thunderbolt 3 isn't just fast, it's flexible too. For one thing, they're not just for Apple laptops. More and more manufacturers are adding Thunderbolt 3 technology to their new laptops.
That's great news because just one of these cables can simultaneously provide up to 100 watts of power, along with video and data.
Thunderbolt 3's flexibility will give you far more options for video, as well. A single Thunderbolt 3 port can drive a single 5k display or dual 4k displays.
Furthermore, with a Thunderbolt 3 port, your employees can connect to virtually any device, display, or dock – providing infinite possibilities. In addition, Thunderbolt 3 removes the compatibility confusion that often plagues USB-C (manufacturers can choose to implement USB-C differently on each device).
3. It's the Future
Thanks to all of its impressive specs, it's easy to see why Thunderbolt 3 is the future.
Back in 2017, Intel announced that Thunderbolt 3 would enjoy a long reign by not just announcing that it would integrate Thunderbolt 3 into future CPUs going forward, but that it was actually opening up its protocol to other companies – royalty-free.
This unprecedented move gives countless companies a big incentive to ditch any attempts at creating a competing I/O technology and refocus their efforts on other projects.
The Advantages of a Thunderbolt 3 Docking Station
One obvious benefit of a Thunderbolt 3 docking station is simply that you can connect all of your necessary peripherals to a single device, which then attaches to your computer with just one cable. It's much cleaner-looking and better organized than relying on a mess of dongles to achieve the desired result.
A Thunderbolt 3 docking station makes it easy to achieve a desktop level of performance with your company's laptops. All you need to do is connect a Thunderbolt 3 cable between the docking station and laptop and any mobile computer supporting Thunderbolt 3 is instantly capable of anything a desktop can do.
This also makes it extremely advantageous for workers on-the-go who may need to take their laptop with them to meetings, on the road, through the airport, or when utilizing a shared workspace.
Is It Time to Upgrade to a Thunderbolt 3 Docking Station?
In short, the answer is most likely "yes."
If you have workers who need to take their laptops with them and perform a number of different functions – from basic tasks to giving presentations to playing videos – the only way you'll get the most from the powerful Thunderbolt 3 technology is with a docking station that will accommodate it.
The future of connectivity clearly belongs to the Thunderbolt 3.
Thunderbolt and the Thunderbolt logo are trademarks of Intel Corporation or its subsidiaries in the U.S. and/or other countries.