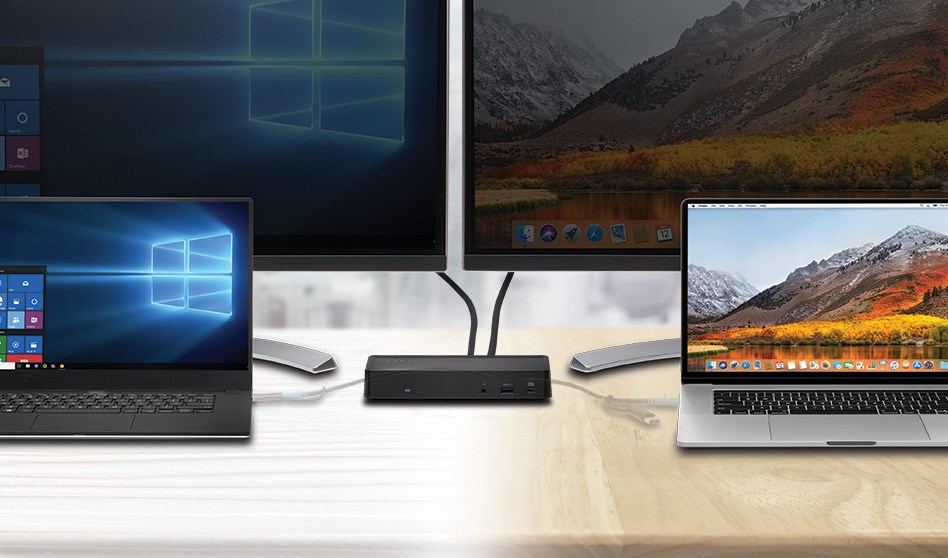 Whether you take your laptop down the hall for a minute or across the country for a week, no one wants to grapple with a bunch of cables to get reconnected when they return to their desk. A docking station is just the thing to easily link your laptop to your desk ecosystem: your eye-height monitor, normal-sized keyboard, ergonomic mouse, printer, wired connection, and other peripheral devices. Using a dock to quickly connect all your peripherals lets you work on your laptop more comfortably, and gives your portable device more connectivity options without making it too bulky.
I know that when I invest in a docking station, I want it to work not only with my current computer, but also with whatever computer I buy next. At the same time, I want it to help me sync up all my favorite older devices too. This modern need to handle many devices of different ages led Kensington to develop a "crossover" dock: the SD4700P Universal USB-C and USB 3.0 Docking Station. And when they say universal, they mean it.
One Stop Shop with a "Crossover" Dock
The last thing anyone wants is to buy a dock and then realize that it doesn't work with the input to your specific device. The SD4700P is called a "crossover" dock because it's compatible with the two most common types of ports. Now, it's useful to know that there are two different things we talk about when we refer to cables and ports: the shape and the underlying transfer tech. Letters to refer to a port shape (USB-A is the familiar rectangle, USB-B looks like a trapezoid, USB-C is the new thin pill shape), and numbers identify the "guts" that make a port work (older USB 2.0, the most common USB 3.0, newer technologies like Thunderbolt 3). Kensington's "crossover" dock takes a lot of the guesswork out of buying a dock by including a USB-C shaped cable with a tethered dongle adapter to fit rectangular USB-A ports too.
It's easy to confuse "crossover" docks that work with different kinds of ports with "cross-platform" docks that are compatible with either Macs or PCs. Fortunately, the SD4700P is both, and can handle just about anything you throw at it. A Mac with a USB-C shaped plug? No problem! A Windows device with a square-shaped USB 3.0 port? Piece of cake. One thing to note, though: the SD4700P doesn't support Thunderbolt 3 devices, which need a special Thunderbolt port. Fortunately, if you know you want a dock with Thunderbolt 3 capabilities, Kensington has you covered with the SD5200T, a Thunderbolt 3 Universal Docking Station. But for pretty much everything else, you can't go wrong with the "crossover" SD4700P dock.
Expand Your Laptop's Capabilities
Part of the power of docking stations is that they essentially let you turn one port on your computer into multiple ports. With the SD4700P, you can connect your laptop's USB-C port to one convenient, portable hub that has everything you might need. Along with its pill-shaped USB-C port, this dock has 5 traditional square USB 3.0 ports, one of which has power for charging a tablet or smartphone. Did you forget your laptop charger? No big deal. You can use the USB-C port to charge your computer right through the dock too.
For those of us who prefer an easy-on-the-eyes external monitor, the SD4700P dock sports a DisplayPort and an HDMI output to let users hook up either a single or a dual monitor setup. If you hate desktop clutter like I do, you'll be glad to know that the dock can be attached to the back of many external monitors for Zero Footprint Mounting. The dock also boasts a Gigabit Ethernet port, as well as a combo headphone/microphone jack to easily connect your favorite headset. Others may covet this universal dock, but users can secure it against theft by attaching a lock to the Kensington Security Slot. The SD4700P was designed for those of us who want to be able to connect a bunch of devices neatly, easily, and quickly.
Hot Desking in the Modern Office
Today's workplaces tend to be mixed-use environments, with multiple computers of different brands, models, and ages. And these days, not every office environment has one desk per person. When some employees come into the office only part of the week and others spend much of their time traveling, individualized desk space goes unused.
Many companies are making their workplaces more flexible by turning to hot desking, an organization system where multiple people use a cubicle throughout the day. The modern office needs a dock that can work for employees with different laptops and different needs. So, how do you know that a dock is truly universal? If you're Kensington, you test it rigorously and exhaustively with a slew of different brands. Kensington labs meticulously tested the SD4700P dock with computers by HP, Acer, Asus, Dell, Mac, and others to make sure that it's ready for whatever you plug into it.
Not all docks are created equal. Some computer companies design their own docks to work seamlessly with their own computers, but many of us like the flexibility of knowing that a dock will work no matter the brand of device. With Kensington's SD4700P "crossover" dock, you can enhance your laptop by seamlessly connecting it and all your peripheral devices into one healthy desk ecosystem.