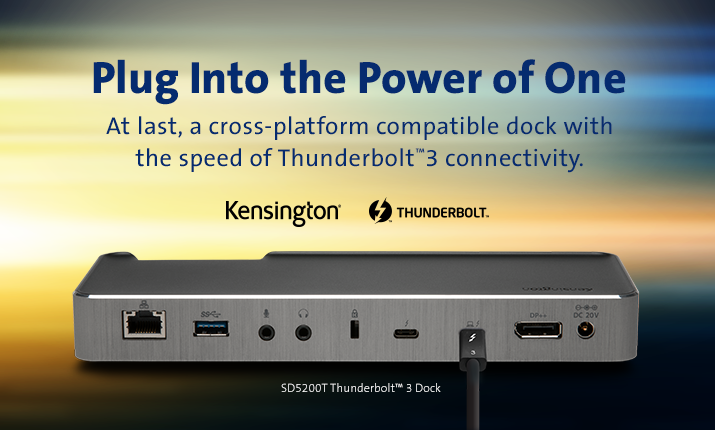 As hardware manufacturers streamline devices to make laptops thinner and lighter to meet the needs of their mobile customers, the number and variety of laptop ports is often reduced. To be competitive, power users still need to have access to the newest best-in-class devices and peripherals without being limited by the connectors on their own device or the devices of their colleagues.
In the past, Windows and macOS laptops have often used proprietary connectors and protocols that were not compatible and required organizations to either commit to a single platform or devote valuable IT resources to supporting multiple platforms and devices.
Thunderbolt 3 protocol is revolutionary because it is used by both Windows and macOS devices and delivers the same throughput speed and performance using cables and port connectors that are fully compatible with both types of devices.
This is why Kensington designed the Thunderbolt 3 Universal Docking Station to use a single Thunderbolt 3 cable and connector to give power users on every hardware platform a simple way to plug in to the speed, performance, and devices they need in order to be successful.
Connecting a macOS or Windows laptop to a Kensington Thunderbolt 3 Universal Docking Station provides users with: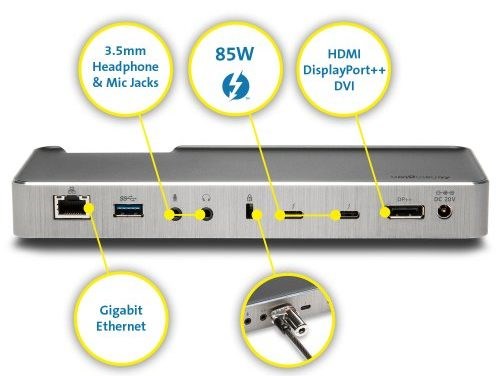 85W port to charge the laptop
5 mm Headphone jack
5 mm Microphone jack
Thunderbolt to connect to the latest innovative devices and be ready for the ones being developed for the future.
One USB-C port
Two USB 3.0 ports, one of which is a 2.1A charging port
DisplayPort++ to connect to external monitor displays.
Gigabit Ethernet port for the reliability and the security of a wired network.

The single power cable from a Kensington Thunderbolt 3 Universal Docking Station provides all the power for the docking station, laptop, and all the peripherals attached to the docking station. This eliminates the clutter of multiple cables and power strips to keep the workspace organized so that users can focus on their work.
For a graphic designer using a macOS laptop, connecting to a Kensington Thunderbolt 3 Universal Docking Station gives them access to two 4K monitors using the DisplayPort++ connector so that they can compare two images side-by-side, a digital camera connected to their USB-C port for fast transfer of image files, an external hard disk drive with an archive of their earlier designs connected to one USB port, and a USB 2.1A charging port to recharge their iPhone while they work.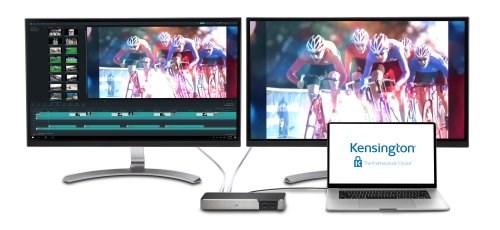 In the same organization, a colleague designing sales training videos on a Windows laptop could quickly transfer high-resolution videos captured during video conferencing sessions with key customers from solid state drives with the Thunderbolt 3 connection, and integrate them with sales targets and numbers from a spreadsheet of data on a secure server connected by Ethernet.
This flexibility is particularly useful in mixed computing environments. As an example, a company developing educational software could use the Thunderbolt 3 Universal Docking Station across their organization to enhance productivity. At one site, the engineers developing the software could connect their Windows laptops by daisy-chain to make it easy to collaborate and review code. Graphic designers on the other side of the globe could connect a maOS device to two 4K monitors as they work so that they could see the details in their designs close up. At another site, test engineers could set up a single test environment and swap out several different macOS and Windows devices to test and verify features and performance. Teachers who are brought in to consult on the game who are more comfortable working with a desktop computer could work with an external monitor, and USB keyboard and mouse. And when anyone on the team travels to a different site to collaborate with another group, they could simply connect to the Thunderbolt 3 Universal Docking Station wherever they are.
Because the Thunderbolt 3 Universal Docking Station is optimized for performance on both Windows and macOS, organizations have complete flexibility to add technology resources and human resources to critical job functions as the need arises.
In our next post, you will learn how Kensington Thunderbolt 3 Universal Docking Station delivers the high data throughput speed that macOS and Windows power users have been waiting for.