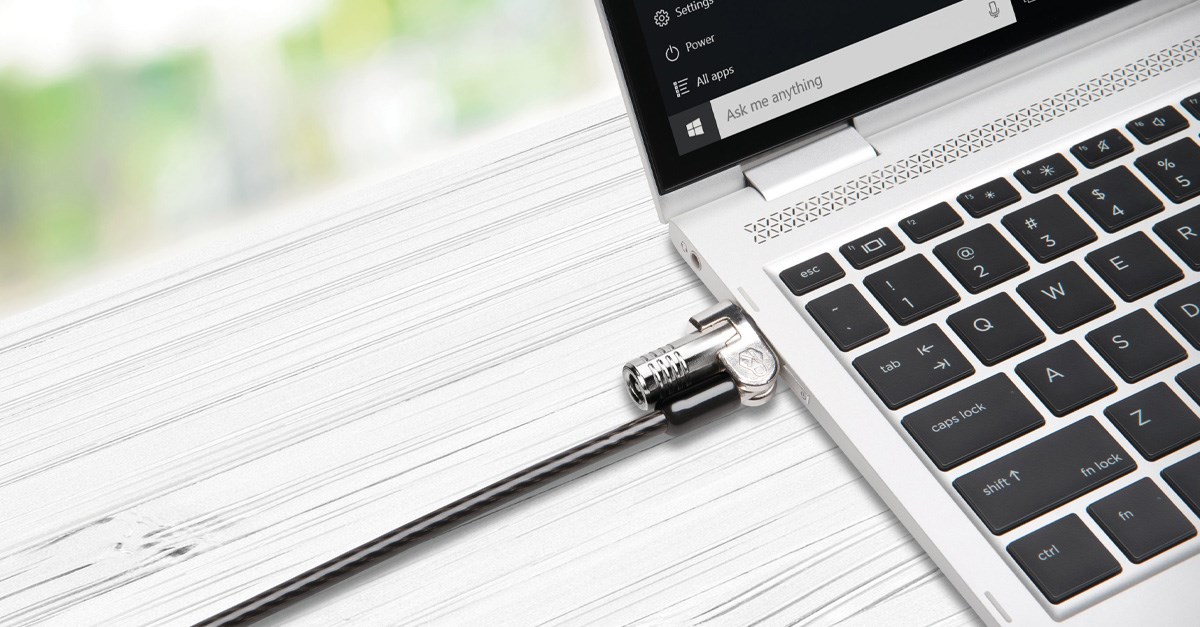 Laptops and mobile devices allow people to work practically anywhere they want. However, this sense of mobility also compromises security. Devices can easily be misplaced or stolen at home, on the streets, at work, or riding public transportation
In a report released by IBM and the Ponemon Institute, 524 companies experienced data breaches in 2020 across 17 countries. The United States has the highest average cost per data breach, pegged at $8.64 million. A data breach's most significant pain point is lost business, which accounts for 40 percent of the average cost of a data breach. This translates to $1.5 million worth of lost revenue and customers.
The well-known saying of 'an ounce of prevention is worth a pound of cure' might be cliché but practical when it comes to your device security. For example, using physical device security solutions such as laptop locks effectively prevents device theft and has a data breach nightmare.
What is the Kensington Nano Security Slot?
The Kensington Security Slot has been the gold standard when it comes to laptop locks. K-Slots compatible with T-bar™ locks are found in most devices sold in the market, such as laptops, desktops, monitors, printers, and many more. Individuals and leading technology brands trust the product so much that the company has sold enough locks to circle the globe twice.
Through the years, as devices have become thinner, Kensington innovated to adapt to the times. It created the Nano Security Slot.
The Nano Slot is about 70 percent smaller than the K-Slot. It has a volume of 135 mm3 compared to the latter's 455.25 mm3. Technology leaders such as HP, Lenovo and ASUS are implementing the Nano Slot with their new product lines, and we can expect other brands producing ultra-thin devices to follow suit.
The Nano Slot addresses the need for physical device security of ultra-thin laptops, tablets, and other devices. Its small footprint also allows engineers to incorporate other components into their next-generation devices.
What Laptop Locks Can You Pair with the Nano Slot?
Kensington engineered/invented/created NanoSaver® locks you can couple with ultra-thin devices with small slots.
Some of the more popular NanoSaver® laptop locks include the NanoSaver® Keyed Laptop Lock, Portable Keyed Laptop Lock, Keyed Dual Head Lock, and Serialized Combination Lock. These laptop cable locks make use of carbon steel combined with patented features by Kensington to ensure that they provide the best security possible. Here are some of the said features:
1. Cleat Locking Technology
The NanoSaver® laptop locks by Kensington attach to the Nano Security Slots of ultra-thin laptops and tablets. The locks come with a Tough Lock Head with Cleat Locking Technology that works similar to how cycling cleats work. You can place the lock head into place by pushing a button, releasing the button, and securely 'gripping' the interior walls of the Nano Slot.
The Cleat Locking Technology passes Kensington's industry-leading standards and warrants the product's reliability and durability.
2. Hidden Pin Technology
The lock head also comes with the patented Hidden Pin Technology, an anti-pick feature unique to Kensington. This feature sets its products apart from other brands. It is another component of laptop security that cannot be beaten.
3. T-Bar Locking Technology
The Kensington Dual Head Laptop Lock has two lock heads - one NanoSaver® for connecting to a compatible laptop or device and one standard T-bar™ for connecting to a monitor, docking station, or other peripheral devices with a K-Slot. With T-bar™, a bar rotates and securely attaches to the wall of the device to provide a high level of security.
4. Register & Retrieve Lock Management
The Register & Retrieve program is the only key registration that allows individual users to quickly request for key or code replacement if it gets lost or stolen. Likewise, IT managers can easily register or re-assign locks through this online web portal.
How Reliable and Durable are Kensington Laptop Locks?
Kensington ensures that you only receive the best laptop security products from our production line. Aside from using top-quality materials, we subject our products to the toughest quality check and testing.
We verify and test our products according to industry-leading standards in areas such as the following:
Pulling, Tension, Shearing Forces
Endurance and Stress Test
Structural Impact and Vibration
Extreme Heat and Cold
Salt Spray for Rust Testing
Fit/Function Tests Down to the Component Level
Our physical device security solutions have been independently tested and verified. As a result, they have been proven to exceed the existing market standards.
Custom Keying Solutions Gives You Full Control
Kensington knows that businesses operate differently so it allows you to choose the level of control over the security locks you use for your devices.
Here are your custom keying options:
Master Keyed Locks: Users have keys for their own laptop lock, with administrators having a master key that opens all locks. This gives IT departments better control of equipment while safeguarding assets from laptop and data theft. Downtimes are also prevented because you have one lock that unlocks all others, so lost keys are minor.
Supervisor Keyed Locks: Only administrators have a key that locks/unlocks users' devices. Implementation of this solution offers the strictest level of IT control for crucial equipment that requires top-level security.
Like Keyed Locks: Each user has a key that locks/unlocks each device. This keying solution is ideal for working environments where different individuals can check out laptops, tablets, or other shared hardware. Every key can only open its unique assigned lock.
Serialized Combination Locks: With combination locks, a code will be programmed before the lock is issued to you. This way, you immediately use the lock without having to worry about setting it up. Each lock also comes with a unique serial number that allows for easy retrieval of forgotten or lost codes.
Kensington Provides Security that Can't be Beaten
Kensington invented the laptop lock in 1992 and has enjoyed decades of leadership in the security slot and lock sector. If you are looking for ways to lower your risk of device thefts and data breaches, we have the best solutions for you.
At Kensington, we offer you tough and innovative security solutions that you can easily roll out to protect your brand. Contact us today for more information.