Are you excited about the prospects of using the extremely-mobile Microsoft Surface Go?
If so, you'll be even more excited when you understand how the three best Surface Go accessories on the market right now can give you an even greater experience, no matter what you'll be using your new computer for.
Adds-Ons Make Everything Better
Often times, the standard option is just fine.
For example, most of us are content flying economy class and wouldn't think of spending more for business.
Of course, other times, add-ons make all the difference.
You might not need every extra feature on the list, but if you're a music-lover, it might be worth it to add Bose speakers to your new car.
Add-ons tend to be particularly popular when it comes to technology. For one thing, an add-on can greatly improve a device's capabilities and enhance its potential. Depending on your options for such accessories, two devices can be modified to the point that they hardly resemble each other anymore.
For instance, an iPhone can easily be transformed into a home and personal security system or a handheld video game controller or even a device to measure the wind.
So, sure, sometimes the default option is sufficient, but when it comes to technology, add-ons are a simple way to customize your experience based on your unique needs.
The Microsoft Surface Go and Pro: Two Fantastic Options for the Mobile-Minded
Whether you're a remote worker who needs to do their job from anywhere, a student who has to do assignments on the go, or you just want the convenience of having a computer that can keep up with your busy schedule, the Microsoft Surface Go and Pro are both perfect for people who love high-quality mobile devices.
Microsoft's reputation for making impressive machines needs no introduction. Nonetheless, here's a breakdown of the differences between these two computers.
Microsoft Surface Pro 4:
Platform: Windows 10
Screen Size: 12.3 inches
Resolution: 2736 x 1824
Processor Name: Intel Core i7-7660U
Processor Speed: 2.5 GHz
RAM: 16 GB
Graphics Card:  Intel Iris Plus Graphics 640
Storage Type: SSD
Storage Capacity: 512 GB
Additional Storage: MicroSD
Network Options: 802.11ac (2.4+5.0 GHz Dual-band)
Battery: 13:54
While the Microsoft Surface Pro 4 has proven extremely popular among a wide-range of users, the Microsoft Surface Go has also found a number of fans thanks to its compact size. This also makes it much more affordable by comparison.
Here's what the Microsoft Surface Go has to offer:
Platform: Windows 10
Screen Size: 10.6 inches
Resolution: 1800 x 1200
Processor Name: Intel Pentium 4415Y
Processor Speed: 1.6 GHz
RAM: 8 GB
Graphics Card:  Intel HD Graphics 615
Storage Type: SSD
Storage Capacity: 128 GB
Additional Storage: MicroSD
Network Options: 802.11ac
Battery: 9:56
Either way, you can't make a bad decision when choosing between the Microsoft Surface Go and Pro.
Here are a few Surface Go accessories you should absolutely know about.
3 Surface Go Accessories for an Even Better Experience
As we mentioned at the very beginning, Surface Go accessories can take the already impressive device and make it even more impressive. While the following three Surface Go accessories on this list each offers different benefits, combined, they will greatly enhance what you're able to do with your computer.
1. BlackBelt Rugged Case for Surface Go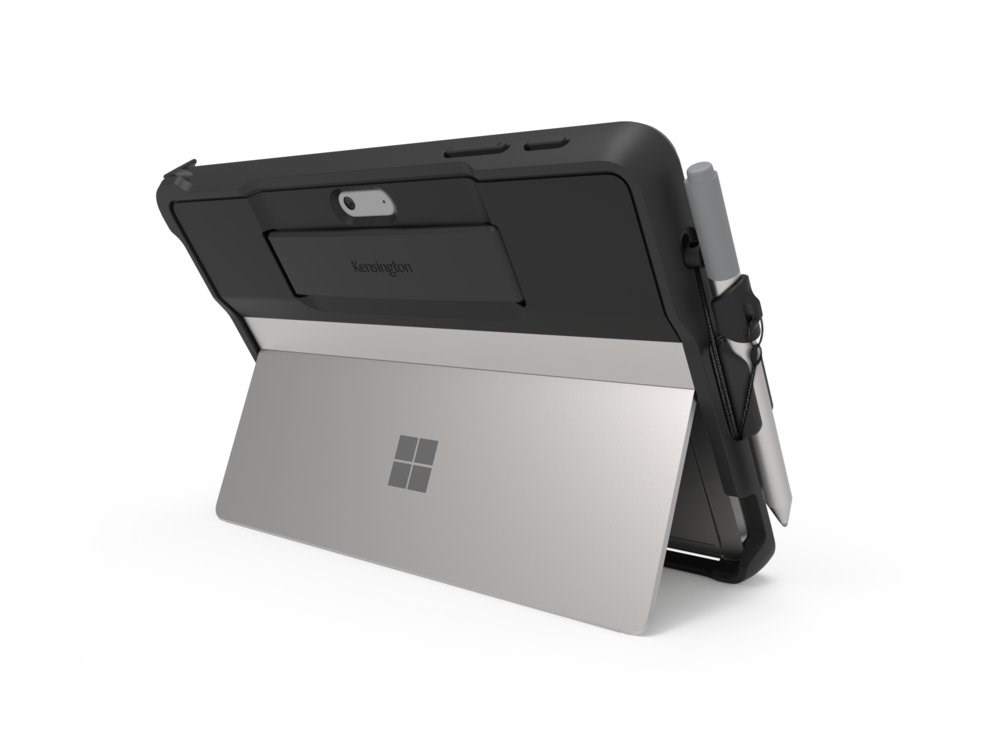 One potential drawback of having such a mobile-friendly laptop-replacement is that your Surface Go is going to be exposed to more potential risks. Just carrying it to class or through the airport could mean you accidentally drop it on a hard surface with a good amount of momentum behind it.
That's why one of the most important Surface Go accessories you can own is some kind of protection for your device.
The BlackBelt Rugged Case for Surface Go is probably the perfect example of this kind of necessary accessory. It completely covers all of your device's vulnerable areas, so you can enjoy this mobile-friendly computer with peace of mind knowing military-grade drop protection is keeping it safe.
Furthermore, it's designed with an integrated hand-strap, making it extremely easy to use your Surface Go while you're on the go.
You can even remove the Type Cover while keeping the case on, so you're able to access and use the stylus without risking damage. Thanks to the Surface Pen holder, the stylus is always ready for use but never at risk of dropping.
2. Keyed Cable Lock for Surface Pro and Surface Go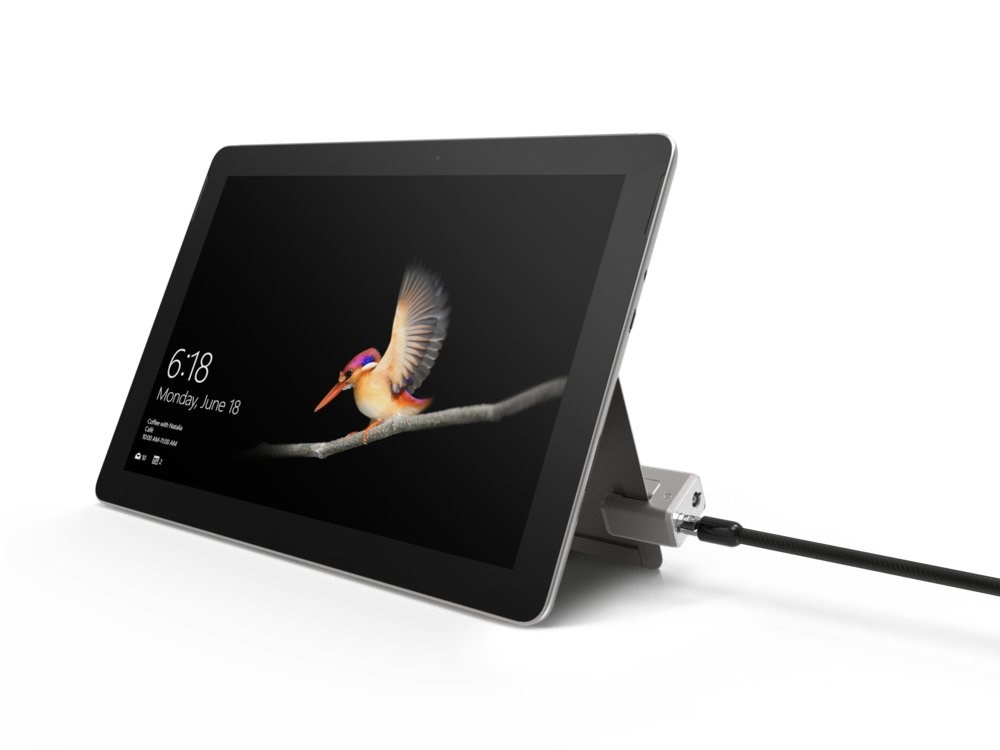 Sometimes, it's not dropping your Surface Pro that you need to worry about. It's someone else picking it up. That's why the next item on our list of Surface Go accessories is the Keyed Cable Lock, which is actually available for the Microsoft Surface Go and Pro.
The locking mechanism on this accessory is noninvasive, so you don't need to worry that security will cost you your device's appearance or function.
Still, the lock head actually exceeds Kensington's industry-leading tamper-resistance standards for durability and reliability. The cable is made from carbon steel, which means it doesn't just resist attempts at cutting it, the cable's appearance will actively deter them.
The 5mm Keying System is designed with patented anti-picking technology. This technology is part of Kensington's renowned key management solutions. These include Master Keyed and Supervisor Keyed options that minimize the number of keys IT managers need to secure devices in mixed-technology environments.
3. Universal AC Charge Station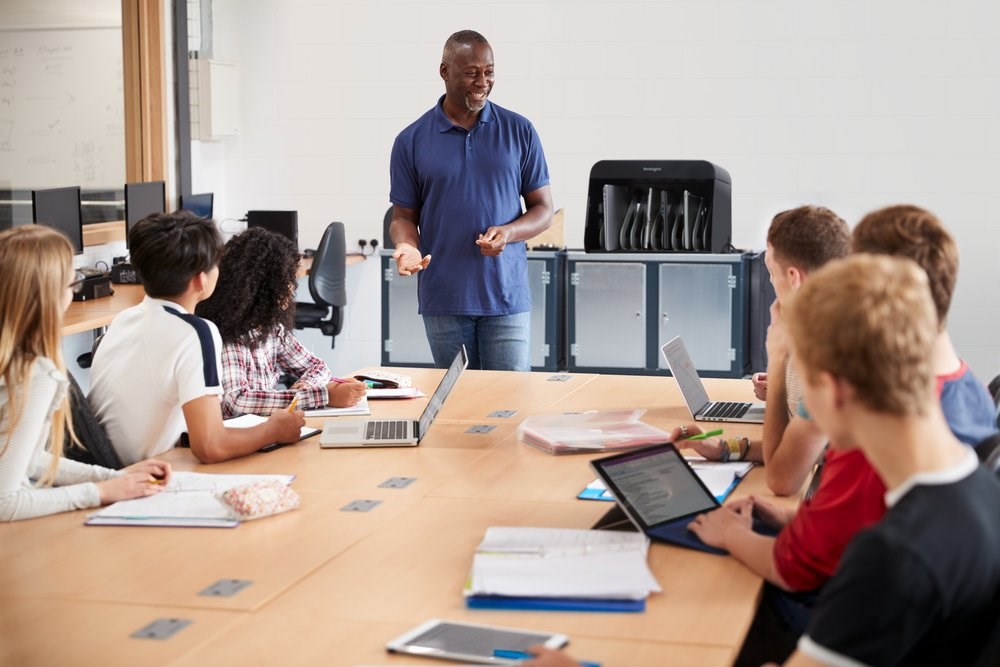 Finally, we conclude our list of Surface Go accessories with the Universal AC Charge Station.
This device is great for classrooms, retail spaces, offices, and anywhere else that requires a durable storage solution for more than one Microsoft Surface Go.
Inside its sturdy metal frame, the station includes ample power adapter storage, so cables stay tucked away while plugged in to any of 12 available outlets. All the while, effective heat dissipation keeps devices from overheating.
If you do decide to opt for the Microsoft Surface Pro 4, Kensington has some great innovative solutions for that product as well. Examples include the Surface Pro docking stations, cases, locks, privacy filters, and much more. 
Get the Very Best by Adding Surface Go Accessories
Is the Microsoft Surface Go an amazing device all on its own?
Absolutely.
However, you'll enjoy it even more by keeping it secure, safe, and charged with the popular Surface Go accessories we described above.
Thanks to their affordable prices, there's nothing keeping you from using each to enhance your new Surface Go.
Also, If you do decide to go with the Surface Pro 4, check out the ultimate docking station that turns your Surface Pro into a miniature Surface Studio.