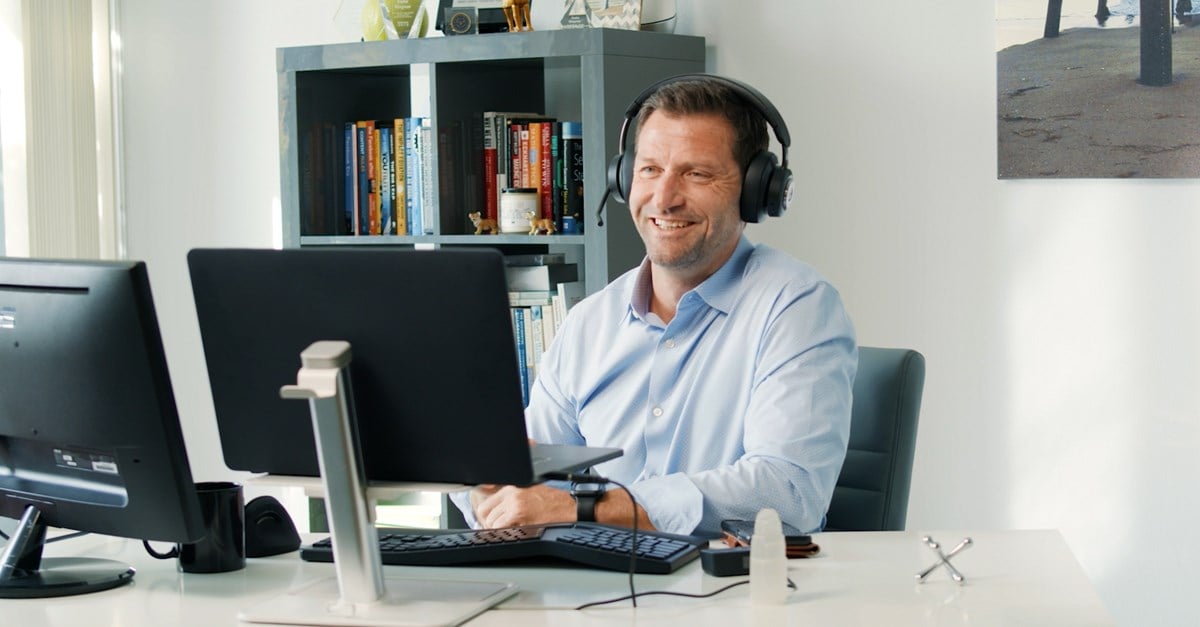 The work never stops when you're the boss.
You're constantly bouncing from video calls to phone calls and back again throughout the day.  You want to be efficient about it but switching from Air Pods to wired headphones to your other earbuds (depending on the device) is getting a little ridiculous.
Your busy-but-productive schedule of meetings and personal commitments has turned into a quagmire of devices, headsets, and chargers.
Switching from your laptop for work calls to your phone for personal calls to a tablet for other tasks in a fast-paced environment has become more complex and time-consuming than the tasks themselves.
You've known for a while that you need to streamline the process. You're the boss, remember? You shouldn't miss calls or be late to meetings because of "technical difficulties." And you shouldn't have to call IT support just to make your desktop setup work the way it's supposed to.
In short, you should be able to transition seamlessly between audio sources and use the headset you want to use when you want to use it.
Streamline Your Office Audio Experience to Boost Productivity
Meet the Kensington® Pro Audio Headset Switch. The Kensington Universal 3-in-1 Pro Audio Headset Switch gives you the control that you need to make your office setup more professional and productive.
Use the Kensington Audio Switch to simplify your working environment, streamline your workday, and stop wasting bandwidth on technical issues that aren't worth your time.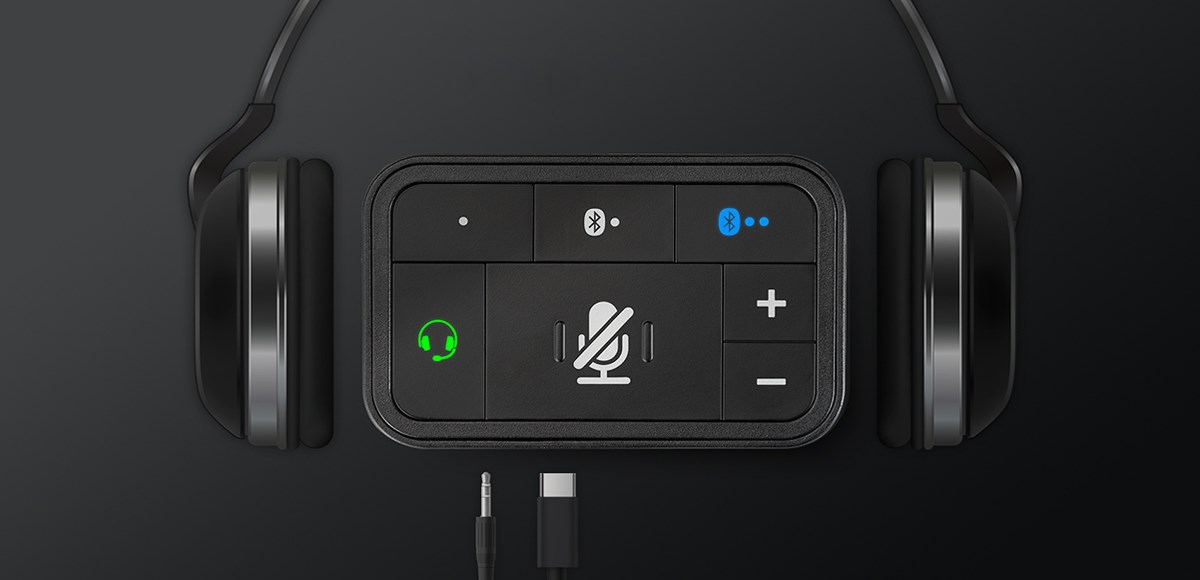 How Does an Audio Switch Make Executives More Effective?
The Kensington Audio Switch connects as many as three devices to one wired or wireless headset and allows you to toggle back and forth seamlessly between each audio source.
In other words, you can answer your phone and participate in a video meeting on your computer with the same headset — and switch between them with the push of a button and no lag time.
Further, the Audio Switch works flawlessly with video conferencing platforms like Zoom, Microsoft Teams, Google Meet, Cisco WebEx, and more, but it provides independent volume controls, so you don't need to adjust your audio within the app.
And when your meetings end, you can switch back to your music on Spotify or Apple Music without changing your headset.
Having fewer products on your desk makes it easier to stay organized. And having fewer headsets eliminates the scramble to find and connect to the right source at the right time.
The Kensington Audio Switch also makes it easy to mute your audio when you need to, and a bright red light provides visual confirmation that you aren't sharing sensitive information with the wrong audience.
One early tester found this feature helpful during a video conference:
"Another interesting feature is the ability to mute and unmute sound at the touch of a button. This is particularly handy in Zoom meetings, for example. I just sit the device on my desk, plug in my headset, and leave Zoom microphone input switched on, but I can control the input independently without having to use the mouse."
- Gareth Butterfield, Nottingham Post
Universal volume controls make it easy to control your sound at all times, and the dedicated channel buttons and LED lights make it easy to see which device you're connected to.
Beyond the ease of use and clutter reduction that the Audio Switch provides, just having one up and running on your desk can improve your state of mind when you're working. One productivity survey found that 92% of workers were more satisfied when they had technology to help them do their jobs more efficiently.
​​The Kensington Audio Switch makes your office setup more professional and easy to use. Smart technology gives you the control that you need and more freedom during work calls, personal calls, free time, and everything in between.
How Does an Audio Switcher Work?
First, you don't need an extra power outlet to use an audio switcher. This is modern technology in the Kensington Audio Switch, after all – just plug the connection cable into your device's USB-A or USB-C port to power it up.
When the Audio Switch is connected, select it as your audio input and output device to establish a wired audio connection. Then pair your favorite wireless headset (or plug in your headphones) and any other devices you'd like to hear through that headset.
Once you've added your devices and headset, use the dedicated channel buttons to toggle back and forth. (Kind of fun, right?) You'll see LED lights on the buttons for visual confirmation of the active channel.
The Kensington Audio Switch works with every major headset type, including Bluetooth® wireless, USB-C, USB-A, and 3.5mm wired connections, and includes a two-year limited warranty. The cable also includes a USB-C to USB-A adapter to make connecting easy while minimizing the audio switcher's desk footprint.
Also, you won't have to pair these devices again later. The adaptive Bluetooth® 5.0 Technology system remembers previously connected devices automatically.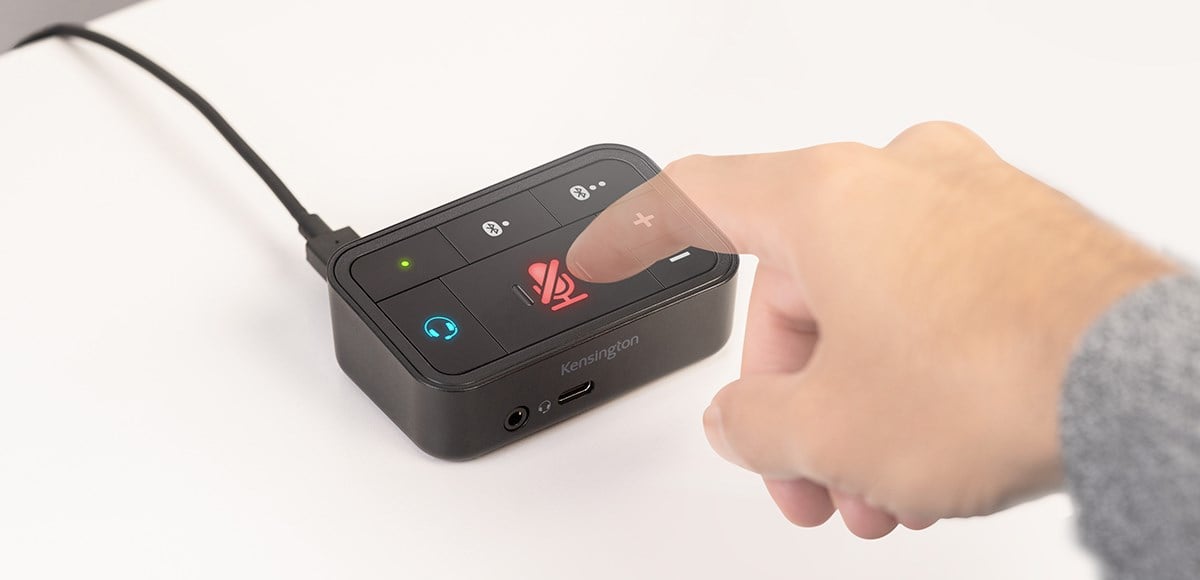 Control Your Environment with The Kensington Audio Switch
If you so choose, you can take the Switch home with you along with your laptop, plug it in again, and get right to work with the same channels and headset you're used to. Having control of your device audio can be just as important, if not more so, on the days that you choose to work from home or in a remote environment.
Speaking of environments – if you're trying to reduce clutter, the switch helps with that too. The Kensington Audio Switch is smaller than your computer mouse, so you won't need extra space. More importantly, it can replace a lot of the extra accessories like charges and cables that clutter your desktop and could frustrate your creative flow.
Declutter your desk with the Kensington Audio Switch and declutter your mind with seamless audio connections and simplified device management.