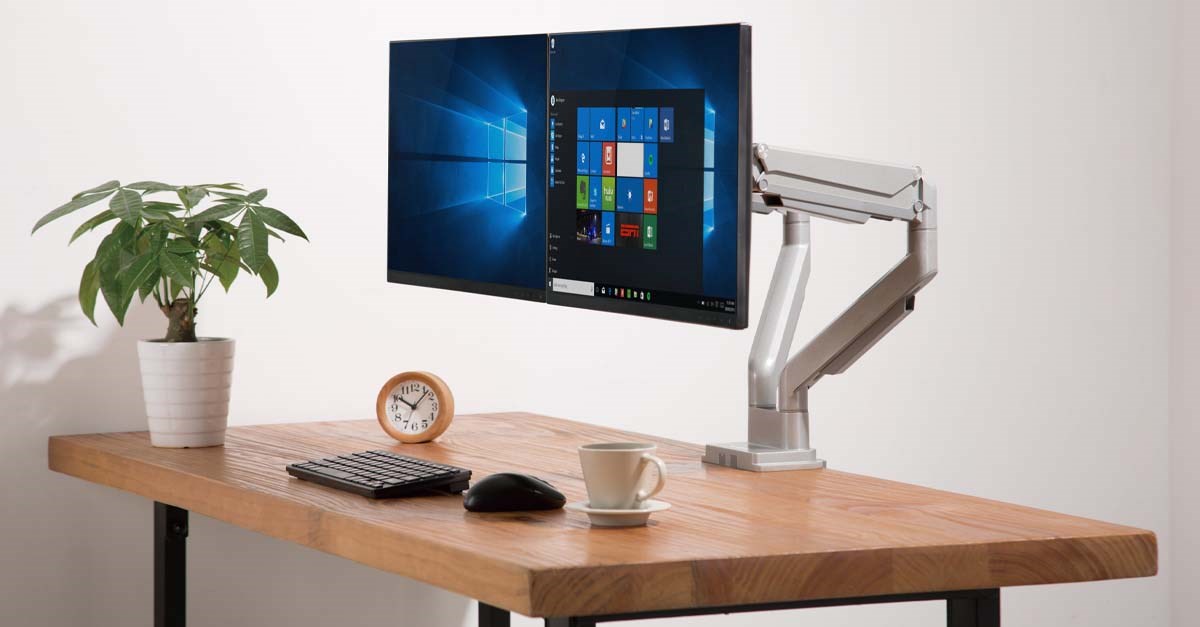 Many companies today have changed the way they do business. That includes allowing employees to work from the convenience of their own home offices. Whether you're a remote worker or running your own business, establishing a proper ergonomic set-up can pose challenges. Creating a space-saving desk set-up doesn't have to be a hassle, however. A monitor arm might be the solution you need for your home office.
With a monitor arm, your home office can be light years ahead of the traditional office set-up. No longer do you have to slouch to remain at eye level with your screen or deal with unnecessary clutter. Monitor arms hold computer monitors and laptops in positions that provide convenience and comfort. They attach to desks, walls, and ceilings to maximize ergonomics in your home office.
Key Benefits of a Monitor Arm
No matter how you set up your home office, you'll reap many benefits from using a monitor arm. Kensington's monitor arms are ideal for home office workers who sit, stand, or do both in a variety of set-ups. Below, we'll discuss how adding a monitor arm is critical to upgrading your home office and achieving healthy ergonomics.
1. Space-Saving Desk Set-up
Take a look at your desktop. How much space does your monitor currently take up? Can you easily reach for items you often use? Lack of desk space is a common problem for home offices and often impacts work efficiency. Achieving a space-saving desk set-up is essential to staying productive and distraction-free.
A monitor arm could be the solution to organizing your desk set-up. Our SmartFit Space-Saving Single Monitor Arm is uniquely made for monitor adjustment in tight spaces. No longer do you have to organize your workspace around your monitor. With easy-to-adjust features, it will lift your monitor off your desk and allow plenty of space for other materials. Additionally, its cable management system will keep wires and cables from cluttering your workspace. With a decluttered workspace, you can find room for your cup of coffee or simply leave it empty.
Installing your SmartFit Space-Saving Single Monitor Arm is easy and nonpermanent. Just position the arm on the back of the desk with the C-clamp facing the front. You'll be well on your way to having a clutter-free desk.
2. Adjustable Monitor Settings
Staring at a computer screen in a static position for several hours often results in poor posture, neck pain, and eye strain. According to the Centers for Disease Control and Prevention, musculoskeletal disorders are often linked to poor ergonomics.
An adjustable monitor in your home office helps to promote healthy posture, which reduces musculoskeletal pain and prolongs productivity. In fact, we conducted a study on 335 office workers who used computers to find a connection between our monitor arms and healthy ergonomics. More than half of the monitor arm users have reported less neck flexion. Another 42.5% have reported less torso tension.
At Kensington, we tailor our SmartFit monitor arms to your personal needs. We base our adjustable monitor arm designs on US Army data linking hand size to body stature. From our research, we've established four color groups for ergonomic sizing.
Adjusting the height, depth, and angle of your SmartFit monitor arm is simple. Just follow these three sets for proper ergonomic set-up:
Measure your hand size on the downloadable SmartFit Hand Chart. The color the tip of your middle finger lands on is your SmartFit color. You can also choose your height to find a personalized fit that works for you.
Adjust the SmartFit monitor arm to your color group as a starting point.
Sit down and test your monitor position to ensure that it's an ideal fit. Make adjustments where necessary. We encourage you to position your monitor at an arm's length distance.
3. Better Viewing Angle On Video Calls
Video calls and meetings can often feel personal. A bad webcam angle can make you appear unprofessional and uninterested in the meeting. If your webcam is mounted to the screen, you want to ensure that it's positioned at eye level.
Kensington's monitor arms can help you achieve a better viewing angle while on video calls. Our products are designed with tilt and swivel, height adjustment, and screen rotation features to maximize your viewing capabilities. Best of all, the position of your monitor can be changed at any time. You can adjust your screen moments before a video call, then switch it back to your typical work mode.
4. More Professional Look
Take a moment to analyze the overall feel of your home office. Does it look professional and feel like a proper office? If your home office feels more like a spare room than an actual office, it might be time to make some renovations. Installing one of our SmartFit monitor arms could be the perfect start to upgrading your home office.
Adding a monitor arm to your home office doesn't have to be an eyesore. We offer several products that may blend with your home décor, including our One Touch black and silver options.
Find the Right Monitor Arm for Your Home Office
The bottom line – you will benefit from having a monitor arm in your home office. But choosing the right one depends on your ergonomic needs. Do you plan on working from home permanently? Are you working with more than one monitor?
Our desk clamp and free-standing mounts offer ergonomic solutions for short-term and semi-permanent workspaces. If you're planning on working from home permanently, consider going with our grommet mount or wall/ceiling mount options. It's worth mentioning that some Kensington products, such as our SmartFit One-Touch Height Adjustable Dual Monitor Arm, come with both the desk clamp and grommet mounts.
Invest in your well-being and productivity today. At Kensington, we have a variety of high-quality and affordable products that will take your ergonomic experience to a new level.
Browse through our inventory of monitor arms to find the one that is right for you.