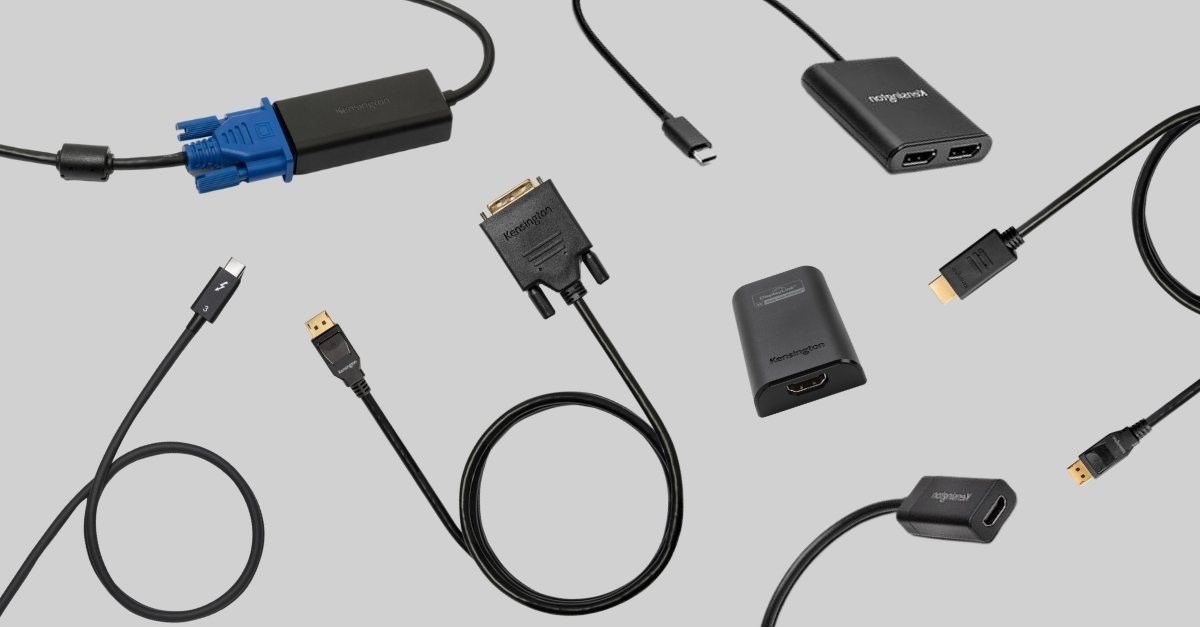 Today's computer engineering is focused on designing laptops that are thinner and lighter than their predecessors, which means less room for a variety of connectivity ports. This advancement is twofold. On one hand, you can benefit from purchasing cables and adapters to expand your hardware connectivity. For example, adapters allow you to extend your laptop screen to another monitor, and studies prove that two screens can increase your productivity.
On the other hand, you may find yourself submerged in confusion about the different types of accessories and video ports your computer may need. Don't fret, we have you covered. Below we'll discuss some of the common direct video connection ports your computer may have, and if not, which adapters you'll need to fulfill your needs. 
Consider Your Direct Video Connection 
Initially, you'll need to identify which direct video connection ports your laptops have. These are universal ports that are associated with transmitting visual data, and you can find them across most computers irrespective of manufacturer. These include:
HDMI Port
A High-Definition Multimedia Interface (HDMI) port allows video and audio data to be transmitted from a source to a different display monitor through one cable. The standard HDMI port is a type A connector that can be found on laptops, monitors, and TVs.
DisplayPort
DisplayPort (DP) allows for the transmission of video and audio data from a source to a display monitor through one cable. It has more bandwidth than HDMI, which allows for higher display resolution and can be helpful if you are transmitting video and audio data to multiple external monitors.
With this increased bandwidth, DisplayPort connections are typically suited for source to PC connections whereas HDMI is suited for both source to PC and TV connections. All in all, neither is superior to the other, and you'll need to understand which version of the connection your device supports to determine whether DP or HDMI is best.  
DVI 
Digital Visual Interface (DVI) is primarily used for transmitting HD quality video signals to digital formats. It is a less common connection type found on older computers and monitors.
If you find yourself with this port, Kensington offers DVI to HDMI and DisplayPort options that can transmit digital video data. 
VGA
Video Graphics Array (VGA) is also considered an older connection type. In fact, it is older than DVI and is used to transmit video signals to analog format. VGA ports can be found on older technology such as computers, TVs, and projectors. 
VGA image quality is not as sharp as DVI because it only carries analog and does not produce audio signals. Kensington's VGA to DisplayPort cables allow for the transmission of video data. 
If your source device requires any connection type, be it new or old, Kensington has you covered.
Find your video connectivity solution
USB-A vs USB-C: What's the Difference?
Universal Serial Bus (USB) is a standardized interface for connecting peripheral devices to computers. Both USB-A and USB-C are the most common types of USB and may be used to connect external audio-video devices such as microphones, headsets, and webcams.
USB-A
USB-A is a universal connection and can be found on most types of electronic devices. If your external display monitor has any of the aforementioned direct video ports, but your source device only has a USB-A port, then you'll need a USB adapter. 
Kensington has every USB-A adapter you'll need. We've simplified your video needs by providing USB adapter cables that are compatible with a wide variety of computer brands and software.
USB-C
USB-C is the newest universal connection boasting speed and power upgrades. In contrast to USB-A, the USB-C port is reversible and has many variations and generation types. One of these variations is the Thunderbolt connection, which has transfer speeds up to 40Gbps, making it the fastest subset of USB-C connections. The most common USB-C is USB 3.2 Gen2, which has a speed of 10Gbps. 
USB-C Is highly supportive of video signals meaning that you can connect to a native DisplayPort or HDMI port with the proper USB adapter. Kensington has USB-C to HDMI adapters, USB-C to dual DisplayPort adapters, and more. 
For over 40 years, Kensington has been the professionals' choice and an industry leader. IT industry and home office professionals have relied on us for their desktop computing and mobility solutions.
Looking for Alternative Solutions?
Your device may not have a direct video port or a USB-C port, but with DisplayLink, that's not a problem. DisplayLink adapters allow you to connect your USB-A port to an external monitor and can display up to 4K video. We also carry Thunderbolt cables for connecting source devices and external monitors with USB-C ports. 
Kensington video cables and adapters fit all monitor ports no matter the device. We are proud to produce trustworthy products so that our customers can connect with confidence whether they are home office professionals or consumers working or playing on the go.
We have all the solutions to expand your device connectivity.