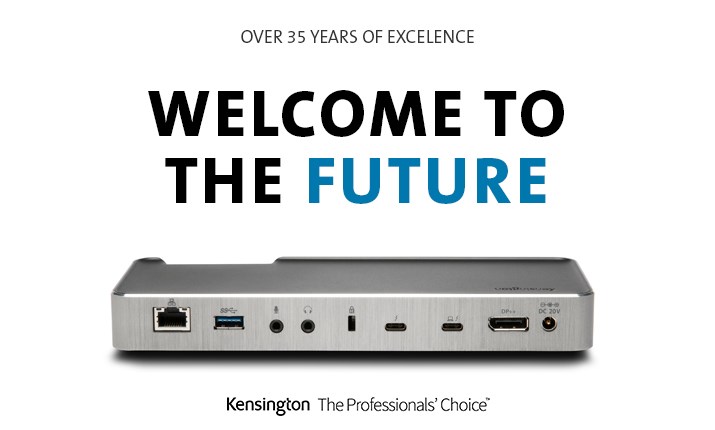 Kensington Thunderbolt 3 Universal Docking Station
Kensington has been the Professional's Choice for security and ergonomics for more than two decades, and we take that trust seriously. Each product we design and release is optimized to solve for the real problems and issues that our customers face every day.
To create the Kensington Thunderbolt 3 Universal Docking Station, we listened to the issues and limitations that power users and IT specialists have encountered with existing docking solutions and created a device that solves those issues so that they can focus on being more productive in their core tasks.
One such limitation has been the disparity between the docking station options available to macOS and Windows laptop users. In many organizations, it is commonplace for employees to use dual monitors. There have been multiple options available for Windows laptop users, but macOS laptop users have not had a single simple connection to support two monitors before now.
The Director of IT Ops for a Financial Services organization Brian W. puts it bluntly when he crystalizes the issue by stating, "Almost everybody here runs dual monitors, and so, for the Mac, they're kind of 'S-O-L' per se because they don't support multiple monitors on a single connection out of the laptop, so you'd have to plug in two connections to your Mac to be able to support two monitors, which is a bummer."
Konia J. is a Network/Systems Administrator for a Non-Profit organization and describes this challenge this way, " A lot of our users are really into the dual monitor setups now. So, in essence, we're using a lot of adapters and dongles to get the job done."
With the Kensington Thunderbolt 3 Universal Docking Station, users on both macOS and Windows laptops have complete support for dual monitors at the full capabilities that Thunderbolt 3 can support. This means 5K or 4K for dual monitors at 4096 x 2160 dpi 30-bit color @ 60Hz with the crisp resolution, contrast and color depth of Ultra HD using DisplayPort or HDMI.
The same Kensington Thunderbolt 3 Universal Docking Station can be used by a single user who needs to work on both Windows and macOS laptops to perform their duties, or it can be shared by multiple users regardless of the hardware platform of their laptop.
Another concern that is expensive both in terms of time, equipment, and IT resources is trying to support and maintain a complex set of adapters and devices that is not standardized across an organization.
Michael O. is a Technical Support Liaison who supports 300 users across a school district. He describes this challenge this way, "With USB-C I want a single-cable solution. I've looked at some other docks, but usually they don't provide power over USB-C. They provide some kind of funky connector that you've got to plug this in here, and then push your machine in, and then plug in the USB-C cable I want single-cable solutions across the board. I'm not unique in having two laptops. There are other people that are the same, and I want them to have one solution that will work. I, personally, have a [different brand] USB-C docking station at home, and it sometimes gets funky with my Mac."
When he tried a Kensington Thunderbolt 3 Universal Docking Station, he quickly realized the advantage, " It's just so much simpler to plug that single cable in. In my case, with my Mac, it's plugging in three cables to get it going on my older one. My newer one, I didn't have a setup that worked where I could use the bigger monitor, so, yeah, [The Kensington Thunderbolt 3 Universal Docking Station] made my job easier I'm going to extrapolate that if I rolled it out to end users, [I'd have] fewer calls for help, which means that I can work on other things that are, well, not more pressing, but potentially have more benefit to everybody across the district."
Russel W., an IT Manager who supports 200 laptop users across a retail/wholesaler with 30,000 employees spread across the country described the advantage to IT organizations this way, "If I were able to deploy those [Kensington Thunderbolt 3 Universal Docking Stations] throughout the building, it would definitely make my life easier…to the point that we would not have issues with compatibility as we do now. It would reduce service calls, it would reduce ticketing, workload, and I think I'd probably see a productivity increase…it'd be a great benefit."
Our next blog entry will review and recap all the competitive advantages of the Kensington Thunderbolt 3 Universal Docking Station and provide a summary of the technology and functionality it delivers to power users.