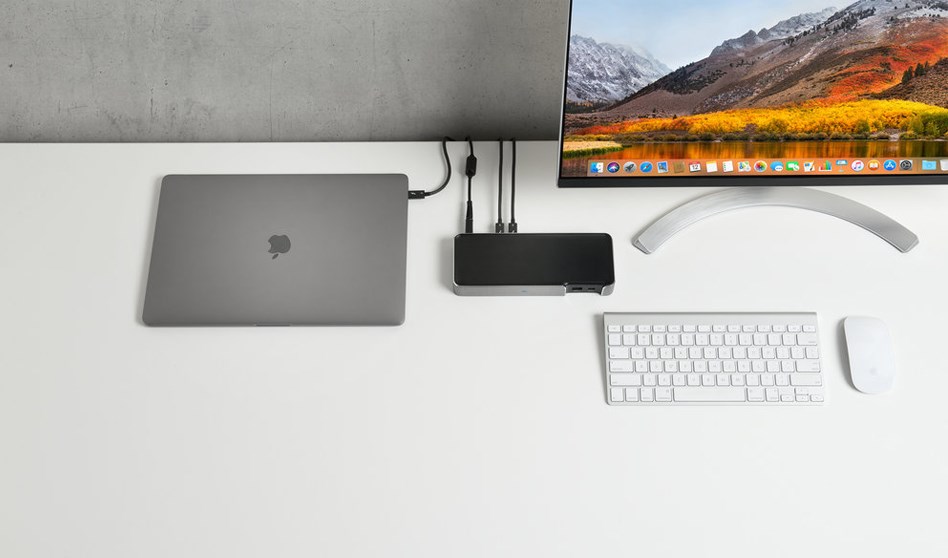 A small home-based business is often in direct competition with larger more established organizations. In many cases, a small nimble organization can outmaneuver and outperform a large company with cumbersome processes and workflows--as long as they have the tools and the space to get the job done.
For a mobile employee, the performance of their system in the home office needs to meet or exceed the performance levels they can achieve in their corporate office. The demands for fast responses and high-quality work must be met no matter where a person is working from.
With the availability and affordability of high-speed internet, powerful computer hardware and devices with amazing speed and performance coupled with tools from Kensington, the speed and flexibility of home office technology can match or exceed an employee's corporate office or a business owner's competition.
The Top Kensington Tools To Power Your Ultimate Home Office
Kensington Standing Desk
The SmartFit® Sit/Stand Desk provides an efficient and safe way to convert your desk into a healthy sit-stand workstation using a convenient desk-on-desk design. Strong and stable at any height, while using a pneumatic lift to effortlessly raise and lower your workspace within a space-saving footprint, the Kensington SmartFit® Sit/Stand Desk delivers optimal productivity and ergonomic support.
The SmartFit® Sit/Stand Workstation or SmartFit® Sit/Stand Dual Monitor Workstation installs quickly and converts your traditional desk into a standing workspace with minimal changes to your current setup. Because your needs may change in an instant, a pneumatic lift and articulating arm help you quickly transition from sitting to standing, allows you to swivel from side to side to share your monitor screen.
Kensington Laptop Riser
When you need to lift your laptop up to eye level, there's no better ergonomic solution than the SmartFit Laptop Riser. Kensington laptop risers feature the SmartFit System, which allows you to find your personal height setting for optimal comfort while you work. 
Kensington Monitor Stand
Having your screen at eye level is the safest way to work. Kensington Monitor Stands help you to work with your spine in a neutral posture that keeps your spine comfortable and strong.
Kensington Foot, Back, and Seat rests
With Kensington's full line of ergonomic solutions for your feet, back, and seat, you have the freedom and flexibility to choose a chair to match the style of your home office knowing that you can customize it for optimum comfort.
Kensington Screen Protector
Privacy screens use an anti-reflective coating to reduce glare, and they filter out harmful blue light by up to 30 percent to protect your vision and keep your devices from interfering with your sleep.
Kensington Keyboard and Keyboard Drawer
Full-featured keyboards are essential to optimizing your productivity. Kensington's keyboards are always up to the task, letting you work more efficiently whether it's a wired version or a wireless Bluetooth model that helps cut down on cord clutter around your workstation. A Kensington keyboard drawer not only keeps your desk clear and lets you store the keyboard out of sight when not in use, but also allows you to position the keyboard at the ideal height for your body.
Kensington Trackball or Mouse
A high-quality mouse is just as important for productivity as your keyboard. Whether you're looking for a wired model or the clutter-free convenience of a wireless Bluetooth mouse, Kensington has a wide range of reliable and durable options with one that is sure to fit your needs.
Kensington Trackballs help you enjoy a more comfortable, more productive experience. Trackballs also require less desk space than mice and can be programmed for customized computing to save time and reduce repetitive motion.
Kensington Mouse Pad and Wrist Rest
Kensington mouse and wrist pads are designed to help keep your keyboard lower than your forearm to avoid bending your hand backwards when typing, which can lead to nerve and blood vessel compression. They come in a variety of styles to match any home office decor.
Kensington Laptop Docking Station
With a Kensington docking station, you can quickly and simply connect your laptop to your home office work configuration, so you can focus on your work and not your system. A Universal Docking Station manages power and connectivity cables to reduce unsightly cable clutter in your home office. A Kensington Docking Station with  Zero Footprint Mounting gives you the option to attach the dock to the back of any VESA-compatible external display to accommodate space-challenged workspaces and reduce clutter. 
Kensington Power Strip
Kensington SmartSockets provide superior surge protection for your electronics, safeguarding them against power spikes, brownouts and blackouts to protect both your equipment and your business. Color-coded rings with matching color labels help you easily identify which outlet is connected to each piece of equipment to reduce clutter or confusion.
Trust Kensington To Help You Design The Ultimate Home Office
For over 35 years, Kensington has been The Professionals' Choice for desktop productivity solutions. We have everything you need to create the ultimate home office to maximize your efficiency and minimize the chances of discomfort while you are working.
You can purchase the tools you need to customize your home office from the Kensington website or from your preferred retailer.