These days, the ways people use computers are more fluid than ever. Modern workers need to use computers on the go, but also want a full desk setup when they're back in the office. Some people expend money and space on two computers to meet their flexibility needs. Newer devices try to do it all with a mobile form factor and a powerful CPU, but lack the I/O options necessary to connect to a full size keyboard, eye-height monitor, ergonomic mouse, wired connection, and other favorite desktop peripherals. Kensington now delivers a solution for Surface Pro users with the  SD7000 Surface Pro Docking Station, which essentially transforms the Surface Pro 4, Surface Pro 5th Gen (2017), or Surface Pro 6 into a mini Surface Studio. Now globally available, the SD7000 Surface Pro Docking Station pushes the limits of what a tablet can do by enabling the Surface Pro to work as a desktop display or at a drafting angle while extending its connectivity and performance.
Turn the Surface Pro into the Desktop of the Future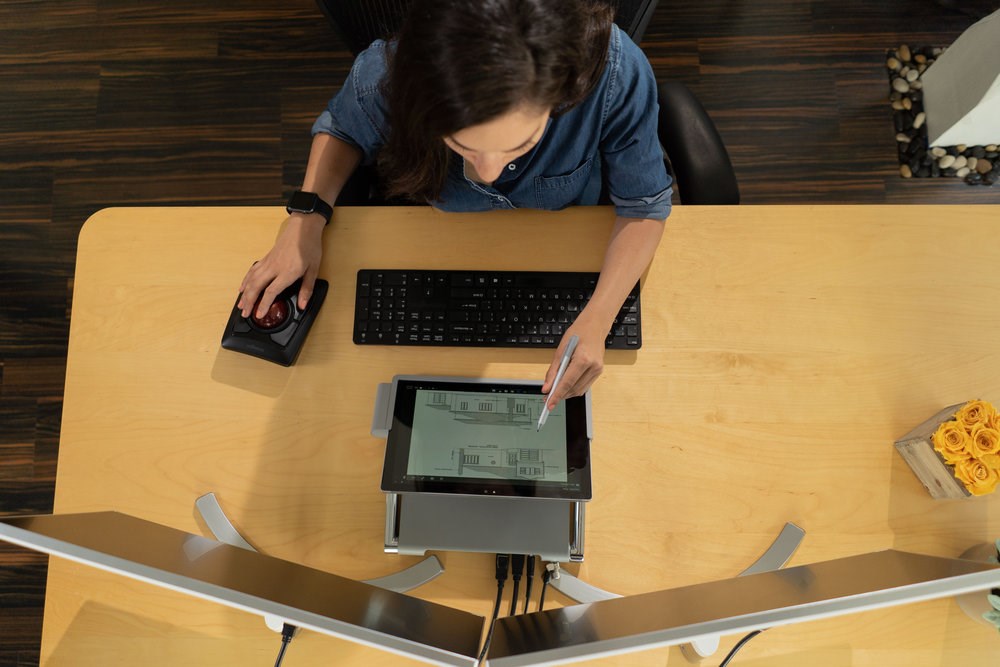 What makes Kensington's SD7000 Surface Pro Docking Station truly game changing is a two-position hinge that allows the Surface Pro to function like a miniature version of the Surface Studio. The dock enables the Surface Pro to be comfortably positioned upright as a display, empowering users to create a full desktop setup centered on the Surface Pro. In Studio Mode, the Surface Pro can be positioned a perfect drafting table angle for painting, drawing, or editing photos. A magnetic connection ensures that the Surface Pen is always handy and ready for use. With a small desktop footprint and clean lines that match Microsoft's aesthetics, the Surface Pro Dock looks as good as it functions.
The Surface Pro Docking Station's transformative design is changing the way people look at the Surface Pro itself. Windows Central executive editor Daniel Rubino lauded the dock in his review, declaring that "The Kensington SD7000 has made me completely rethink the Surface Pro as an everyday all-the-time computer." The ability to turn the Surface Pro into a full desktop replacement earned the dock the Windows Central Best award as "the absolute best of the best in a product category." Shifting effortlessly between display and studio mode, the Surface Pro Docking Station takes your tablet's capabilities to the next level.
"The Kensington SD7000 has made me completely rethink the Surface Pro as an everyday all-the-time computer." ~ Daniel Rubino, Windows Central Executive Editor
Surface Pro users can protect their technology investment from theft and meet physical security compliance requirements with the optional Lock Module for the SD7000 Surface Pro Docking Station, which secures the Surface Pro as well as the dock. Kensington's master keyed option gives IT managers access to the dock and Surface Pro in the event that an employee loses a key, and replacements can be easily ordered via Kensington's Register and Retrieve™ program.
Boost Surface Pro's Connectivity and Productivity
While the dock's two-position hinge revolutionizes the tablet's desktop and drafting possibilities, the Surface Pro Dock also does what docks do best: it connects multiple peripherals neatly, easily, and quickly. Exclusively designed for Surface Pro with Microsoft's proprietary Surface Connect technology, the docking station ensures seamless syncing and charging for a simple plug and play experience. The dock takes display possibilities a step further with output options for HDMI and DisplayPort++, which can expand a desktop setup to include one 4K monitor at 60Hz or two 4K monitors at 30Hz.

The SD7000 Surface Pro Dock allows you to sync up all your favorite USB accessories via four USB-A 3.0 ports and one USB-C port for data transfer. A 1Gbps Ethernet port provides a reliable wired network connection, and a 3.5mm combo audio port connects your preferred headphone or microphone accessories. With the Surface Pro Docking Station, Surface Pro users can effortlessly connect to a host of peripheral devices that make up a healthy desk ecosystem—and disconnect from them just as quickly when it's time to take the tablet on the go.
Awards and Accolades for the Surface Pro Dock

It's good to stand out in a crowd, and Kensington's Surface Pro Docking Station has received a lion's share of honors and kudos for its groundbreaking design. The CRN Tech Innovator Awards—created to honor standout hardware, software, and services that are moving the IT industry forward—recognized the SD7000 as a 2018 finalist in the PC  Desktops/Monitors/Docks category. AnandTech's review of the dock concludes that "thanks to the better usability when docked, as well as the great connectivity, this is likely going to interest many people who want to extend the Surface Pro into a lightweight desktop." MobileTechReview praises the fact that the Surface Pro Dock is "beefy, it's beautiful, it looks just like a mini Surface Studio," while UrAvgConsumer zeroes in on the "smooth" hinge, easy connection between the Surface Pro and dock, and availability of many ports the Surface Pro lacks as great features. For all these reviewers, the Surface Pro dock's ability to enhance the Surface Pro's capabilities to create a powerful desktop environment makes it an impressively transformative product.
Kensington's Surface Pro Docking Station redefines the limits of both tablets and docks. Working together, the Surface Pro and Kensington's hinged dock empower users to seamlessly connect for a full desktop experience or disconnect and go mobile in seconds. Reimagine what the Surface Pro can achieve when supported by cutting-edge docking design. 
If you'd prefer to test out a new dock before your organization fully invests in it, Kensington's ProConcierge program allows you to try a dock tailored to your organization's requirements, with no obligation to buy. Apply for the ProConcierge program today, and let Kensington take the complexity out of docking.