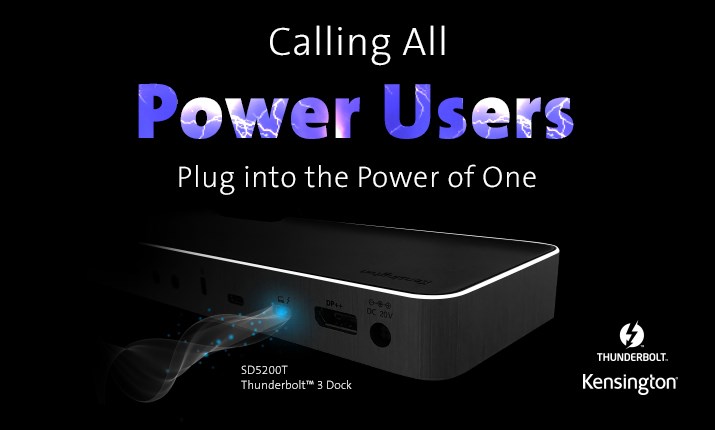 As hardware vendors continue to deliver ever larger and higher-resolution display monitors, one thing is clear, consumers want and need the maximum image clarity and quality those devices can provide.
Power users who create and edit videos, design graphics, or create content need a way to scrutinize every detail of their work to confirm that it is flawless before they publish it or release it to customers. Every pixel needs to look impeccable on any screen--whether it is projected in Ultra High Definition in a conference room or streamed to customers all over the world who are viewing it up close on their 4K monitors.
Kensington Thunderbolt 3 Universal Docking Station is the perfect solution for users who need to balance their need for high-resolution video with the flexibility and mobility that a laptop provides. The Docking Station leverages the full capabilities of Thunderbolt 3 technology to support two four-lane HBR2 video links that deliver 5K or 4K for dual monitors at 4096 x 2160 dpi 30-bit color @ 60Hz with the crisp resolution, contrast and color depth of Ultra HD using DisplayPort or HDMI.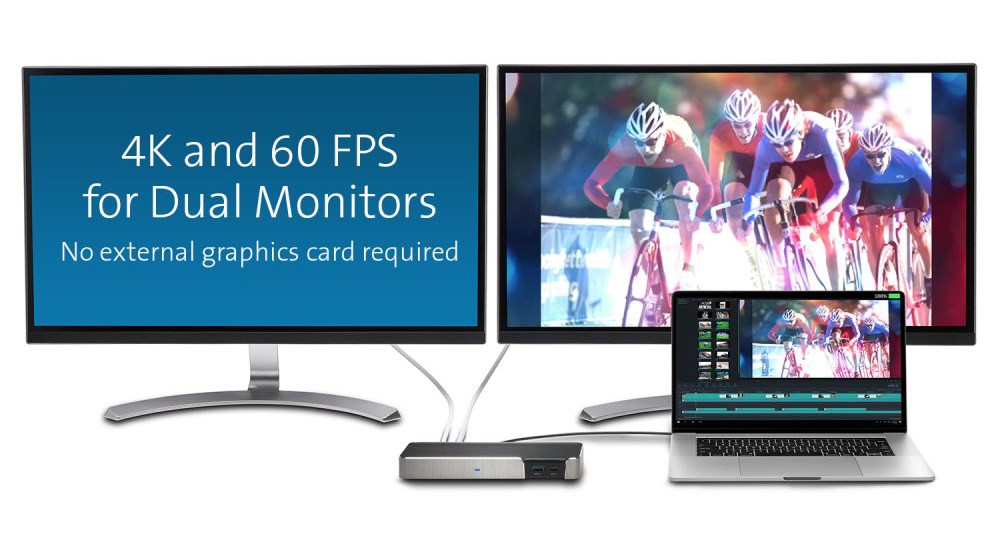 This means that when a power user connects their Windows or macOS laptop to the Kensington Thunderbolt 3 Universal Docking Station, they have complete flexibility to see the details of their work at full resolution, no matter how they prefer to view them. A user can choose to view a large image spread across two screens, or they can use side-by-side monitors to compare versions of an image or document.
Because it is a Universal Docking Station, an organization can standardize on a single docking station and individual users still have the flexibility to work with the configuration that supports their needs the best. As an example, consider a company that produces HR compliance videos.
The program manager who interacts with clients and works with functional groups across their organization uses both a Windows and a macOS laptop and chooses to have a single 4K external monitor for times when they want to collaborate with other people on a shared screen larger than the laptop screen. They can connect either laptop to the Universal Docking Station and display 4096x2160 30-bit @ 120 Hz on their 4K display.
The content creator generating scripts and storyboards prefers a Windows laptop and uses the Universal Docking Station to connect to two 4K monitors that each display 4096 x 2160 30-bit @ 60 Hz to that they can work with two documents side-by-side to compare versions and revise based on client feedback and changes to legal codes.
The editor putting together the videos works on a macOS laptop connected to a 5K display so that they can see the 4K video they are creating in full resolution and still have access to all their video editing tools and palettes on the same screen. With the Universal Docking Station, that gives them a resolution of 5120 x 2880 30-bit @ 60Hz.
The developers and quality assurance engineers who develop and test the interactive questionnaires within the videos that verify viewers have learned the information presented need to use multiple configurations, so they can use the Universal Docking Station to connect their laptop to any combination of two 4K, FHD, or QHD displays.
Kensington understands that our customers can't afford to sacrifice speed to achieve high quality, so the Thunderbolt 3 Universal Docking Station has been designed and tested to support the maximum throughput speeds Thunderbolt 3 is capable of delivering.
With a Kensington Thunderbolt 3 Universal Docking Station, power users have access to the data throughput speed and capabilities they need so that they can focus on their work and not spend time waiting for images to load or other data to be transferred.
Expanding technologies like drone-recorded videos generate video and image files with massive amounts of data. A 24fps video using Codec software like Canon RAW can generate 1,500 GB/hour or a drone shooting 4K or 5K can shoot 500GB in 15 minutes. The 40Gbps throughput speed of Thunderbolt 3 supports transfer and backup of these sorts of large files in a fraction of the time required for USB or Ethernet data transfer. For example, you can transfer a 4K movie in less than 30 seconds.
For example, a team of graduate students can use drones to map a sensitive anthropological site to create a 3D topographic map with contour data while having minimal impact on the site. While they are out in the field, they can create a "daisy-chain" network of five Kensington Thunderbolt 3 Universal Docking Stations and transfer the image data they collect to each of their individual laptops at 40GBps for further processing and study.

With a Kensington Thunderbolt 3 Universal Docking Station, power users have the tool they need to push their work to the limits of what is possible.
In our next post, you will discover why now is the perfect time to "future proof" your organization with Thunderbolt 3 technology.